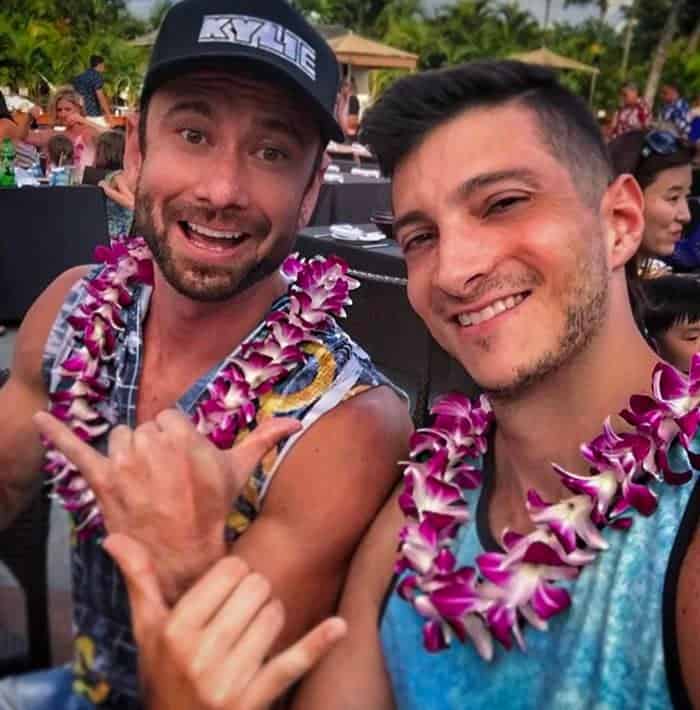 Joseph and Travis Dasilva, a gay U.S. couple behind an Instagram account called "Traveling Butts" in which they bare their asses in photos at international destinations, have been arrested in Thailand after posing for a photo with their hind ends out at at Wat Arun (Temple of Dawn).
The couple, who are both 38,  have since deleted their Instagram account. You can view the photo HERE.
Pol Col Choengron Rimpadee, deputy spokesman of immigration police, said the Americans were arrested at the airport at about 8pm while they were trying to depart the country.
He identified them only as Joseph and Travis, both aged 38.
The spokesman said the pair admitted to taking down their pants and posing for photos at the temple. They were brought to the Bangkok Yai police station for legal action.
They were charged with getting naked in public. The offence violates criminal law and is liable to a fine of up to 5,000 baht.
The Americans were detained at the police station in order to be brought to court.
Tourists should have respect for places of cultural, historical and religious importance because it is simple good manners, Pol Col Choengron said.
Deputy spokesman of the Thai immigration police, Col Choengron Rimpadee, told the BBC the two had been on a watch-list after authorities had spotted the controversial social media post.
"Once they are through with the charges, the Thai immigration police will revoke their visas and push for deportation," he said. "They will also be blacklisted from coming back to Thailand."
He explained the two were brought to Bangkok Yai police station to be charged with public nakedness, an offence liable for a fine of up to 5,000 baht ($153; £115).
However, other Thai government and police officials have told media that the charges could be more serious.
Joseph and Travis, who are from San Diego, have reportedly asked for help from a city commissioner:
City Commissioner Nicole Murray-Ramirez says the men reached out to him for assistance and he is currently talking to American authorities on what to do next.
"Though I am very disappointed in their actions, I am talking to U.S. government officials to see what assistance we can give them," Murray Ramirez told San Diego Gay and Lesbian News.