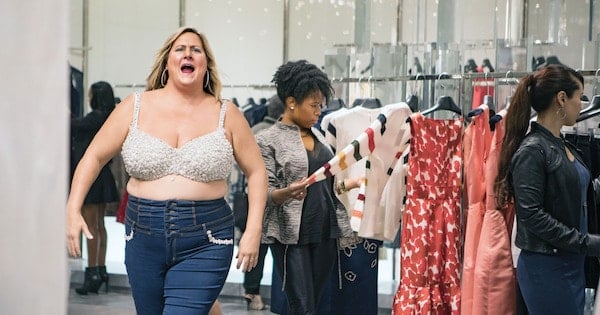 Check out our weekly guide to TV this week, and make sure you're catching the big premieres, crucial episodes and the stuff you won't admit you watch when no one's looking.
We may have lost The Real O'Neals, but ABC is giving primetime viewers another look at queer teenage life on Fresh Off the Boat. Tune in Tuesday at 8:30 p.m. Eastern to see what happens when Nicole reveals she might be into girls.
Although we're a little tired of the Project Runway twist where they ask all the remaining designers to make a collection, we're stoked for at least three of the potential runway shows. Kentaro has been wacky and surprising; Ayana is bringing a fresh perspective and rarely seen modest fashion on the runway; and, our pick for winner, Brandon has been consistently thrilling each week. See how they fare during part one of the finale, Thursday at 9 p.m. Eastern on Lifetime.
By now, former NYC cabaret queen Bridget Everett is known the world over for her turns in Inside Amy Schumer, Trainwreck, Lady Dynamite, Fun Mom Dinner and Patti Cake$. Her silly, sensual schtick takes the spotlight in the new Amazon original series, Love You More, from showrunner Michael Patrick King.
https://www.youtube.com/watch?v=yjBu9u9WSnU
Maria Bamford is back with another off-the-wall season of Lady Dynamite on Netflix Friday, featuring appearances from Ana Gasteyer, Judd Apatow, Weird Al, Mo Collins and more.
https://www.youtube.com/watch?v=oh7g_j5otf0
The breakout star of this summer's uproarious comedy Girls Trip, Tiffany Haddish, takes the hosting reigns of Saturday Night Live, 11:30 p.m. Eastern on NBC with musical guest, ugh, Taylor Swift.
What are you watching this week on TV?