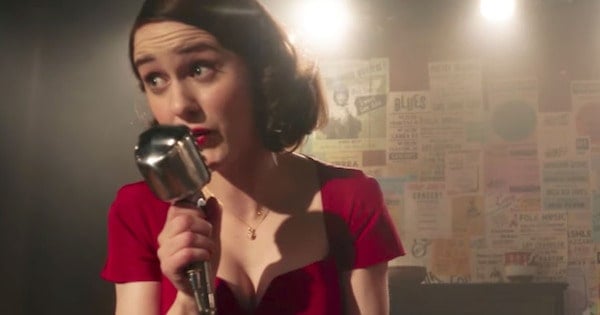 Check out our weekly guide to TV this week, and make sure you're catching the big premieres, crucial episodes and the stuff you won't admit you watch when no one's looking.
If your family is anything like mine, then your holidays go down a lot easier with a lot of liquid courage. Get in the spirited season with a little Drunk History. Check out the boozy reenactments on the show's holiday special Tuesday at 10 p.m. Eastern on Comedy Central.
Paging Gilmore Girls fans: The first season of Amy Sherman-Palladino's new series The Marvelous Mrs. Maisel drops Wednesday. The 1950s period piece follows a jilted housewife who finds herself embarking on a stand-up comedy career. Despite the unique premise, the promising pilot still showcased plenty of Sherman-Palladino's rapid-fire dialogue.
Watch some of your favorite stars (and, ugh, Pentatonix) rock around the literal Christmas tree with Christmas In Rockefeller Center Wednesday at 8 p.m. Eastern on NBC.
Still not enough holiday shenanigans? Bask in the glory of comedian Anthony Atamanuik's incredible Trump caricature for a festive episode of The President Show titled I Came Up with Christmas: The Trump Christmas Special Thursday at 10 p.m. Eastern on Comedy Central.
https://www.youtube.com/watch?v=XFOnskDAPyg
Pay homage to one of television's most beloved entertainers (and gay icon) Carol Burnett with The Carol Burnett 50th Anniversary Special Sunday at 8 p.m. Eastern on CBS.
What are you watching this week on TV?