Zoella, a fashion and beauty blogger who has around 30 million followers on three platforms (YouTube, Instagram, Twitter) and was named the most power social media star in the UK this year by Cosmopolitan, is under fire after old tweets fat-shaming people and mocking gay men were unearthed.
https://www.instagram.com/p/BbAB-UdBMCX/?taken-by=zoella
Metro reports:
The tweets went out from her account in 2010, 2011 and 2012; however, it is not known if Zoella, 27, sent them herself.
One now-deleted tweet from 2010 reads: 'I find it funny when gay men spit…it's like they're trying to be a bit macho but never works…'
Another also deleted tweet reads: '"why are these clothes so expensive" because they're designer you tramp, that there in your hand is a dress worth over £2000. Haha'.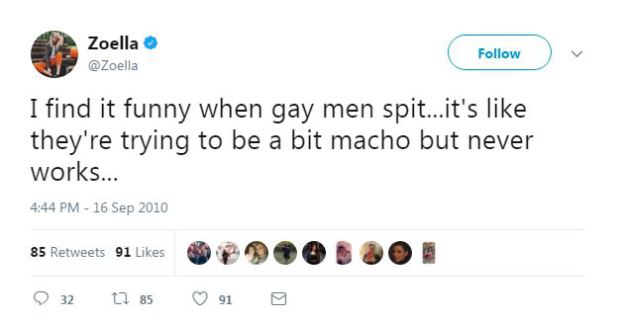 Zoella responded to the old tweets on Twitter:
"I've seen a few of my old tweets from 7/8 years ago floating around (which I have now deleted) using words like "chav" "skank" and other words I wouldn't use now as part of my language and lot of them were taken out of context referring to TV shows but I would never say those things now and I'm sorry if I have offended anyone, that was not my intention. Obviously that is not who I am today and I'd like to think I'm a little older and wiser! I'm not perfect and I've never claimed to be, I'm only human!"
https://twitter.com/Zoella/status/930773949834723328
https://twitter.com/Zoella/status/930774020680798209