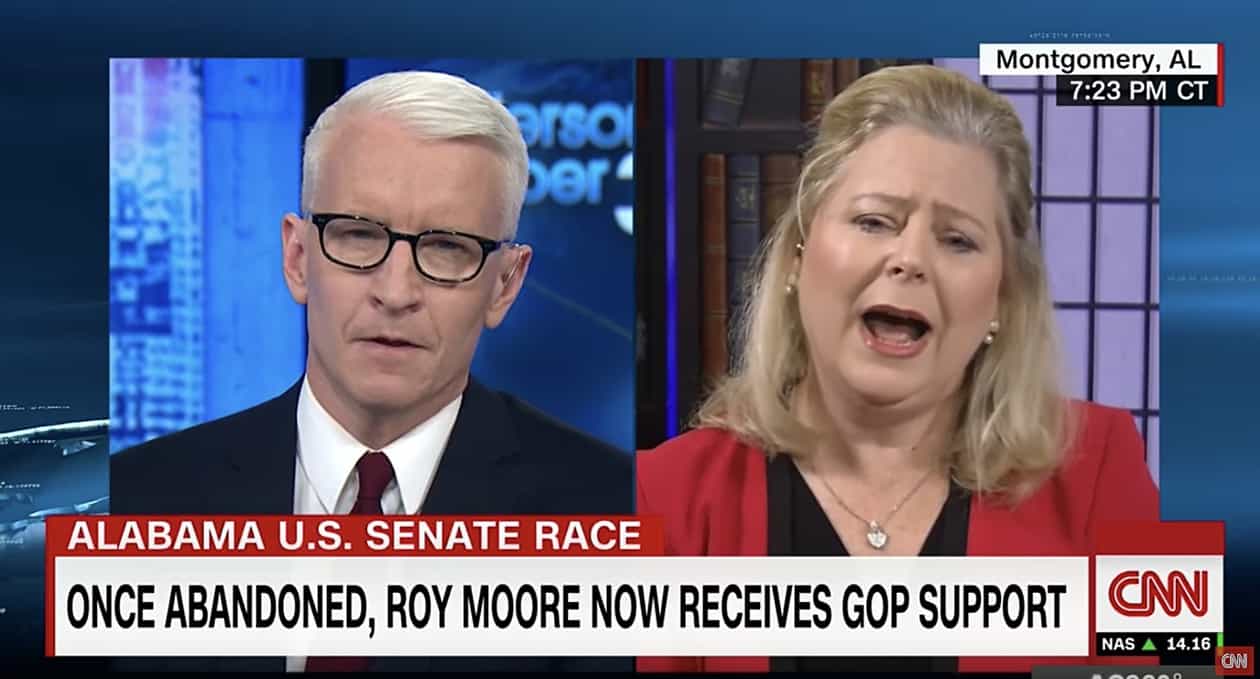 Anderson Cooper went to the mat last night with conservative nutjob Roy Moore spokesperson Janet Porter and grilled her about Moore's views on homosexuality, same-sex marriage, 9/11, Muslims, Barack Obama and a variety of Moore's other statements.
Said Cooper: "Your campaign has blamed an awful lot of people for the accusations being made by women against Roy Moore. I've heard Moore or his supporters blame Doug Jones, George Soros, the DNC, Mitch McConnell, mainstream Republicans, the Washington Post, the lynch mob media as you call them, homosexuals, transgender people, and criminals. Can you just explain to me how all these people got together and came up with this plot against Roy Moore, cause that's a pretty huge group, and I don't know if there's a conference call that Mitch McConnell and radical homosexuals are on, but it would be fascinating to hear that."
Cooper tried to get answers out of Porter on a number of Moore claims.
Does Judge Moore still believe that homosexuality should be illegal and if homosexuality is the same thing as bestiality?
Porter dodged that question and launched into a tirade about Doug Jones and his position on transgender people and bathrooms.
Does he still believe that 9/11 happened because we've distanced ourselves from God?
Does he still believe that an American citizen who is a Muslim should not be able to serve in Congress?
Does he still believe that Barack Obama wasn't born in the United States?
Does he still believe that the U.S. has become the focus of evil in the world because the U.S. promotes things like same-sex marriage?
Cooper and Porter fought it out over Moore's alleged sexual abuse against minors, his multiple removals from the Alabama Supreme Court, and literally everything else in between. Despite the general wackiness of the whole affair, Cooper moved things along by asking Porter a variety of questions pertaining to Moore's past statements, and controversies that would reflect on his political standing in the U.S. Senate.
In terms of Moore's removal from the court, Cooper wanted to know if the embattled Senate candidate still believes his ouster was coordinated by "radical homosexuals and transgendered activists." Porter couldn't definitively answer Cooper's questions, and the discussion swiftly became a food fight about how Moore will defend religious liberty, drain the swamp, and all that other good stuff.
The two seemed to agree on one of Porter's statements: "This is ground zero for religious liberty, this is ground zero for life. And the winner of this Senate race is winner take all. It will be the deciding vote on the United States Supreme Court, who will sit on the court for the next 30 or 40 years."
Watch: