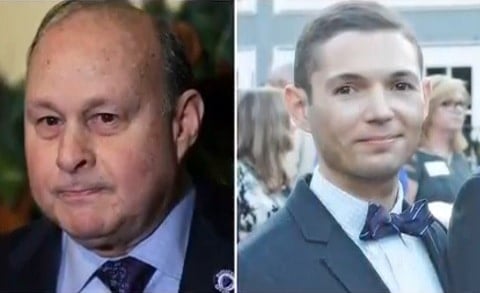 Massachusetts Senate President Stan Rosenberg (above left) has agreed to step aside as leader of the chamber while an investigation of sexual misconduct allegations against his husband Bryon Hefner (above right) is carried out.
According to MassLive, Hefner has been accused of earlier this year sending an unsolicited nude photo to an unidentified person who works in state politics:
The unsolicited picture from Hefner was of a random person's penis and the message was apparently meant for someone else in politics, according to the person who received it, who spoke with MassLive and shared a screenshot of the exchange.
In responding to Hefner, the person indicated they weren't interested in receiving it.
According to the source, Hefner responded with "i figured he was your type. i'll keep looking."
Rosenberg will remain in the Senate but not serve as president during the investigation. He had previously said he intended to remain as Senate president but recuse himself from any matters related to the investigation.
The Senate is expected to vote next Monday to authorize the appointment of an independent investigator who will examines whether Rosenberg knew about Hefner's alleged behavior. The investigator will also look into the possibility that Hefner had some influence over Senate matters.
According to CBS Boston, four men have already claimed that Hefner sexually assaulted and harassed them in recent years. Fearing a backlash from Rosenberg, the men didn't report the misconduct at the time.
Rosenberg, who has not been accused to any wrongdoing, has denied his husband had any influence over state affairs. He added that Hefner will soon begin in-patient treatment for alcoholism.
Watch Rosenberg address the allegations below.
(Image: screen grab via YouTube)