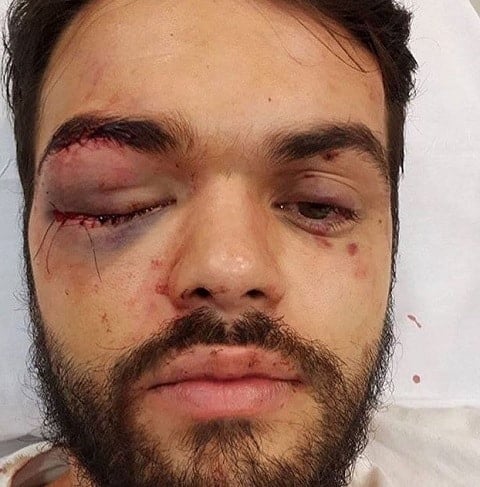 Gay Argentinian rugby player Jonathan Castellari was left hospitalized last Friday morning after he and a friend were set upon by a group of seven men.
Castellari is a member of Ciervos Pampas Rugby Club which aims to fight homophobia.
According to his friend Sebastián, the attack took place at a McDonald's in Buenos Aires at 6.30 am. He said that a group of drunk men aged between 20 and 25 "made jokes, they laughed at us."
Jonathan es parte de nuestro equipo en @basubte . Esta mañana, mientras desayunaba en Av. Córdoba y Medrano fue atacado salvajemente por 7 varones. ¿El motivo? Usar la remera que ves en la foto. No podemos aceptar la violencia (sigue) pic.twitter.com/sfRttG9Dfo

— Franco Moccia (@francomoccia) December 1, 2017
When he and Castellari left, one of the men went outside and grabbed Jonathan.
"That's when the others started to hit him," Sebastián said. "I tried to stop them but couldn't. I got hurt too, but nothing compared to Jonathan."
Jonathan Castellari fue brutalmente golpeado por ser gay en el Mc de Córdoba 3800 el 1/12, 6AM. Se buscan datos de los agresores. RT pic.twitter.com/hPMcQWJteU

— Malena Narvay (@LenaNarvay) December 3, 2017
According to the Sun, in a statement the Argentina LGBT Federation said: "We are already accompanying them during this terrible moment and doing everything in our power to ensure that the justice system responds quickly and finds those responsible."
(Image: screen shot via Twitter)