Australian rugby star David Pocock is opening up about his decision to stand up to homophobia during a match last year, a move which divided the rugby community.
Pocock discusses the subject in a new video from Dove Men+Care that attempts to break outdated perceptions of masculinity.
The video is the first in what appears to be a series created by Pocock and Dove titled, "David Pocock's Journey to Strength." Episode 1 is all about standing up for what you think is right. And for Pocock, that means fighting homophobia both on and off the field.
The 2015 controversy stems from a moment when, during a game, Pocock blasted his rivals for using gay slurs against his teammates.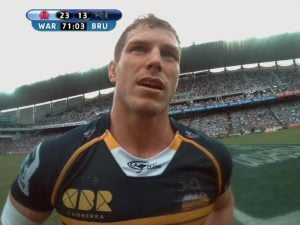 Via Fox Sports Australia: 
In the final stages of a heated match between the two rivals, Pocock approached referee Craig Joubert in the 67th and 72nd minutes and expressed his concerns about homophobic slurs being made by Waratahs players. […]
Pocock later said to Joubert: "You heard that sir … you can't say that, there could be gay players out there."
Pocock added at the time,
"It is not a matter of going after one particular guy, it is just saying "this isn't something we want to see in our game". We want to be inclusive for people watching and people playing. That's what it comes down to.
"I didn't hear anything. I just had a few players coming to me saying there were homophobic slurs being thrown out, and I guess it is something at the Brumbies we have said it is not acceptable and we are not going to tolerate this.
"We were just making the referee aware. I put it with racism and all sorts of other things that aren't good enough."
Pocock came under fire for his remarks, though there were also opinion pieces (such as this one) which applauded Pocock. Pocock doesn't regret his decision, saying that if you don't stand up for what is right, "you're actually denying a part of yourself."
SBS reports that Pocock's advocacy, which extends to other issues of social justice beyond homophobia in sports, stems from his childhood:
Pocock came to Australia as a teenager with his family from Zimbabwe and found Australian life underpinned by a patriarchal society just as much as in his homeland, if not more.
"[I moved] to a culture where my privilege was further enshrined… being a white heterosexual male who's good at sport," he explained.
Pocock has previously come out in favor of marriage equality, which is not yet legal in Australia. Pocock says he and his girlfriend will not marry until same-sex couples are afforded the right to do so. Pocock told SBS, "Yeah we'll wait. I think for us its something we don't really want to be part of, if all of our friends don't have that same opportunity if they want to get married."
Watch the video, below.