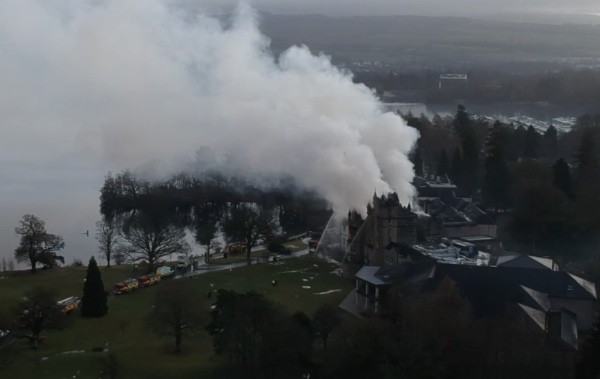 Londoners Simon Midgley and Richard Dyson have been named as the two fatalities of a massive fire which took place at the Cameron House Hotel at Loch Lomond, Scotland on Monday.
The couple who lost their lives have been named locally as freelance travel writer Simon Midgley, 32, and his boyfriend Richard Dyson, 38, a TV producer. Police Scotland are awaiting formal identification. Together the pair had travelled up from London and enjoyed a sightseeing tour of Glasgow before making the trip north to the hotel.
The devastating fire at the Cameron House hotel broke out just after 6am yesterday, ripping through several floors in minutes and forcing guests to flee in their night clothes.
…Mr Midgley was a freelance writer for freesheet the London Evening Standard – covering travel and culture for the lifestyle section….Mr Midgley also ran his own PR companywhile Mr Dyson was a TV producer who had worked on shows such as reality TV show Tumble and Gareth Malone's The Naked Choir.
More than 200 guests were evacuated from the Cameron House hotel, near Balloch, as firefighters battled for about 12 hours to bring the blaze under control.
Police Scotland confirmed one person died at the scene, while another died at the Royal Alexandra hospital in Paisley. The Scottish ambulance service said two adults and one child – believed to be members of the same family – were taken to the Queen Elizabeth University hospital in Glasgow. They were released on Monday afternoon. Police said some other guests were treated at the scene for smoke inhalation.
David McGown, the Scottish fire and rescue service's assistant chief officer, said: "Our deepest condolences are with everyone who has been affected by this morning's tragic events." The fire had been brought under control by Monday evening, he said, praising the firefighters for their professional response.
The couple on vacation in the U.S. earlier this year:
https://www.instagram.com/p/BSPYjhVDwuz/?hl=en&taken-by=simonmidgleypr