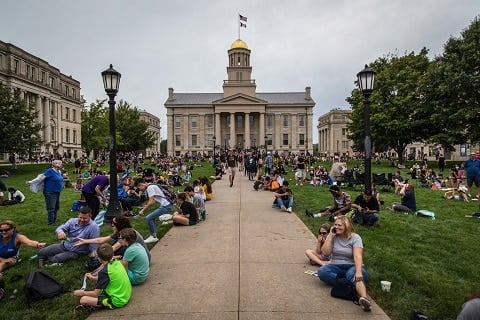 A defunct Christian student group is suing the University of Iowa after it was deregistered for discriminating against a gay student.

According to a lawsuit filed on Monday in the U.S. District Court, Business Leaders in Christ (BLinC) has rejected the accusation they denied a member a leadership post "because he is openly gay."
If you discriminate against the LGBTQ community at the University of Iowa, you'll be gone in the BLinC of an eye. 🏳️‍🌈https://t.co/OL0zsfQYft

— Hunter (@huntycharlie) December 13, 2017
Rather, the lawsuit contends that the group focused its rejection on the nuance the student rejected "BLinC's religious beliefs and would not follow them." Those beliefs said group leaders who sinned "had a Christian duty to admit that the conduct was sinful" and "turn from the conduct and strive to live in a manner that was worth of Christ's sacrifice."
BLinC is requesting that the university be ordered to stop discriminating against it and allow its registration as a student group. It is also demanding damages and a permanent injunction barring enforcement of the school's human rights policy, which it says violates the constitution.
The Gazette reports:
The accusing member, who is not named, told the group he didn't plan to follow its beliefs on sexual misconduct and intended to pursue same-sex relationships. The group, thus, rejected his application for a leadership position.
Hannah Thompson, who was BLinC's president at the time, stressed her decision "was not because he was gay, but because he did not agree with BLinC's biblically based views on sexual conduct."
The member in February filed a complaint with the university, and — following an investigation and interviews with both sides — UI administrators in November deregistered the student organization.
In a statement, the university does "not tolerate discrimination of any kind in accordance with federal and state law."
"When a voluntary student organization chooses to become a registered student organization," the statement continued, "it must adhere to the mission of the university, the UI's policies and procedures, and all local, state, and federal laws."
The university found BLinC had violated the school's Human Rights Policy and the Iowa Civil Rights Act.
Student Government President Jacob Simpson said:
"I believe it is critical that all registered student organizations follow the university policy on human rights, as the Office of the Dean of Students clearly states in the policies regarding student organizations."
However, Eric Baxter, senior counsel for BLinC representatives the Becket Fund for Religious Liberty, said the case is "premeditated religious discrimination, plain and simple."
"A state school cannot demand a change to students' faith any more than the U.S. president could demand a change to the Bible," he added.
Meanwhile, Jacob Estell, student president of BLinC, said: "This is 2017, not 1984. Our beliefs weren't made by us, and they can't be changed by us either — certainly not just to satisfy Orwellian government rules."
Photo: University of Iowa Eclipse Party by Phil Roeder  (CC BY 2.0)