NET NEUTRALITY. Jimmy Kimmel slammed the "despicable" FCC decision.
DUSTIN HOFFMAN. Five more women come forward with tales of sexual predation: "It began with a first-person account, published in The Hollywood Reporter, from Anna Graham Hunter, a writer who, in 1985 at age 17, endured a steady stream of Hoffman's obscene comments, gropes and demands for foot rubs while she worked as an intern on the set of the TV movie adaptation of Death of a Salesman….Now several other women are coming forward with their own claims of Hoffman's predatory behavior. All accounts have been corroborated by friends and family members in whom the women confided their experiences over the years.
PROTEST. Actresses to wear black at Golden Globes: "Women attending the 75th Golden Globe Awards in 2018 will reportedly take a powerful stance on the red carpet in response to the allegations of sexual misconduct that have flooded the entertainment industry."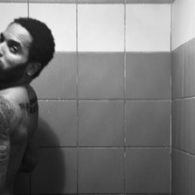 LENNY KRAVITZ. The rocker still goes commando despite that one time his sausage slipped out.
SABOTAGE. On laying the groundwork to fire Robert Mueller.
ATLAS OBSCURA. How the 18th century gay bar survived and thrived in a deadly environment.
LIAM HEMSWORTH. Shirtless in Malibu.
ROMANIA. How it became a battleground for LGBTQ rights: "Romania decriminalised homosexuality in 2001. Today it is witnessing a backlash against LGBT rights from conservative and religious forces determined to protect 'traditional family' values, led by powerful domestic groups and their allies in the US Christian right."
NAMIBIA. Government sued over gay marriage: "The Namibian government's stance on gay marriage is set to be tested in court after a married same-sex couple this week launched legal action in a bid to have their marriage and residence rights recognised in Namibia. An urgent application in which married couple Johann Potgieter and Daniel Digashu are suing the government, the minister of home affairs and immigration, the attorney general, the Immigration Selection Board, the Immigration Tribunal, and the Ombudsman was filed at the Windhoek High Court on Tuesday."
BOTSWANA. Court orders government to recognize transgender woman as female: "Tshepo Ricki Kgositau, the executive director of South African-based Gender Dynamix, an organization that advocates for the human rights of transgender and gender-variant people, had sued Botswana for refusing to change the gender on her identity document from male to female. On Tuesday, Justice Leatile Dambe ordered that Kgositau's gender be changed to female in the national registry within seven days."
STORMY. Cow escapes Nativity scene.
CHRISTMAS ELF OF THE DAY. Lady Gaga went full elf.
COLLEGE ACCEPTANCE OF THE DAY. Ayrton Little is 16. He just got into Harvard. "In this video from earlier this week, he's wearing his Harvard hoodie, surrounded by classmates, as he checks the early acceptance notifications."
HOLIDAY POP VIDEO OF THE DAY. Sia "Under the Mistletoe".
CROSSWALK MUSICAL OF THE DAY. James Corden, Hugh Jackman, and Zac Efron bewilder Manhattanites.
FRIDAY FLASH. Pablo Buosi.