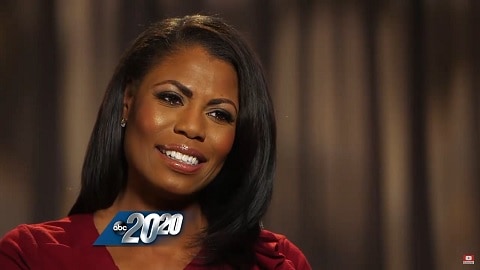 Former Apprentice contestant Omarosa Manigault Newman is leaving her position at the White House, though no one knew quite what she did there. Her official title was director of communications for the White House Office of Public Liaison.
Manigault Newman – who prefers to be known only by her first name – made it through nine weeks of the first series of Trump's reality tv show. She later appeared on Celebrity Apprentice, the All-Stars edition and other reality tv shows.
The AP reports: "White House press secretary Sarah Huckabee Sanders says Manigault Newman's resignation is effective Jan. 20, one year since Trump's inauguration. Manigault Newman's decision comes at the start of what's expected to be a round of departures heading into the new year. The White House said last week that deputy national security adviser Dina Powell will leave the administration early next year."
Omarosa was one of Trump's most prominent African-American cheerleaders during Election 2016. She served as the campaign's director of African-American outreach and has been working with the transition team.
In an interview last year, Omarosa said that Trump was exacting "the ultimate revenge to become the most powerful man in the universe."
https://twitter.com/parkermolloy/status/940961402344402944
Trump heard black women were responsible for Doug Jones win and fired the first one he could 😂😂🤣 #Omarosa pic.twitter.com/6qc3gPg7U3

— james lately 🅧 (@jameslately) December 13, 2017