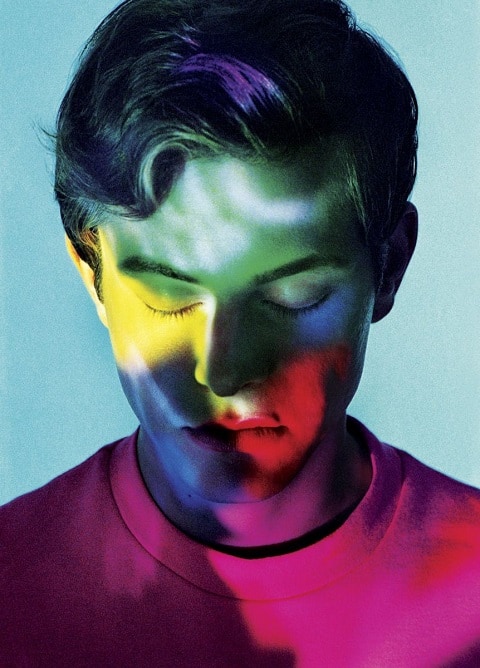 2017 wasn't quite as dramatic as 2016 in terms of legends lost but there were plenty of exciting new releases across genres.
This list aims to include relevant releases from mainstream, indie and possibly obscure artists.
Spotify play counts are unrelated to the reason they've been chosen, but an interesting reference.
What have we missed? Have your say below.
---
10. Amber Coffman – City of No Reply
What we said:
On her debut solo album, former Dirty Projectors frontwoman Amber Coffman pays tribute to 90s pop rock and the women of the genre who "partially raised" her.
Gone from City of No Reply is Coffman's Dirty Projectors prog rock leanings in favor of classic rock with a touch of R&B.
You'll find touches of everything from Carole King to Joni Mitchell to Melissa Etheridge.
City of No Reply is probably the most rock orientated in this list. It's an album without pretensions – honest, poppy enough to engage mainstream audiences and almost lacking in filler.
Plays on Spotify: 5 million
---
9. Cat Stevens – The Laughing Apple
What we said:
Fifty years after the release of his debut album, Yusuf/Cat Stevens has surprised probably everyone but himself with one of the best albums of the year so far.
Granted it sounds like it could have been released any time in the last half century. That's because Stevens is a legend and like Joni Mitchell his music remains pertinent and contemporary but forever timeless.
Pretty good then.
Three months after it's release and 50 years after Steven's debut, The Laughing Apple remains (like Coffman) wonderfully unpretentious. Timeless and contemporary at the same time, this one will still be played in another 50 years.
Plays on Spotify: 3.5 million
---
8. Phoebe Bridgers – Stranger in the Alps
What we said:
…and then we have Los Angeles native Phoebe Bridgers who on her haunting debut album Stranger in the Alps worries about the shitty life of a jobbing musician, The Smiths and David Bowie and (obviously) lost love and death.
The frankly stunning "Killer" (break-up) and "Funeral" (how funerals can make mourners feel) are highlights by an artist as talented but far more external than Laura Marling.
Phoebe Bridgers' solo debut album documents the 23-year-old Los Angeles native's growth from introspective kid to even more introspective young adult. Occasionally overwhelming in its honesty and depth, it's nonetheless and album that is receiving the notice it deserves.
Plays on Spotify: 7.5 millon
---
7. Orchestral Manoeuvres in the Dark – The Punishment of Luxury
We didn't review The Punishment of Luxury but had this to say on the release of single "La Mitrailleuse."
The lead single certainly offers up the nostalgia/repetition in spades. A hypnotic, almost vocal-free, 2-minute loop of gun fire and dark beats, could The Punishment of Luxury be OMD's Let England Shake.
It's always a worry when a legendary band reforms but OMD have time and again hit the mark since their reunion proper a decade ago.
Of the album, frontman Andy McClusky said:
"On this album we have managed to make beautiful things out of noises and repetitive patterns. The trouble is, we just can't help but write a catchy melody!"
They really can't. Not only is The Punishment of Luxury a beautiful album in it's own right, it's possibly their best since Junk Culture.
Plays on Spotify: 1.7 million
---
6. Broken Social Scene – Hug of Thunder
What we said:
Broken Social Scene: either you are a huge fan, you maybe know it's a massive collective of sorts or you've never heard of them.
That's okay because Hug of Thunder, their first album in seven years, feels like the ultimate destination of a two-decade trip.
The album is absolutely massive, every song is an anthem. With 15 members, it sounds like everyone threw in their ideas, all of them were accepted and somehow they all came together to form a delicious whole.
Broken Social Scene, along with Stars are the acceptable face of indie pop. If you're thinking "who?" and "what about Take That?" fret not. Imagine Gary Barlow writing songs for Bon Iver and you'll be on the right track.
Plays on Spotify: 13.5 million
---
5. The War on Drugs – A Deeper Understanding
What we said:
On the latest release A Deeper Understanding, Granduciel apparently loosened up a bit and worked in the studio with a full band.
The result: the Bryan Adams influences are to the fore, so much so that you could honestly listen to this blind and assume it was the Canadian singer songwriter, complete with guitar solos.
That all sounds terrible but it really isn't. A Deeper Understanding isn't clever like the previous album, it's just a somewhat tortured soul letting rip on some really great rock songs. Nothing wrong with that.
Bryan Adams? Seriously? Well, yes but don't let that put you off. While it's not quite as accessible as anything by the Canadian it's an album that will grow on you slowly and incrementally. One of the best rock albums of the year.
Plays on Spotify: 47 million
---
4. St. Vincent – MASSEDUCTION
What we said:
In terms of sound, Clark hasn't quite abandoned her performance persona on MASSEDUCTION. However, beneath the sometimes grimish production, the introduction of brass of all things the aping 80s-era Prince synth overkill, this is quite simply an excellent, fascinating and eclectic collection of frankly brilliant songs.
While MASSEDUCTION isn't quite as accessible as her previous release, St. Vincent's latest presses all the appropriate buttons. Probably best appreciated live, see Annie Clark live if you get the chance.
Plays on Spotify: 26 million
---
3. Lorde – Melodrama
What we said:
While Pure Heroine was all about the star struck ingenue on the outskirts looking in, Melodrama is about the shit storm that came in the album's wake.
Gone are the hip-hopish influences to be replaced with genius pop in all it's glory. Opening track "Green Light" is massive pop with echo chorus and all, "Liability" is a perfectly assembled ballad and closing track "Perfect Places" sums up Lorde's experiences. Everything in between is also expertly plotted but with great feeling.
Reviewing a Lorde album is pointless because people will stream it in their millions regardless. Nonetheless it's worth reiterating that Ella Yelich-O'Connor is the anti-Taylor Swift if you need one. While many of your favorite singers make perfect albums by committee, Melodrama is nothing but perfect, perfect pop.
Plays on Spotify: 700 million
---
2. Perfume Genius – No Shape
For reasons unknown we didn't review No Shape but had this to say about lead tracks "Slip Away" and "Go Ahead":
While the latter is a more glitchy affair you can certainly hear what Hadrea means by stadium rock.
Think Jonsi meets Blood Orange.
A beautiful album in every way, Mike Hadreas is as much an artist as St Vincent without quite receiving the same adulation or attention. Much like Annie Clark, also best seen live if you get the chance.
Plays on Spotify: 19 million
---
1. Loyle Carner – Yesterday's Gone
What we said:
An early shoe-in for the Mercury Prize 2017, on his debut album Yesterday's Gone London-based rapper Loyle Carner continues his concerns with the dark themes on his debut single "BFG."
That track came out in 2014 and stood out because of Carner's approach – downbeat, sad, direct – and subject matter – the death of his stepfather. "Of course I'm fucking sad," he rapped "I miss my fucking dad."
Carner's work is a reflection of South London as has recently been seen with poet/rapper/novelist/playwright Kate Tempest and easily on a par with her. Whereas Tempest is angry at the state of the world, Carner is grim faced at his own life.
It's not all doom and gloom. There are enough R&B/pop touches in there to smooth out the harsh edges.
Close to a year after its release, Loyle Carner's debut album is oddly possibly the most accessible on this list. Carner represents a new breed of London rapper – his concerns are personal yet global, he'll take on his little brother irritating him as soon as he will homophobic bullying.
Heartbreaking and wildly outspoken in equal measure, Yesterday's Gone is an album that's close to hitting the mainstream but likely to be ignored by an older audience. Please give it a listen and (as with St. Vincent and Perfume Genius) see him live if you get a chance.
Plays on Spotify: 43 million
---
…and some albums worth checking out…
Seamus Fogarty – The Curious Hand
---
Little Simz – Stillness in Wonderland
---
Björk – Utopia
---
Jens Lekman – Life Will See You Now 
---
Mount Eerie – A Crow Looked At Me
---
The Jesus and Mary Chain – Damage and Joy
---
First Hate – A Prayer for the Unemployed
---
Lil Yachty – Teenage Emotions
---
Declan McKenna – What Do You Think About the Car?
---