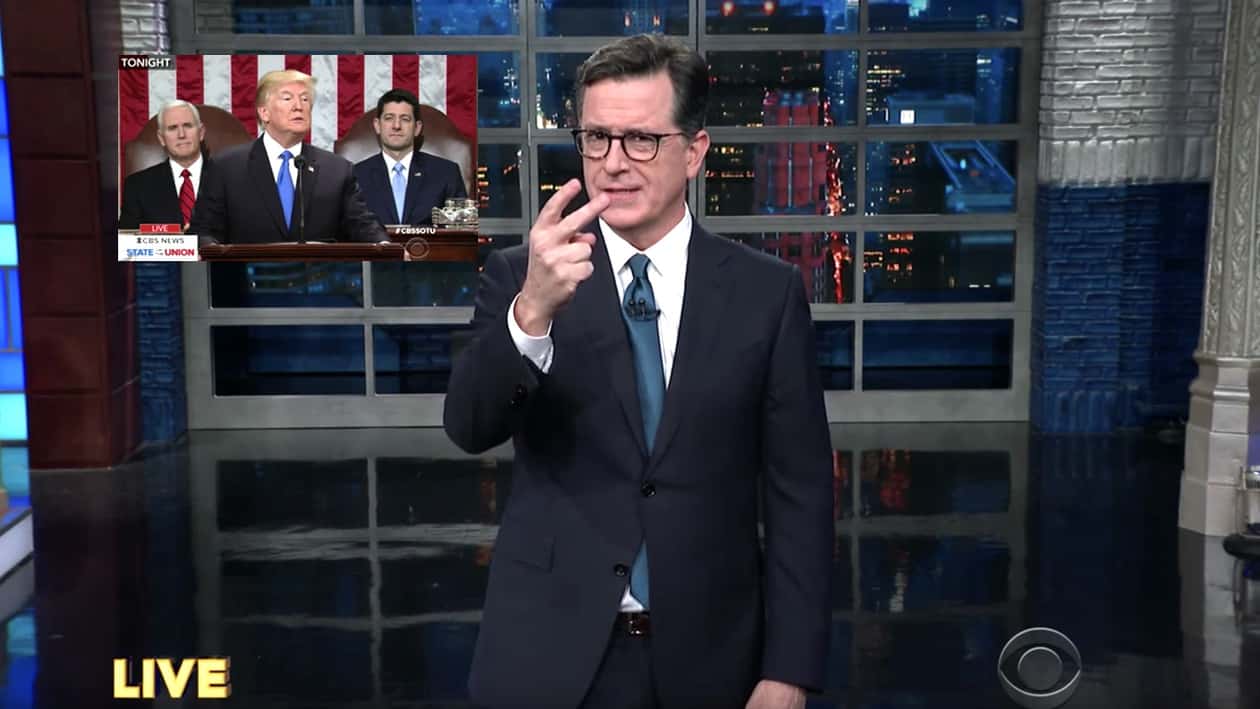 Perhaps the Democrats should consider hiring Stephen Colbert to deliver the response to Trump's State of the Union address next year because here's a man who can connect.
Colbert went live following Trump's speech and had a lot to say about it, despite being "barely conscious" after the 90-minute diatribe:
"The bar for success was pretty low, okay? He just had to stay on script no matter what – and he did. Which was impressive considering everything the Democrats did to distract him."
Colbert then cut to a shot of the audience with the Democrat half waving plastic noodles and signs.
Before the speech, news broke that Melania had traveled to the Capitol on her own, without Trump.
Quipped Colbert. "The first lady traveled to the speech in a separate car. I guess Melania didn't want anything from the Burger King drive-through."
But it was something else that caught Colbert's attention at the start of the speech: "The night began with one surprise – Trump was able to life a glass with one hand."
Colbert then took the opportunity to mock a portion of Trump's speech which aspired to inspire: "If there is a mountain, we climb it. If there is a frontier, we cross it. If there is a challenge, we tame it. If there is an opportunity, we seize it."
Snapped Colbert: "If there is a mountain, we climb it. If there is a frontier, we cross it. If there is a challenge, we tame it. If there is an opportunity, we seize it."
Colbert's most incisive moment came when he drew attention to Trump's line, "We all share the same home, the same heart, the same destiny, and the same great American flag."
Said Colbert: "Really? Because down in Charlottesville I saw your supporters carrying two other flags. I'm pretty sure I saw that."
Continuing his analysis of the speech, Colbert called out Trump's line about religion. "In America we know that faith and family, not government and bureaucracy, are the center of American life. The motto is 'In God We Trust'."
Sassed Colbert: "Yes, that's the first half. The second half is, 'Oh God, make this stop.'"
Watch: