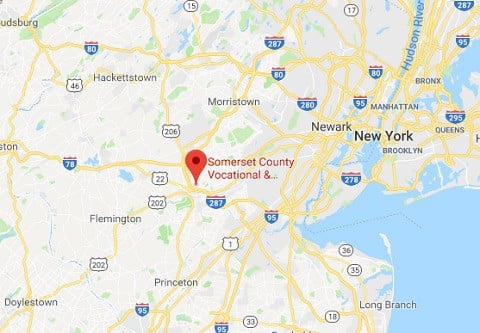 A New Jersey high school teacher has been awarded a $110,000 settlement after he was harassed by students when one of them revealed he is gay. The lawsuit was filed in 2015.
Kevin McManus worked at Somerset County Vocational and Technical High School.
After the student revealed he is gay, McManus was mocked with such statements as "don't drop the soap" and "do you like nuts?"
Out In Jersey reports:
McManus also alleged that the Somerset County Vo-Tech, in Bridgewater, not only failed to take action on the matter, but also retaliated against him after he filed a civil rights complaint.
Meanwhile, many other students rated him very highly. Said one student on the website Rate My Teacher, "AMAZING teacher! His class is extremely easy only because he makes everything so fun and enjoyable. He took a random leave of absence (no one knew why) in the 2013-2014 year so I was pretty bummed. Hope he returns for 2014-2015."
McManus eventually approached the school's disciplinary coordinator, Jamie Morales, who allegedly neglected to take "the appropriate steps to stop it." The taunting continued said McManus. So, he then turned to Principal Diane Ziegler and the Affirmative Action Officer, Teresa Morelli. He said in the lawsuit that both of them allegedly failed to address the harassment.
McManus said he was forced to file a complaint with the New Jersey Division of Civil Rights alleging that school officials demanded his resignation and prevented him from using personal days and paid leaves of absence.
The $110,000 settlement contains a confidentiality clause and a stipulation that the payment cannot be interpreted as an admission of guilt.