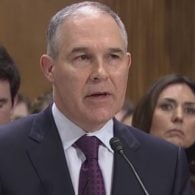 GODDESS HELP US ALL. Scott Pruitt wants U.S. Attorney General job. "Since taking office, Pruitt has reportedly garnered favor with Trump and has led the administration's deregulation efforts by walking back Obama-era environmental policies and spearheading the administration's move to exit the Paris climate accord. "
COACHELLA. Owner Philip Anschutz is still donating to anti-LGBTQ politicians.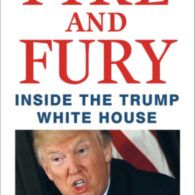 CONFIRMATION. Of what's in Fire and Fury…
FLORIDA. GOP Rep. Ron DeSantis entering governor's race: "I'm excited about taking this first step towards a campaign for governor," DeSantis told POLITICO. "As a former prosecutor, Iraq veteran and conservative leader who's endorsed by President Trump, I've got the experience needed to win this race and build on Gov. [Rick] Scott's strong legacy."
NEEDS NO INTRODUCTION. Obama to be first guest on new Letterman Netflix show…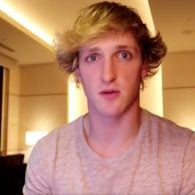 LOGAN PAUL. YouTuber suspends posting videos following outrage over "suicide forest" video. 'Paul took to Twitter on Wednesday to say he was suspending his video blog "for now" and "taking time to reflect." A petition on Change.org demanding that his YouTube channel be deleted had been signed by more than 125,000 people as of Thursday morning.
SHEMAR MOORE. Is getting thirsty on Instagram.
LIAR. Sarah Huckabee Sanders lies about Trump's position on marijuana: "During an interview with a Colorado TV station in the summer of 2016, then-candidate Trump said that as president, he would not use federal power to shut down the sale of recreational cannabis in states like Colorado."
AMSTERDAM. Man called "cancer faggot" in New Year's Day attack: 'The victim was on his way to his bike after celebrating New Year's Eve at a friend's house in West. It was around 6 a.m. and the bike was parked near to the club De School. "While I was busy with my bike's chain, I heard a group of people behind shouting at me," the victim told Het Parool through his uncle, "They insulted me for being a faggot and then beat me up." During the attack he fell on the ground, which caused injuries on his hand and two broken front teeth. The man reported he barely saw the perpetrators. They left him lying in the street.'
CHINA. Media watchdog taken to court over new regulations that describe gay relationships as "abnormal".
PREVIEW OF THE DAY. Ed Sheeran on The Simpsons.
https://www.youtube.com/watch?v=mdY3XDGtVnk
RICHMOND. The case of the missing mobster, godfather of Richmond's gay community: "Leo Joseph Koury was a straight man who grew up in the restaurant business in Richmond but presented somewhat like a Jersey gangster, overweight and diabetic and – some say – diabolical."
BERKELEY REP. Bob the Drag Queen joining Stephen Spinella in production of Angels in America.
TRAILER OF THE DAY. Aardman's Early Man.
NIGHTMARE OF THE DAY. A 5-foot snake in the toilet.
FRIDAY FLASH. Jota Ricciardi.
https://www.instagram.com/p/BUAI6aWhe8_/?taken-by=jota_ricciardi