A church in West Lafayette, Indiana known for its liberal stance was targeted with homophobic and racist signs last weekend after it held and anti-Trump event.
The banners, which referenced the Orlando massacre, greeted members of the Unitarian Universalist Church as they arrived for morning services on Sunday.
The previous day, the church hosted the Resistance Fair. Organized by Greater Lafayette Indivisible, a group that formed in the wake of Trump's election, the fair included a number of left-leaning organizations in the area and was designed to mobilize groups and voters on the left ahead of the 2018 midterm elections.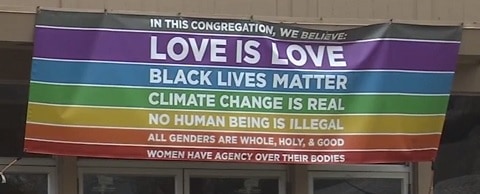 According to WTHR, banners hung on the church fence showed slurs aimed at LGBT people and minorities.
One banner read: "Die F—–s, Orlando just like Los Vegas (sic)."
The Journal and Courier reports:
A second banner found at the church referenced singer-songwriter Jackson Browne, echoing fliers distributed in the church's neighborhood last spring that also called out the singer-songwriter known for his progressive stances. That banner used a number of slurs for racial minorities and gays and lesbians: "N—– F—Sp—Lover."
The first one included the date of Jan. 23, which is Tuesday. The church's pastor, the Rev. Charlie Davis, said he considered that a threat, though he said he couldn't tell the significance of the day, considering that the church has no services or events planned then.
Browne, though, has a concert planned Jan. 23 in Orlando, according to his website. The references would appear to reference the sniper attacks during the Route 91 Harvest music concert last fall in Las Vegas, where 58 people were killed and 851 others were injured.
While West Lafayette Police Chief Jason Dombkowski confirmed police are investigating, Mayor John Dennis was more forthcoming, saying: "I'm so f—— mad."
On the city's Facebook page, Dennis wrote:
"West Lafayette has been and always will be an open and welcoming community.
"We will not allow our embracing of all that is right to be targeted by those who feel empowered to deliver a message of hate, violence and exclusivity."
Earlier this month, Ku Klux Klan recruitment pamphlets were distributed in downtown Lafayette. Those fliers were titled "Why you should become a Klansman" and listed the phone number of  a group calling itself Soldiers of Christ, American Christian Knights of the Ku Klux Klan, based in Moselle, Mississippi.
Watch a report below.