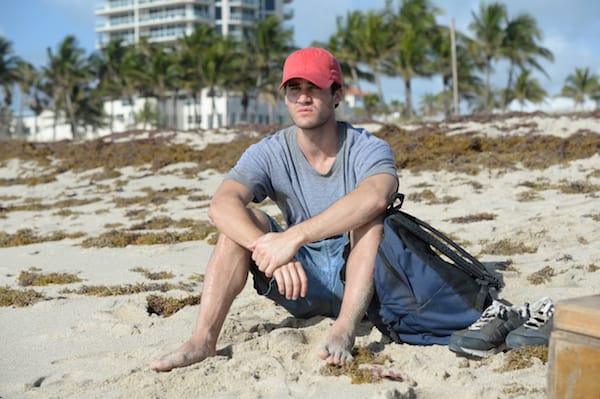 Ryan Murphy and company are back with a new installment of their ever-expanding collection of anthology series. The second season of American Crime Story debuted last night dripping with opulence and the warm blood of the titular slain fashion icon.
Murphy's series excel when they're given permission to indulge. Regardless of your opinion on American Horror Story: Coven and Hotel, the lavish sets were a wonder to behold. Here too, Versace's palatial estate and signature extravagance radiates off the screen.
The story's basics are well-known, so the series appears to be taking some liberties with timeline and specifics in an effort to refocus the crime on what it says about society at the time. Whereas last season's The People v. O.J. Simpson explored the complex (and widely discussed) racial component to Simpson's trial and cultural impact, Versace aims to contextualize the Versace murder and the manhunt that followed within American culture's understand/acceptance of gay men in the '90s.
How'd it do? Let's discuss in our recap below.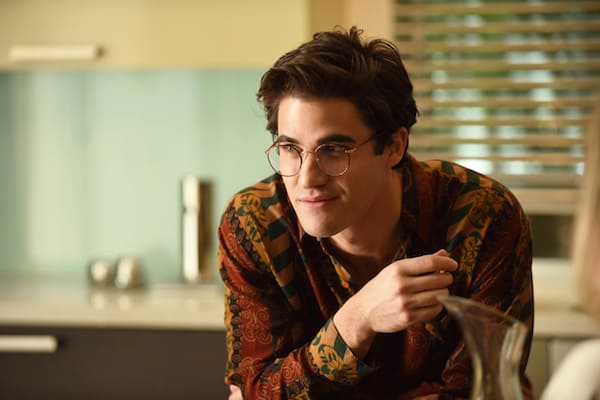 1990:
Andrew Cunanan and a friend enter a San Francisco nightclub. Cunanan (played with chilling intensity by Glee's Darren Criss) zeroes in on Versace in the VIP area. Immediately, he breaks through Versace's disinterest with a just-believable-enough story about how they had met once before and his own family's Italian heritage.
The ease with which Cunanan is able to ingratiate himself with the famed fashion designer is key to his psychopathy. As he recounts the encounter to friends later, each telling gets a little twist. When discussing their meeting with the straight couple he lives with, he calls Versace a 'faggot' with disgust. However, when retelling the story about how Versace invited him to an opera to a gay friend, it's a date. The friend is already onto Cunanan's dishonesty: He tells gay people he's gay and straight people he's straight. "I tell people what they need to hear," he responds coolly.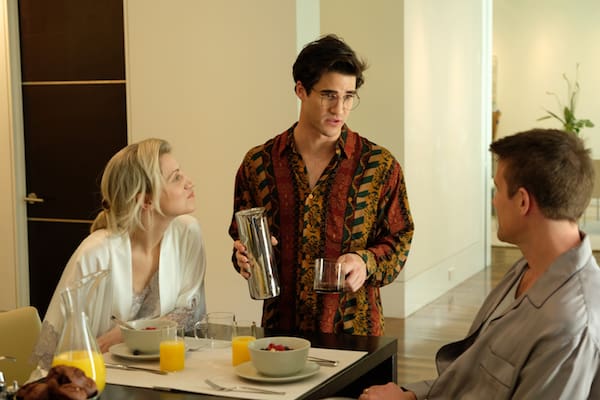 The night of the opera ends with Versace and Cunanan chatting on the stage of the empty theater. Cunanan spins a tale about his upbringing — raised by a pineapple farmer that moonlighted as Imelda Marco's private pilot. According to Cunanan, his father ran away with a man that worked on his pineapple plantation.
The entire exchange feels like another one of Cunanan's elaborate tales, but the entire nature of his relationship to Versace before the murder is a matter of speculation. Little is confirmed when it comes to if — and how much — they ever interacted before the shooting, so these scenes liberally apply some poetic license.
Still, Criss does an incredible job as Cunanan. He's got the natural charm and charisma to believably sell this compulsive liar, but he's also got the intensity to bring some menace to the performance. This is not the Dalton Warbler we once knew, that's for sure.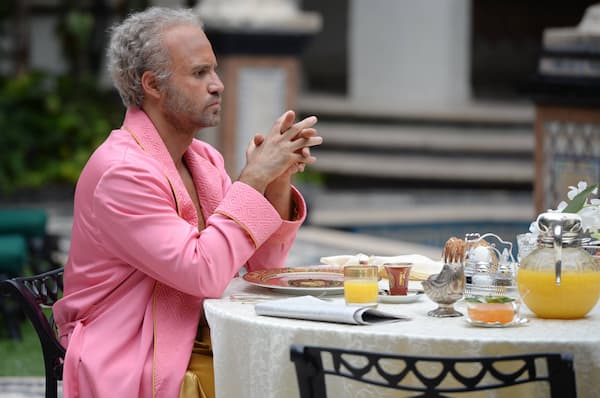 1997:
Gianni awakes in his luxurious compound, surround by the gilded gold trimmings, terrazzo floors and marble sculptures. It looks as if he's living in a Versace ad in Italian Vogue.
Elsewhere, Cunanan wades into the ocean fully clothed and screams out over the horizon.
Versace makes the trip to the newsstand, returns home and Cunanan guns him down at point-blank range. An unlucky dove is also struck and falls dead beside him. Of course, I initially assumed this was more of Ryan Murphy's typical ham-fisted metaphor at play, but, turns out, there really was a dove struck when Versace was killed. How 'bout that!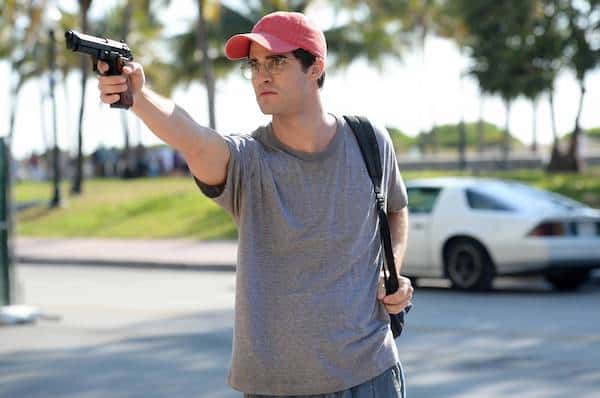 Cunanan flees the scene, racing to a pickup truck to change into clean clothes. He evades chase, and, in one expertly acted scene, mimics the shock of a woman he observes watching the news of Versace's murder.
Police are able to identify Cunanan by tracing the stolen pickup to the original murdered owner. Cunanan was already wanted for four other murders by the F.B.I. before shooting Versace. Authorities had done an awful job finding him, failing to flyer neighborhoods with his picture and ignoring a reported sighting from a pawn shop owner days before the killing.
They're not doing a better job now. Questioning Versace's longtime partner Antonio D'Amico (played by Ricky Martin, doing a serviceable job portraying the grieving partner), the cops are confounded by the couple's sexual escapades, including three-ways and what Dan Savage might call "monogamish" behavior.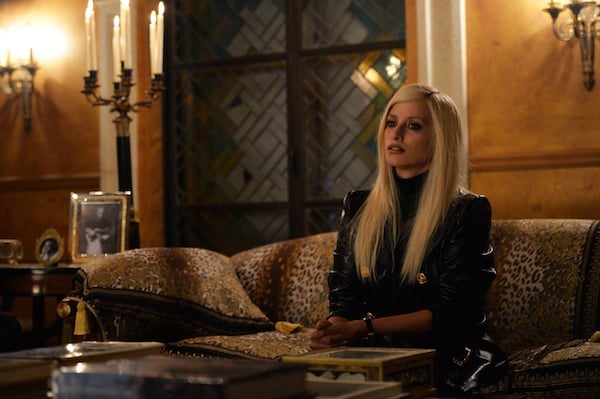 If the cops were insensitive to D'Amico's loss, Versace's sister Donatella (Penelope Cruz) was savage. She bans him from talking further to the public without her consent ("I won't allow that nobody to kill my brother twice"). She also admonishes him as he weeps, telling him "That's not what I need from you right now." She rejects his hand when he reaches for him and later closes a door in his face. (There's that signature Ryan Murphy on-the-nose metaphor.) Cruz's heavy Spanish accent doesn't quite fit Donatella, but her expressive face and unparalleled screen presence elevate the performance beyond the delivery.
As we wrap the first episode, Donatella is halting Gianni's plan to take Versace public and Cunanan is still on the loose. The authorities' chase a lead to a motel only to find a strung out junkie, Ronnie (New Girl's Max Greenfield).
Cunanan, meanwhile, is buying up all the newspapers covering the Versace murder.
Finally, he's got a story even grander than even he could imagine.
What did you think of the first episode?