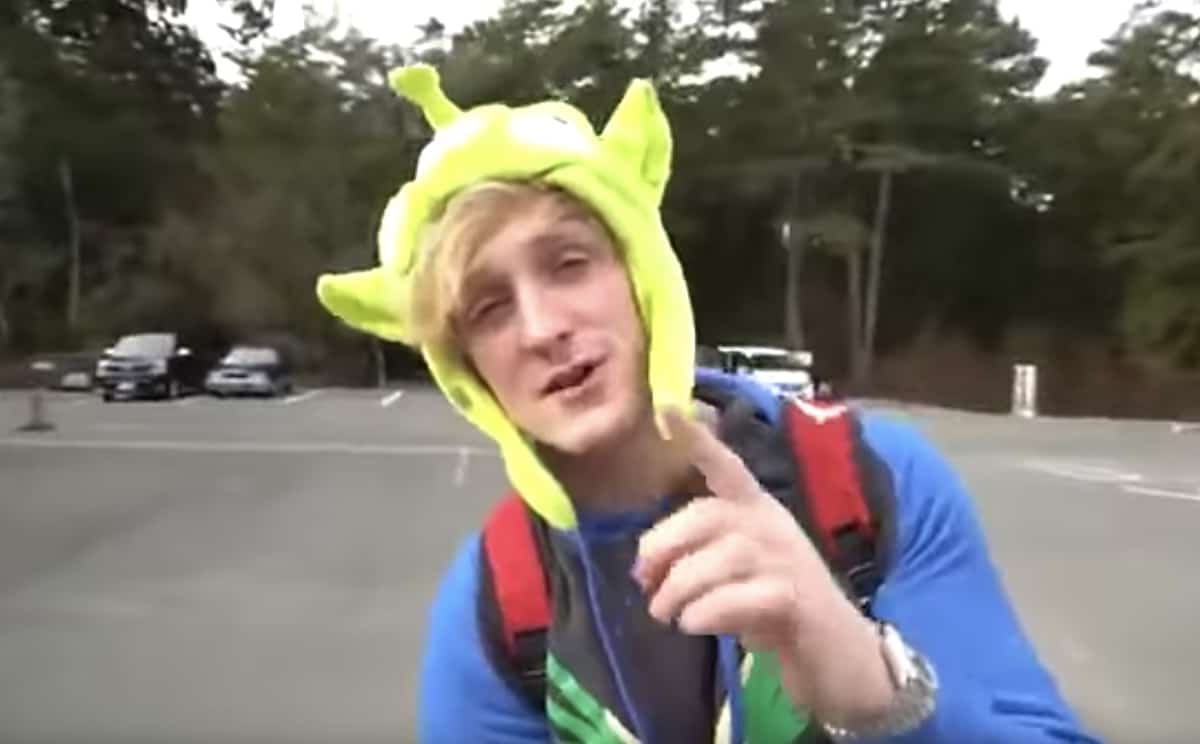 Vlogger Logan Paul (the older brother of vlogger Jake Paul) is apologizing after his latest video caused outrage. Paul, who has 15 million subscribers on his channel, visited Aokigahara, Mt. Fuji in Japan aka the "suicide forest".
Said Paul in the intro to the video: "This is the most real vlog I've ever posted on this channel. I think this definitely marks a moment in YouTube history."
Paul showed a dead body and laughed about it. When he got close to the body, he asked, "Yo are you alive? Are you fu**king with us?" and took note of the body's purple hands.
Paul later deleted the video and posted an apology to Twitter:
Where do I begin…
Let's start with this –
I'm sorry.
This is a first for me. I've never faced criticism like this before, because I've never made a mistake like this before. I'm surrounded by good people and believe I make good decisions, but I'm still a human being. I can be wrong.
I didn't do it for views. I get views. I did it because I thought I could make a positive ripple on the internet, not cause a monsoon of negativity. That's never the intention. I intended to raise awareness for suicide and suicide prevention and while I thought "if this video saves just ONE life, it'll be worth it," I was misguided by shock and awe, as portrayed in the video. I still am.
I do this sh*t every day. I've made a 15 minute TV show EVERY SINGLE DAY for the past 460+ days. One may understand that it's easy to get caught up in the moment without fully weighing the possible ramifications.
I'm often reminded of how big of a reach I truly have & with great power comes great responsibility… for the first time in my life I'm regretful to say I handled that power incorrectly. It won't happen again.
I love everyone. I believe in people. I'm out here. Peace #Logang4Life
Dear Internet, pic.twitter.com/42OCDBhiWg

— Logan Paul (@LoganPaul) January 2, 2018
But not after being blasted by many people:
https://twitter.com/aaronpaul_8/status/948032944408444928?ref_src=twsrc%5Etfw&ref_url=http%3A%2F%2Fmashable.com%2F2018%2F01%2F02%2Flogan-paul-video-apology%2F
https://twitter.com/SophieT/status/948042559229759488?ref_src=twsrc%5Etfw&ref_url=http%3A%2F%2Fmashable.com%2F2018%2F01%2F02%2Flogan-paul-video-apology%2F
Logan Paul is an amoral piece of shit who could not be less deserving of his platform. Fuck. If you need help, the National Suicide Prevention Lifeline is 1-800-273-TALK.

— Lauren Duca (@laurenduca) January 2, 2018
Logan paul found a person who had taken their own life, filmed the body, put it on youtube, and then issued a public apology that ended with #Logang4Life. Charlie Brooker doesn't need to write episodes of black mirror anymore because real life is fucking worse.

— Calum McSwiggan (@CalumMcSwiggan) January 2, 2018
Suicide is a serious, fragile subject. If you're not capable of handling it with respect and compassion or you're approaching it with any other reason than to help people, then you just CAN NOT be the one to address it in any shape or form.

— Carrie Hope Fletcher (@CarrieHFletcher) January 2, 2018
Things that should of been left in 2017: Logan Paul

— Roly West (@RolyUnGashaa) January 2, 2018
Suicide is serious. People have lost loved ones, idols, hero's, fans to suicide. Filming a video and mocking a victim is not raising suicide awareness. Laughing at the body of a poor depressed soul. I can't believe the disrespect of the victim, their family, and your YOUNG fans.

— Grayson Dolan (@GraysonDolan) January 2, 2018
Woke up to the shit show that has gone on overnight… I'm absolutely disgusted that Logan Paul would put such a thing on the internet and I'm so disappointed that Youtube didn't take action sooner!

Helpful videos are being demonetised left right and center… and then this…

— Friend Jamie 🏳️‍🌈🌿🦦 (@JamieLRutter) January 2, 2018
But Paul has moved on to his next video:
new vlog
real life Pokémon Go in JAPAN
🇯🇵 go ay 🇯🇵

— Logan Paul (@LoganPaul) January 2, 2018