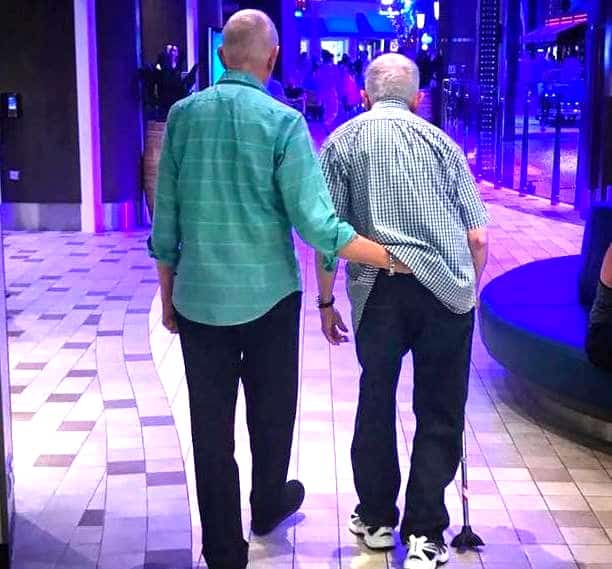 After a week on our latest Atlantis Events cruise, meeting incredible new friends from around the world and having the time of my life, it was a Facebook post that helped me realize why these excursions with 5,000 gay men are annually my favorite week of the year.
The photo was of a gay couple — I'd guess in their late 70s — walking arm in arm, one holding a cane to steady himself. The moment had been captured by a young man hoping that one day he might be one of those men in the second half of his life's journey, having found decades of happiness in the arms of the man he loved.
Most of the photos on this particular Facebook page, designed for the thousands of revelers on the cruise, are half-naked photos of young men from 20 to 50 showing off their sculpted bodies, hoping to make a "love connection" on the ship. These gorgeous photos get "liked" and "loved" a couple hundred times by men passing by the photo hoping maybe, for a brief moment on the dance floor, they might be the other half of that connection.
The photo of the older couple, shirts and pants on, stepping carefully across the bobbing ship's deck, has 1,200 likes and counting. The most of any photo on the page. By far.
Through all of the gorgeous men and incredible beats, the drag queens that slayed and the models that played, it was these two men that captured our collective imaginations like no other as we all left the ship – our temporary paradise – Saturday morning.
While many view these cruises as driven simply by sex and dance parties, to the people on the ship they are so much more. For seven days we get a glimpse into what the world would look like if gay men ruled the world – if we were the world. Dance parties instead of boxing matches. Smiles and embraces instead of handshakes and mistrust. Making love, not war.
Borders came down as I made new friends from Australia, Italy, Israel, Russia and across North America. Language barriers faded away, replaced by body language and a smile. What made us different became irrelevant; What made us similar ruled the day.
It's common for people leaving the ship to cry out of sadness that this utopia we lived in for seven days won't be available for another year. Even I, with an incredible husband of 15 years, a rewarding job and two cats who steal my heart with their cuddles every morning, find myself wishing there were a place in the world where this unique culture of gay men was the standard operating procedure.
Where I could say hi to someone passing by on the sidewalk, and have them not think I'm crazy.
Where people beam a genuine, natural smile to invite you in, instead of wearing a brooding scowl to ward off the unwanted.
Where examples of two men living life in utter acceptance and total happiness is the norm, and young men in their 20s can see possibility in their own lives at every turn.
Where the bears and the twinks, the black men and the white men, the Asians and Muslims and Hispanics, those with HIV and those who are "neg," the tall, the short, the young and the old, all of them, like a small-town gay bar with the best DJs in the world with an amazing sound system, dance the night away together.
I'll go on every winter Atlantis cruise in the Caribbean until (my husband) Dan Pinar and I are the two men in this photo. Because nothing, nowhere, no one, makes me feel as wonderful about being a gay man as I do on that ship every year.
Photo credit: Scott Burnett.
Cyd Zeigler is co-founder of Outsports.com. He has contributed to the Huffington Post, Out magazine, Playboy and The Advocate and appeared on CNN, ESPN and in Sports Illustrated and the New York Times. His book, Fair Play, explores how LGBT athletes have claimed their rightful place in sports.
Towleroad occasionally publishes opinion pieces we feel would be of interest to our readers. This opinion piece followed two others we published following the death of Storm Chasers star Joel Taylor on an Atlantis Cruise earlier this month. The first, by Jim Key, addressed Royal Caribbean Cruises regarding drug use, safety, and negligence aboard Atlantis Events cruises and the second, by Dr. Travis Cosban, dealt with drug use and responsibility aboard Atlantis Cruises from the perspective of a passenger and medical professional.
All opinions expressed are those of the author.