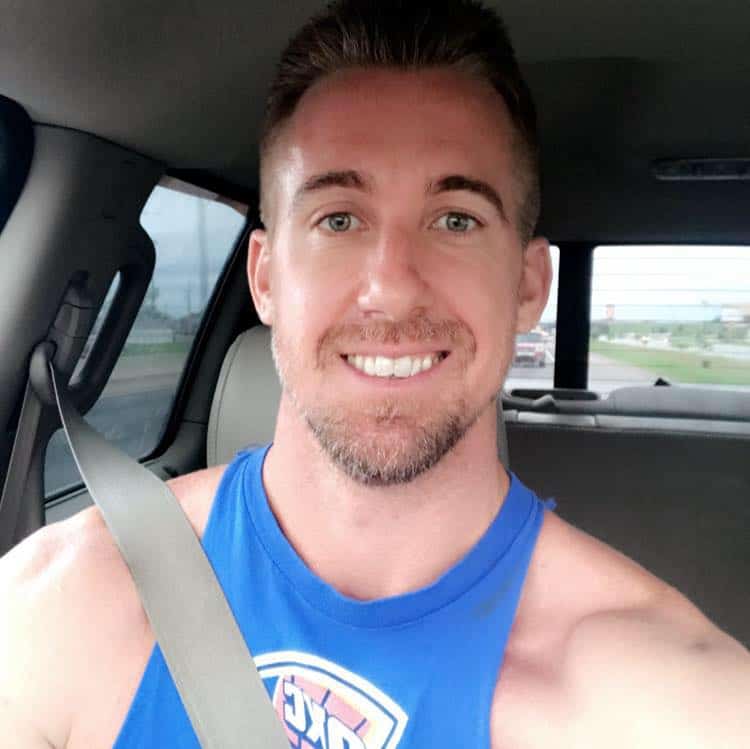 Following our publication yesterday of Jim Key's letter to Royal Caribbean on the recent Atlantis Cruise where 'Storm Chasers' star Joel Taylor (above) died of a suspected OD, we received another letter from Dr. Travis Cosban, an ER doctor and passenger aboard Taylor's cruise. Cosban had more to say about the environment aboard that ship. 
Michael Bayley, President
Royal Caribbean International
Atlantis Events
January 30, 2018
Dear Mr. Bayley and Atlantis,
As a practicing ER doctor and also a recent passenger of the cruise where Joel died, I find many of the debates regarding drug use, personal responsibility and Atlantis' role in this tragedy helpful. However, as someone who was on board and privy to the constant rumors, circulating fears and visible lack of response, I have a slightly different perspective than those who may have a less personal experience with this recent cruise.
There were many elements that went wrong that night and came together to result in Joel's death. We cannot deny he chose to use drugs based on the official reports. Many will also have to grapple with the fact his friends left him unattended. But, what bothers me as a healthcare professional is the "why?" Why leave him alone not seek medical help?
I suspect fear had a lot to do with it. During the cruise, social media played a large role in how passengers interacted both before arriving and once on the boat. Between Facebook, WhatsApp and Telegram, rumors were flying and anxiety seemed to be high among those passengers who implied they might engage in any sort of illegal activity. Now, as an ER doctor I can assure you legality does not imply safety but that is a different debate. I would not expect Atlantis or Royal Caribbean to do nothing in their fight to squash drug use or drug distribution on board. In fact, I saw a dog with authorities when I boarded and I know there were arrests. I cannot deny that the organizations completed reasonable searches in the fight against drugs prior to leaving port. What I can deny is that Atlantis did their part in creating an environment where party-goers felt comfortable seeking medical attention.
This is not an issue of whether the medical personnel on board could handle an overdose of GHB. I assume they can. Placing him in an upright position, providing anti-emetics and placing at least a pulse oximeter for appropriate monitoring is within the realm of medical treatment available on a cruise ship. When I required stitches on a cruise a few years back following an expedition, all of these resources were available plus much more. However, medical personnel were not even given a chance.
Rumors were flying on social media that if anyone was caught with or under the influence of drugs they may be detained, arrested or removed from the boat. Consequentially, it does not surprise me that passengers would be hesitant to bring anyone to the appropriate medical facility on board. This culture of fear was created by Atlantis. It may surprise those in charge to learn that if a patient comes to the ER on land with complications from drug use, I do not call to have them immediately arrested. I treat them to the best of my ability. I ensure they are safe and can go on to live another day. Medical staff serve as the net to catch people when they fall not to make their lives worse. We took an oath to do no harm and we take it seriously. While rumors may just be rumors, it should be clear to passengers that the medical staff on the boat also have the patient's best interest in mind. We are doctors and not policemen. It is certainly a fine line to walk but one that Atlantis must navigate.
Providing staff and medical treatment locations that are safe spaces is essential to healthcare delivery and passenger safety. This is true on land and it is true on water. On future cruises, I would expect such resources to be available. The presence of support services does not condone drug use. Medical personnel are available for a wide range of passenger needs from minor injuries, heat exhaustion, alcohol excess to drug overdoses. It is in your passengers' best interest. It is in your best interest as an organization.
Atlantis cannot claim ignorance now. In fact, if they had spent one night looking in people eyes and at their pupils they never should have been able to. I find any such claims that they did not know what a minority of passengers chose to do on the nights they partied willfully ignorant. Drugs are not going away as when there is a will there is a way. Still, Atlantis provides far more than a party cruise where people might engage in these activities and many of the cruise's greatest aspects have been overshadowed. These cruises are an amazing opportunity for thousands of passengers to interact, try new things, find inspiration and escape discrimination. They are an essential part of gay culture and life.
None of this discussion will bring Joel back to a grieving family. The best step forward is taking reasonable actions to ensure prevention is a priority for future cruises. This requires a change in attitude and a change in culture. No one should ever fear seeking help when they most need it and Atlantis should put resources in place to ensure that doctors can be the safety net they are trained to be.
Sincerely,
Travis Cosban, MD
Department of Emergency Medicine
Towleroad occasionally publishes opinion pieces we feel would be of interest to our readers. All opinions expressed are those of the author.
Dr. Cosban is currently serving as a doctor in Emergency Medicine in Texas. He also serves on the state board for Equality Texas to help ensure all citizens are treated equally through legislative advocacy and fundraising. Additionally, Dr. Cosban serves on the executive board for El Paso Sun City Pride where he serves as a strong advocate for healthcare obtainment for the LGBTQ community.