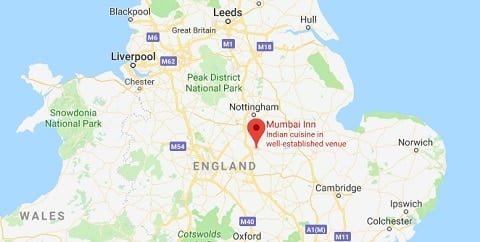 A gay couple say they felt they had no choice but to leave a restaurant on St. Valentine's Day after another customer complained when they shared a brief kiss.
Sam Anderson and Angus Reilly were exchanging gifts at The Mumbai Inn in Leicester, England on 12 February when the owner "stood over" them saying it was a "family friendly" place.
"You know as a gay couple that this stuff happens, but you don't know when it's going to happen."

Sam Anderson and Angus Reilly say they were told off for kissing in an Indian restaurant in Leicester. pic.twitter.com/E1pdCu5NAw

— BBC Asian Network (@bbcasiannetwork) February 19, 2018
Anderson and Reilly were left "so shocked" and "got up and left straight away".
The BBC reports:
Owner Andaz Rana spoke to them because another customer "had not been comfortable" but has since apologised.
Mr Anderson, 20, from Oadby, Leicestershire, said: "I was so shocked. Then we got up and left straight away.
"One of the waitresses came out and apologised for her manager's behaviour, which she described as homophobic. She gave us both hugs."
"What so upset us was the intimidating way he went about it and the fact he referenced it was a family friendly restaurant, as if being a gay couple is something that not is family friendly.
"We did not feel comfortable in that restaurant, we did not feel wanted."
Mr Rana said he treats all his customers equally but spoke to the couple when another customer, who was there with a child, said they were not comfortable sitting near them.
"On behalf of my entire team, I will say sorry."
Rana has since said he is "very upset" the couple shared their story on social media, instead of coming to see him at the restaurant in person.
However, Anderson said they only intended to share the story with friends. "Whilst we have been overwhelmed by the response," he said, "we didn't ask for any of it. We haven't looked for any of the attention this has got."