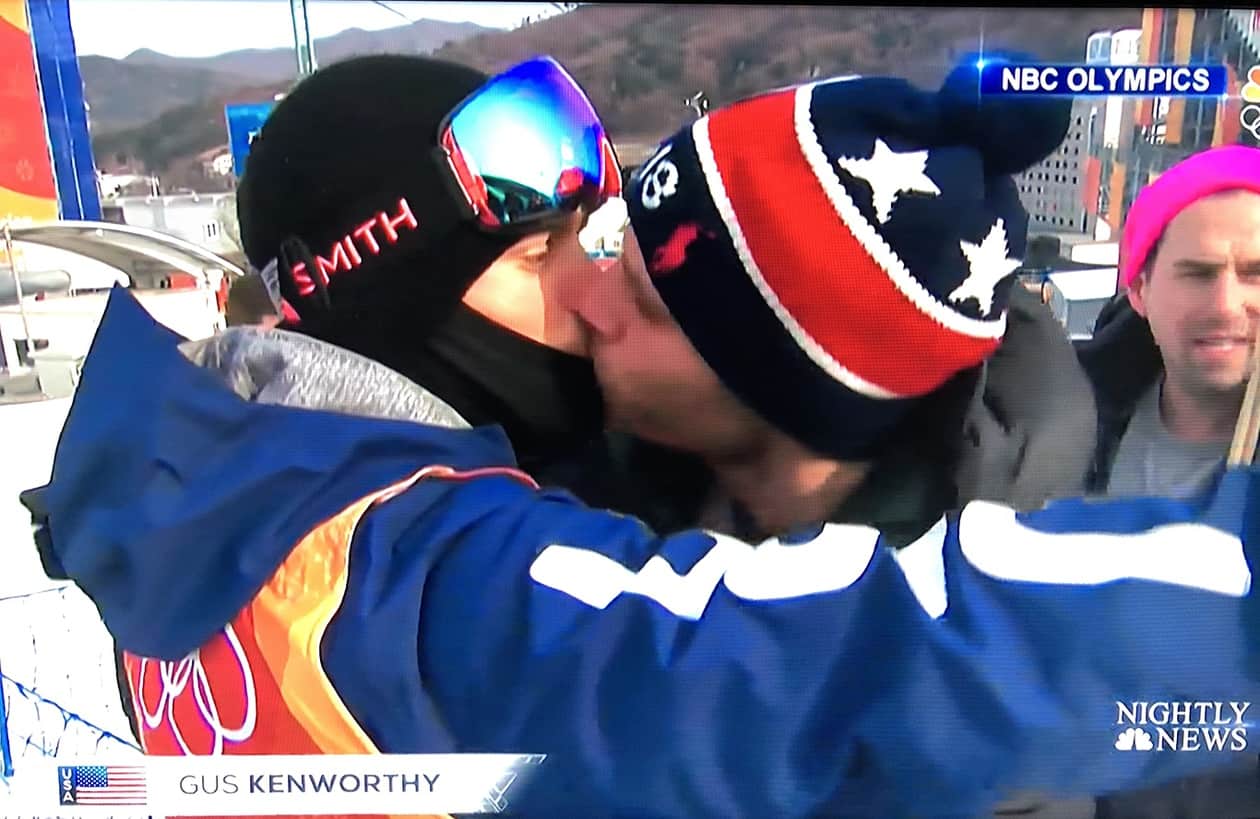 Social media lit up on Saturday when NBC aired a simple yet extraordinary kiss between Olympic free skier Gus Kenworthy and his boyfriend Matthew Wilkas before Kenworthy's qualifying run in PyeongChang.
It was a moment that didn't have to be televised but was, and made a huge difference in the lives of many watching around the world.
Said Wilkas to TIME, who seemed surprised that the kiss had generated such a commotion:  "That was like a peck. We should have made out in front of people….It's unusual, right?…I would imagine it would be a huge moment for a young gay kid to see an awesome athlete so open and proud of himself and not caring what anyone thinks of his sexuality."
Kenworthy failed to medal, finishing 12th in the men's ski slopestyle final, but, as the New York Times noted, he won without making the podium:
If Kenworthy had to choose between winning a medal while leading a closeted existence or failing to grace the podium while living an authentic life, it wouldn't be close.
"If you look at me, I'm bummed but I'm not sulking, I'm not crying," he said, adding, "Being out at these Games has kind of meant the world to me, just getting to really be myself and be authentic. And I think landing a run in the final and getting on the podium obviously would have been icing on the cake, but even though it didn't happen for me I still had a wonderful Olympic experience."
Kenworthy also reacted after hearing his kiss with Wilkas had been televised: "That's not something I had as a kid. I didn't see a gay athlete at the Olympics kissing their boyfriend. I think if I had it would have made it a lot easier for me."
Kenworthy had tweeted a photo of the couple earlier in the day: "My Seoul mate! So happy to have my bf, my family and some amazing friends here in Korea to cheer me on! Tomorrow's the big day (tonight for y'all in the US) and win or lose I just wanna thank you all SO much for your support and encouragement. I wouldn't be here without you."
My Seoul mate! So happy to have my bf, my family and some amazing friends here in Korea to cheer me on! Tomorrow's the big day (tonight for y'all in the US) and win or lose I just wanna thank you all SO much for your support and encouragement. I wouldn't be here without you. pic.twitter.com/XwqWKldwbN

— Gus Kenworthy (@guskenworthy) February 17, 2018