https://www.instagram.com/p/Bdjs8vaFsQh/?taken-by=soitsjacob2.0
Gay adult film actor (Men.com, Sena Cody) and Andrew Christian underwear model Jake Porter (aka Jacob Ford) has been vocal about his support for Donald Trump, but yesterday took an uninformed defense of Mike Pence to the internet following the vice president's tweet to gay figure skater Adam Rippon.
Porter's tweet, in which he claimed that Pence's support for gay conversion therapy was "misinterpreted," was captured by the website str8upgayporn (not wk friendly):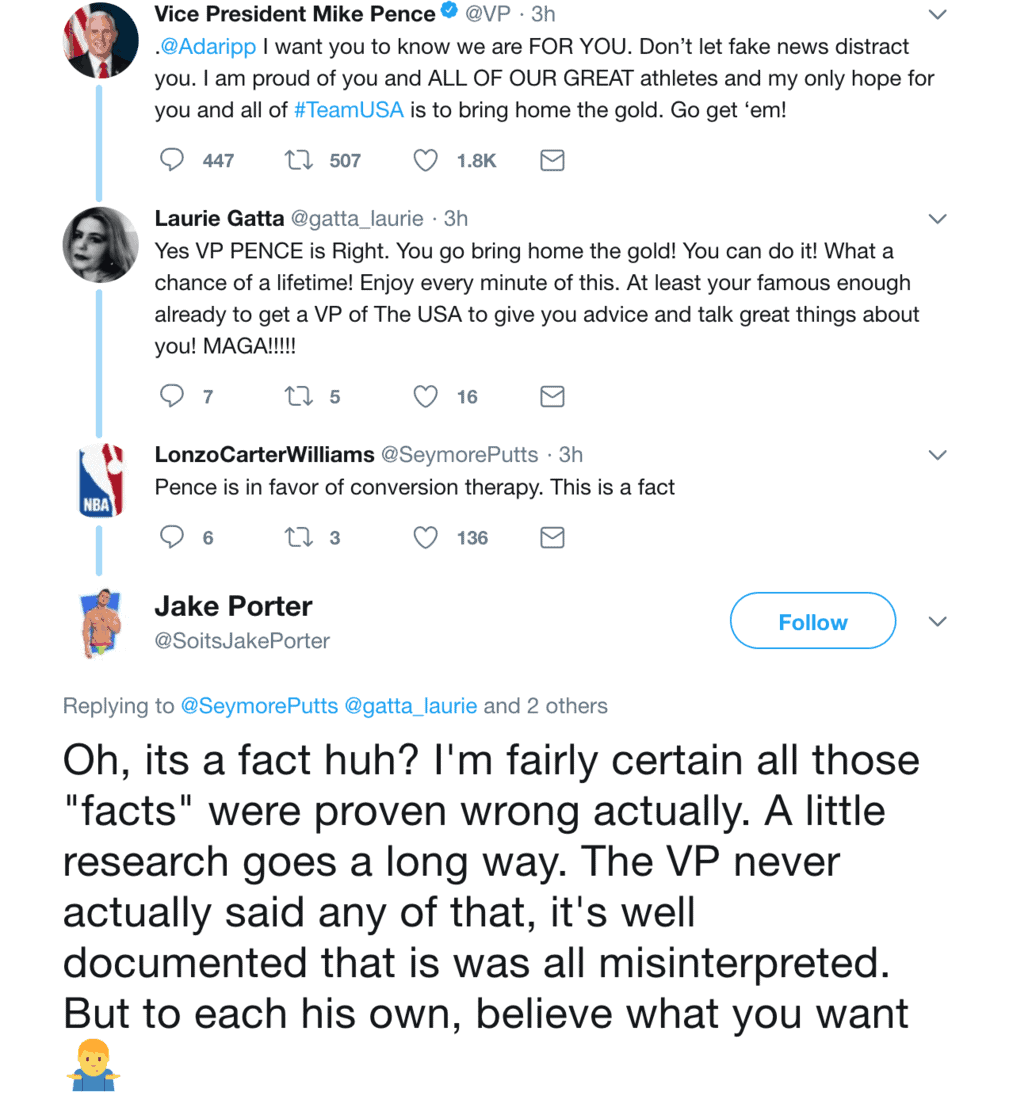 Porter must have been force-fed his BS by Pence's spokesman Alyssa Farah, who told USA Today that U.S. figure skater Rippon's claims about Pence and gay conversion therapy have "no basis in fact:"
"The vice president is proud to lead the U.S. delegation to the Olympics and support America's incredible athletes. This accusation is totally false and has no basis in fact. Despite these misinformed claims, the vice president will be enthusiastically supporting all the U.S. athletes competing next month in Pyeongchang."
That, unfortunately, is not true.
Pence, as his record shows, is no friend to the LGBTQ community.
In 2000 during his first successful run for Congress, Pence said that he was in favor of sending money allocated to care for people with HIV/AIDS to organizations that provide conversion therapy.
From running a think-tank that published virulently anti-gay articles, to attempting to divert HIV/AIDS money to fund conversion therapy, to refusing to protect LGBT Hoosiers from discrimination, to legalizing anti-LGBT discrimination in Indiana, to cozying up to notorious homophobes, to supporting a ban on gay marriage, and decrying the 'mainstreaming of homosexuality in the military' after DADT was repealed, Pence's record is among the worst records on LGBTQ issues of anyone who has ever occupied the office of the Vice President.