VALENTINE'S DAY, Feb 14
Love. Love. Love. Ptown is a great winter getaway to share with a true love or to find a new one…
With Valentine's Day in the middle of the week this year, consider an extended stay  through President's Day weekend. Why rush? No one ever says they had too much Provincetown. Set aside some intimate and casual alone time to reconnect, celebrate, or focus on where you're headed next. Spend some of your stay outside, hiking in the national seashore and on a beach; and why not explore some of the nearby towns and attractions you may have missed on other visits. Truro and Wellfleet are nearby and different worlds.
Provincetown in Winter has skies as spectacular as the town's fireplaces.  You can choose to dine finely…or more casually with all kinds of places open. Just check to see which are open different weeknights. There are bars and lounges if drinking is your thing. And many guesthouse and restaurant hosts would be thrilled to help you plan a surprise or special recognition for you and a longtime partner, a sexy new stranger, or best friend.
On the 14th, Mac's Fish House is hosting one of their popular Winter to Spring wine dinners, a pre-fixe treat which on Valentine's Day is a tribute to chef Daniel Humm of Eleven Madison Park in NYC. And The Pointe restaurant is opening for the season. At Napi's, Provincetown's own accordionist Terri Conti will be playing jazz standards, songs from around the world, your requests, and old memories.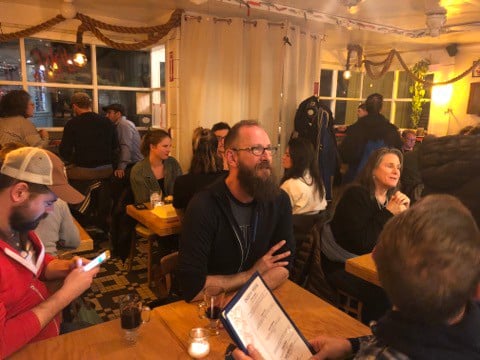 Cozy world-class dining will be available at  Joon, Mac's, Fanizzi's, Liz's Cafe, Canteen, The Pointe, Central House at the Crown, The Mews, Jimmy's Hideaway, Blackfish Pub, Napi's, Spindler's or one of the other restaurants open this time of year – Reservations are especially recommended for  for Valentines Day/ Presidents Day weekend.
PRESIDENTS

3-DAY

WEEKEND Feb 16-19

(Many activities available other winter in Provincetown Weekends)
The  three-day break is a great one for a  little road trip or to catch one of the 20 minute Cape Air flights from Boston…as is any other weekend this winter and spring.
Hike Beech Forest, the dunes, hang out at Race Point beach with an eye out to spot a snowy owl. They are around this year, and it's an amazing thing to see one of these white predatory birds…usually  already checking you out.  PLUS, our right whales have returned already. Much bigger than the owls, but harder to spot.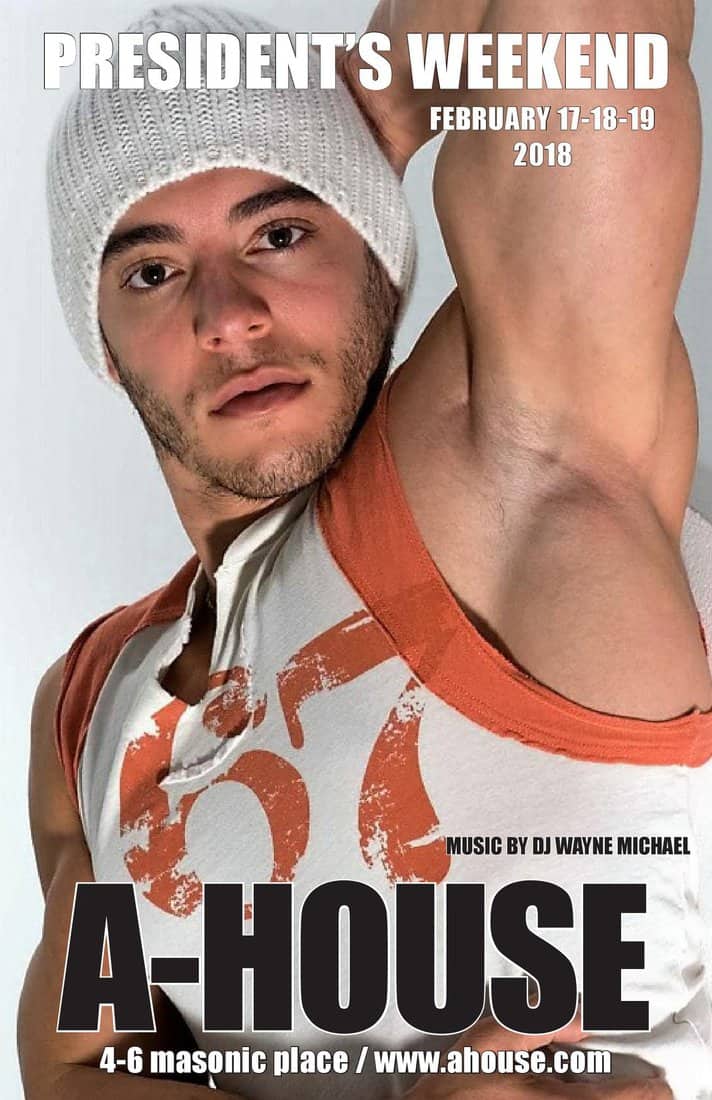 Don't know about you, but US Presidents make us think of spas. (OK, actually that's recent. )
Resist what a year like this can do to your well being, attitude and optimism with some spa time.  Shui Spa at 82 Bradford Street reopens for the season.  All treatments include complimentary use of the Steam Room Sauna and soaking Tub.
Namaste Spa at Carpe Diem has been redone and just reopened this fine winter in Provincetown. The affiliated practitioners are attuned to healing arts including Reiki and Cranio Sacral, making each session a journey beyond the usual massage experience.
Still want more? Run the pool table or the trivia game and take in the extensive vintage gay art collection and masterful tenders of the Porch bar up at the Gifford House. (Up the street from Keihl's, also open this winter, with Kohi Coffee open for your caffeine needs across the street.)  And just about every night is a good night to head to Crown & Anchor Inn for something good including Bobby Wetherbee, Ptown's most beloved piano man, doing the standards in a way that can only be called "standard" in Provincetown.
Want to move a little more? Why not make your way to the bass-pumping, cozy confines of the Atlantic House, America's oldest gay bar, where there will be drinks and dancing on Friday, Saturday, and Sunday with music by DJ Wayne Michael. Other nights the Little Bar is open.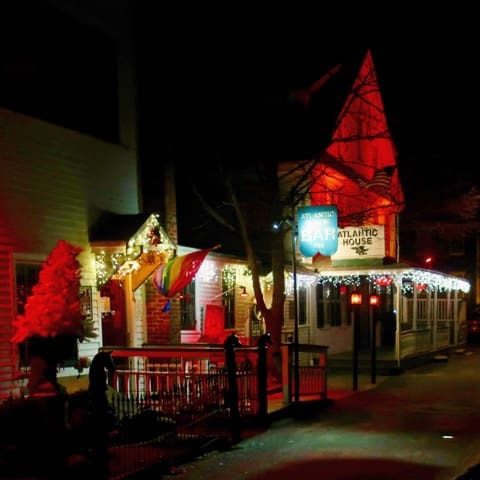 And for a different vibe, great beer list, dance floor, sound system and great hosts check in at The Underground, not surprisingly one level down across the street from Shop Therapy…
Shipwreck Lounge at the Brass Key will be open for the holiday weekend as well, serving fireside craft cocktails, although though the official Showgirls have flown the coop and headed south, if you're around on a Thursday, join the locals for a RuPaul's Drag Race hosted by Bang the Queen and guests. It's at the latest iteration of the oldest place to drink and dine in town, Sage Inn and Lounge at Pilgrim House, until the April coronation.
Any theater, um… aficionados out there? Presidents are sharing the weekend with the 24 Hour Theater Festival. Performances are Saturday at 7:30 and Sunday at 2pm, both at The  Provincetown Theater. And while you may have folks in your community who do something similar– heck, you might have  Broadway–there's nothing like the seriously talented, eccentric, creatives doing their thing, honing and performing at the tip of the earth with a time constraint. Playwrights write, actors act and the usual things happen, but very very quickly and by the time it's over a new short play has been birthed and presented, if you get a ticket Saturday evening. Unless you happen to be an actor, writer or director who wants to participate. Then show up for the kickoff meeting Friday the 16th from 5-8 pm. All this is an even bigger deal under the ostensible direction of the Theater's new creative director and cat herder, David Drake.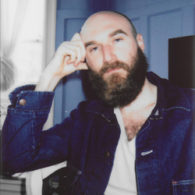 Winter also means the Fine Arts Work Center, known for its acclaimed writer and artist residencies, is in full swing with weekly  readings and exhibitions. NYC-based Jarrett Earnest, the author of What it Means to Write about Art, a collection of thirty in-depth interviews with major critics, historians and writers, is giving a talk on Saturday, February 17th at 6:30 pm at 24 Pearl Street. Earnest's criticism and long-form interviews have appeared in the The Brooklyn Rail, The Village Voice, Los Angeles Review of Books, Art in America, San Francisco Arts Quarterly and many other publications.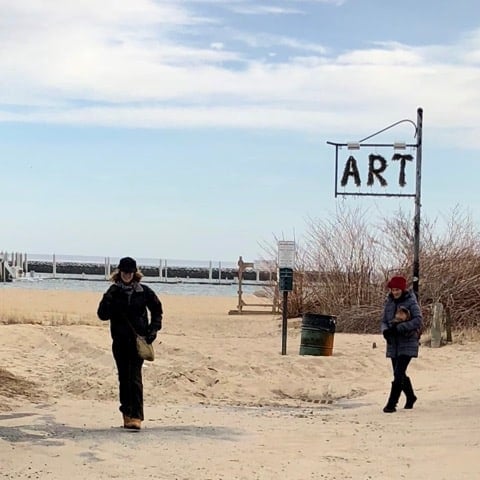 SNOWBOUND MATES

LEATHER

WEEKEND Feb 23-25
Late February in Ptown means it's also time for Snowbound Mates Leather Weekend, where you can get out of the cold and into the heat. Sponsored by The Watership Inn, The Atlantic House, Bayside Betsy's, The Crown and Anchor, Gifford House Inn and produced by Mates Leather Weekend and Full Kit Gear, this is the northeast's best winter opportunity to get your leather on.

The weekend kicks off with a Beer Blast at the Watership Inn from 6-8 pm on Friday, February 23. Come have a beer or two by the fire and connect with the men that are here for the weekend. Cast your vote for your favorite Mr. Snowbound 2018 contestant with a $5 (or more) donation to the AIDS Support Group of Cape Cod. The dude with the most money raised will gain the title, a cash prize, a free MLW pass and will be featured in all Snowbound promotions for 2019.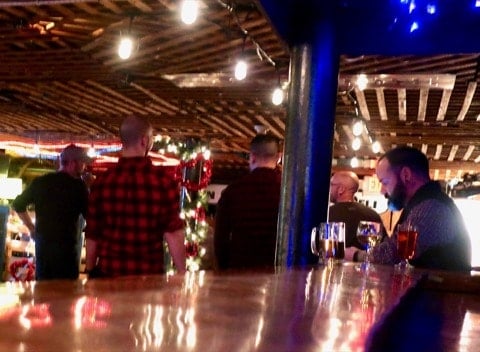 On Saturday, fill up at the Snowbound Brunch at Bayside Betsy's, where you can again vote for Mr. Snowbound 2018  All proceeds benefit ASGCC. Also, get 10% off their regular breakfast menu (alcohol excluded).

Full Kit Gear is offering gear education workshops which are way sexier than the kind of school you're used to. Registration is required in advance for the two workshops, which are limited to 16 people. Sign up via email at info@fullkitgear.com (no phone calls please). Be sure to state which time slot you would prefer either 12:30 pm or 2pm and if you are willing to attend either time period. Slots will be handed out on a first come first served basis.

And there are parties up and down Commercial Street (but mostly right in the middle).
On Friday, February 23, you can choose between the Snowbound Cock Party at Paramount at the Crown & Anchor where you should wear your thermal shirts, long johns, or less. There's a clothes check available. With Bootblack Jay Falcon on duty and music by DJ Chris Racine. Or you can head over to the Atlantic House for the Winter Jock party with music by DJ Wayne Michael.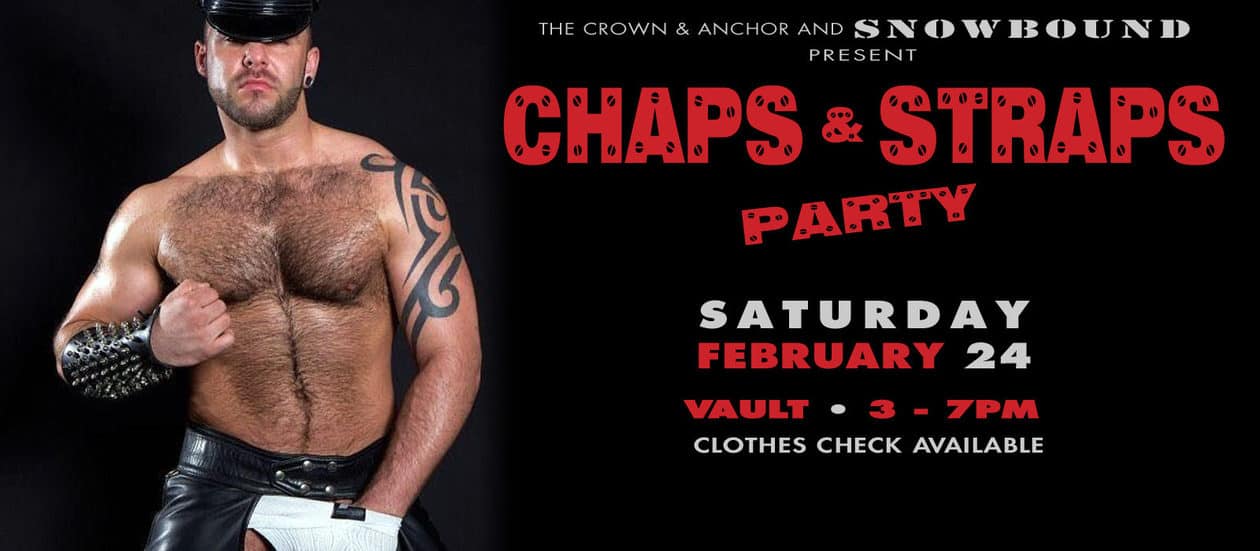 Saturday, hit the Atlantic House for the Snowbound Leather Dance, after you get your chaps and jocks on for Chaps & Straps at the Vault during the afternoon (3-7) at Crown & Anchor where there's also a clothes check available.
Sunday don't miss the Farewell Brunch at Central House where you'll find out the results of the Mr. Snowbound 2018 contest. It's an $18 brunch (alcohol and gratuity not included).
Most of the winter in Provincetown events in the section above continue through March and April.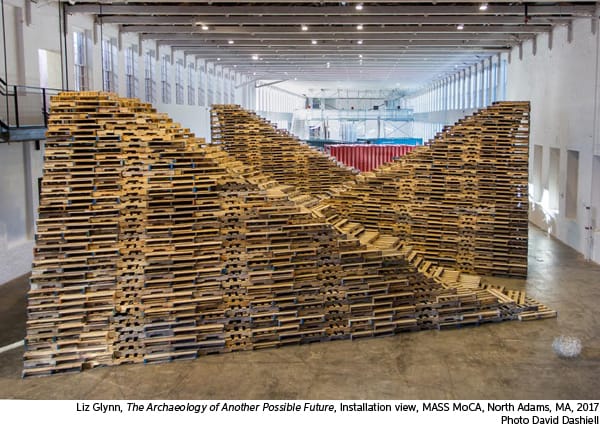 And if you need a culture break on Saturday, Fine Arts Work Center visiting artist Liz Glynn is giving a talk at 6:30 pm at 24 Pearl Street. Glynn creates sculptures, installations, and participatory performances using monumental architecture, cultural artifacts, and epic historical narratives to explore the potential for change in the present tense. Her work seeks to explore the position of the human within complex superstructures in the face of technological acceleration and an increasingly abstract economy. Photo: David Dashiell.
Bears

: OUT OF HIBERNATION March 16-18
On March 16-18, the bears will be waking up from their long winter's nap at Out of Hibernation Weekend at Crown & Anchor sponsored by Northeast Ursamen. But it's still winter in Provincetown.
A weekend full of activities includes Friday's Meet-N-Greet at the Wave Bar, Tough Drag Bingo on Saturday from 2-4 at the Paramount hosted by CT Cruisers, and on Saturday night the Bears N Boxers party (again at Paramount) where you should get into your underwear (free clothes check available) and get intimate to the music of DJ Chris Racine.
DJ Wayne Michael will also be spinning at the Macho Bar at the A-House on Friday and Saturday from 10pm to 1am.
There's a farewell brunch on Sunday from 10-1 at the Central House.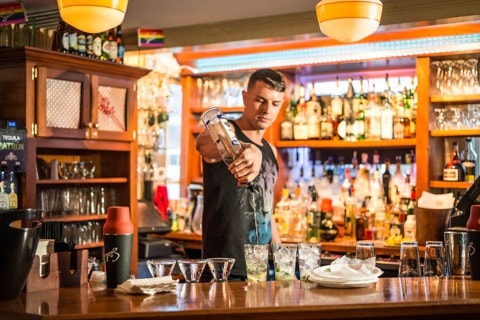 Winter in provincetown:
STAY

?

You can find hotel deals all winter long at 8 Dyer Hotel, Admiral's Landing, Aerie House & Beach Club, Anchor Inn, Benchmark Inn, Carpe Diem, Crowne Pointe Hotel is open 2/14 with great spring specials on stays longer than 2 nights, The Gaslamp Bed & Breakfast, Gifford House, Howards End Guest House, Land's End, Moffett House Inn, Roux,  Sage Inn, and Somerset House Inn.

Other wintertime events include the long-running (27 years!) Coffeehouse at The Mews from 7-9:30 pm on Monday nights, an open mic for writers, playwrights, poets, singers, songwriters, comedians with host and co-founder, singer songwriter Peter Donnelly. The other co-founder is Mews owner and radio/television personality Ron Robin. You can listen live HERE.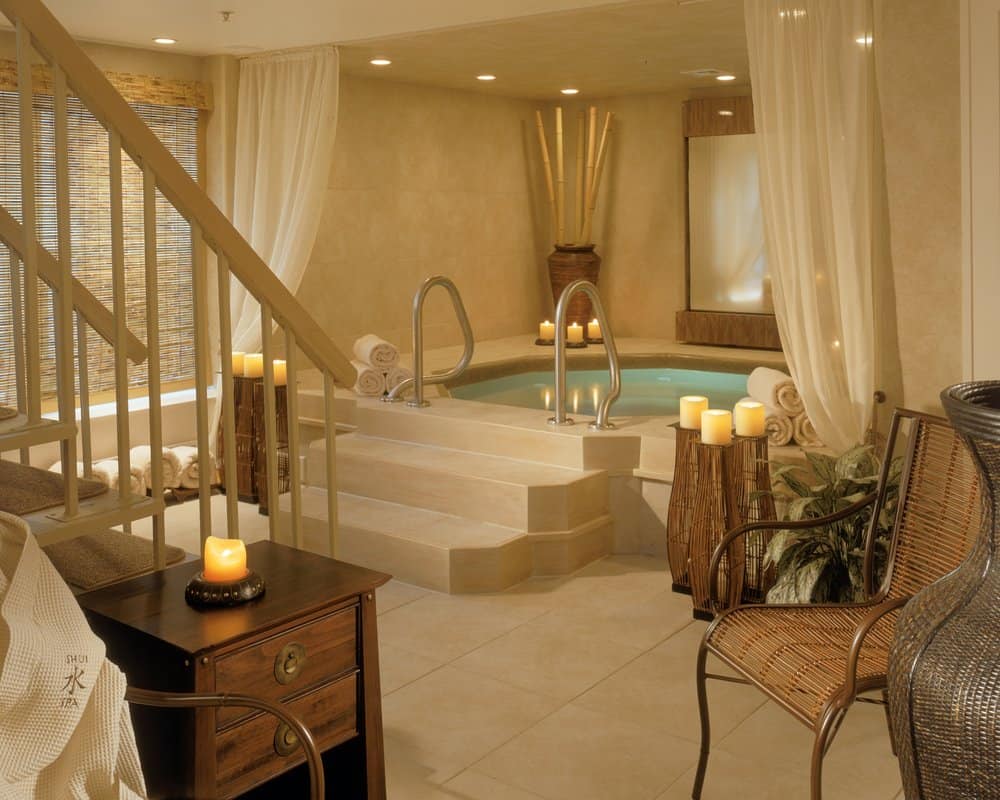 There's also a Film Art Series sponsored by Provincetown Art Association and Museum – PAAM and Recent Gifts Part II, an exhibition at PAAM.
Oh, and all this and everything great in the winter…not to mention this coming prideful summer culminating in our 40th annual Carnival is brought to you by the good members and community at the Provincetown Business Guild. The Guild works for you.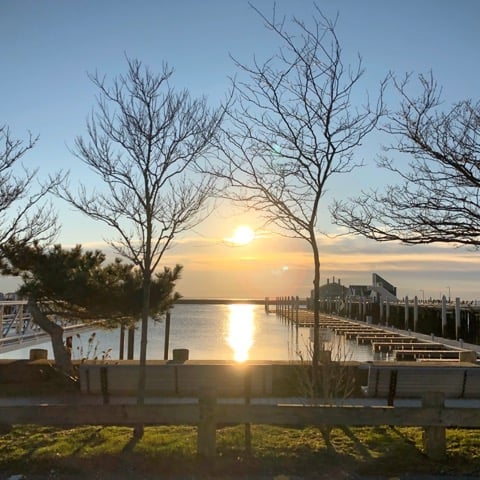 Winter in Provincetown Photo Credits: Top image: Kissing by Salty Broad; Love is Love by Dan McKeon; Oysters by Stephen Hooper. Art, Drink, Seagull by Michael Goff. Canteen interior and Atlantic House exterior, Art sign, Line Dancing at Governor Bradford, Anchor Inn, and Sunrise over MacMillan and Marina by Michael Goff. tt Ernst and Liz Glynn via FAWKS. Shipwreck and Shui courtesy Crowne Pointe. Crown and A House club invites.