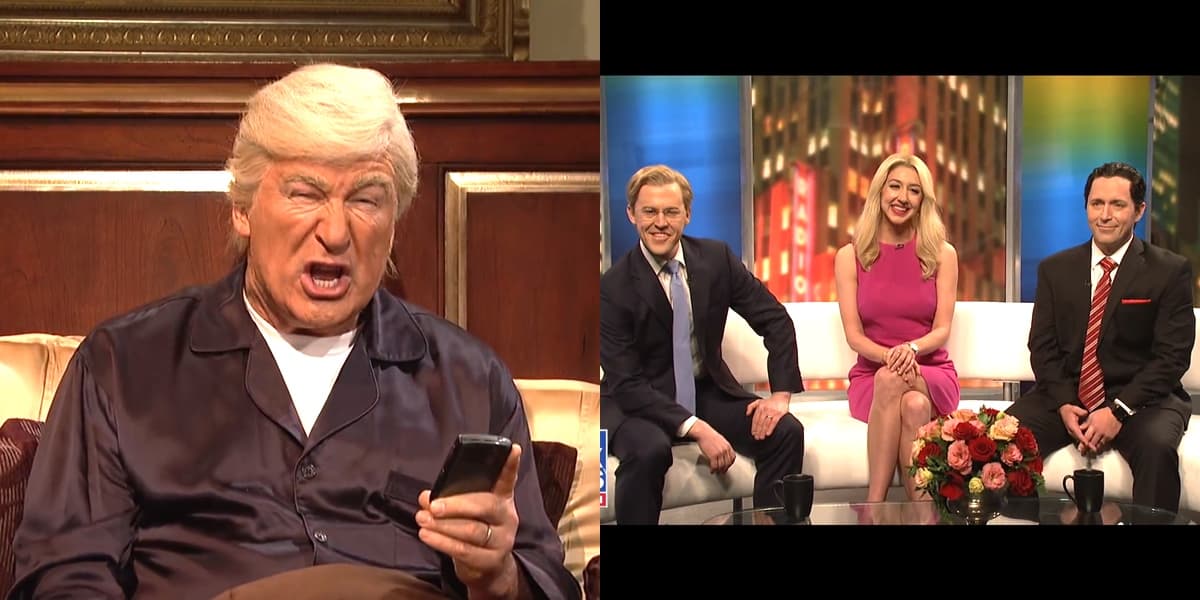 SNL joined Trump's favorite program FOX & Friends for last night's cold open and found Alex Moffat, Heidi Gardner and Beck Bennett as hosts Steve Doocy, Ainsely Earhardt and Brian Kilmeade, respectively.
Said Earhardt: "We want to say a big hello to all of our fans out there. Whether you're fixing breakfast, or getting dressed for work, or laying in the Lincoln bedroom tweeting with an egg McMuffin on your chest. Hello!"
First on the agenda: the "bombshell" Nunes memo. They cut to Hope Hicks (Cecily Strong) for comment.
Said Hicks: "We love the show at the White House, it's playing at full volume during every meeting."
But little is asked about the memo.
Said Kilmeade: "Two years ago you were a 26-year-old former model working for Ivanka Trump's clothing line, now you're White House Communications Director."
Replied Hicks: "Sure if you say so. There are no real jobs here, you know. Every day feels like when a group of strangers suddenly work together to push a beached whale back into the sea."
With little talk about the memo, the FOX & Friends hosts welcomed a guest: religious firebrand Louis Farrakhan (Chris Redd) in a rather masterful spot.
When asked if he feared the FBI, Farrakhan replied: "I do not fear that for God is justice, and he is on the rise. And if retribution pleases God, then y'all are going to die. Every white person in this room. You, you, and even bobblehead you."
Finally, a special caller is on the line: Alec Baldwin's Trump from his bedroom with his McDonald's and Diet Coke breakfast.
"Right now I'm getting my daily intelligence briefing….from you guys."
Baldwin's Trump bragged about how his State of the Union speech was watched by "10 billion people."
When told by Earhardt that his speech was the best speech in the history of the country Trump replied, "Thank you Ainsley. I'm gonna tweet that right now. Boom. Tweeted. MAGA. You know, a lot of folks are saying, including Paul Ryan, that it was better than Martin Luther King Jr.'s 'I Dream of Jeannie' speech."
Trump also bragged about the memo prepared by "my sweet little house elf" Devin Nunes. "So close to earning his freedom."
"This memo might be the greatest memo since the Declaration of Independence. I don't know, I haven't read either one of them."
Watch: