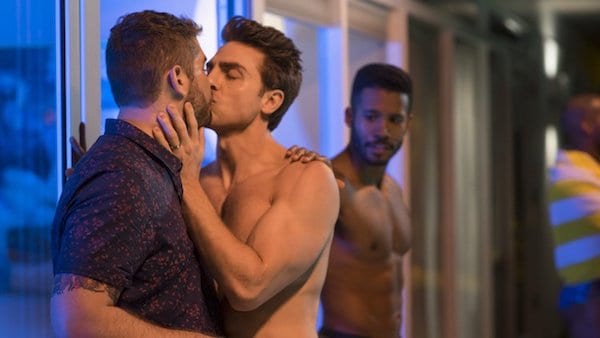 Check out our weekly guide to TV this week, and make sure you're catching the big premieres, crucial episodes and the stuff you won't admit you watch when no one's looking.
Sundance's new original series is ground-breaking for more than one reason. It's the first on the network's streaming platform, Sundance Now, and it features a deaf, gay lead. This Close focuses on the relationship between two characters played by co-creators Shoshanna Stern and Josh Feldman. Follow their foibles at work, in love and with their own codependent relationship starting Wednesday.
The Assassination of Gianni Versace: American Crime Story continues it's journey backward in time this week Wednesday at 10 p.m. Eastern on FX. Expect to learn more about the relationship between Andrew Cunanan (Darren Criss) and Jeffrey Trail (Finn Wittrock) that preceded Versace's murder.
It's all eyes on BenDeLaCreme and Kennedy this week on RuPaul's Drag Race All Stars when the two returning queens defend their Snatch Game wins. Will either of them top the fan-favorite challenge again, or will another gal step up for the prize? Find out Thursday at 8 p.m. Eastern on VH1. Get a peek at the first few minutes from this week's episode, above.
https://www.youtube.com/watch?v=hf_YjzEvYeQ
Scratch that nostalgia itch with the latest Netflix original series to tackle those awkward teenage years, Everything Sucks! It's sort of like Stranger Things, minus the monsters and subbing the late-'90s for the '80s. (OK, so maybe not like Stranger Things at all, except that the kids are in the AV Club.) One of them may also, maybe, be queer. We'll find out when the entire debut season drops Friday.
TV's most inventive, unhinged musical-comedy Crazy Ex-Girlfriend brings its third season to a close Friday at 8 p.m. Eastern on the CW.
What are you watching this week on TV?