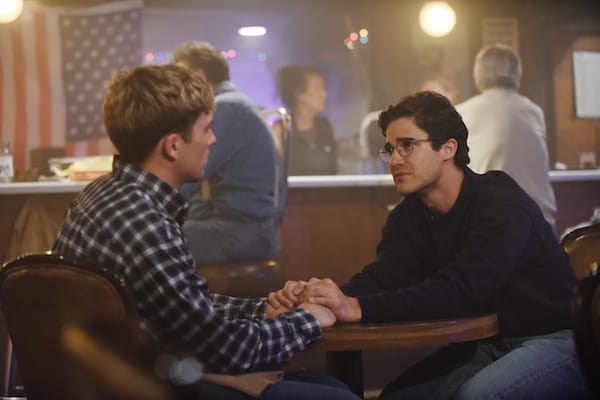 You're not alone if you confused last night's episode of American Crime Story for an installment of American Horror Story instead. While last season's The People v. O.J. Simpson meticulously recreated the courtroom drama of the O.J. Simpson trial, last night's The Assassination of Gianni Versace is a bit more akin to If I Did It.
Last night's episode also marked the second week in a row where The Assassination of Gianni Versace was completely Versace-less. Instead, we stepped back even further in time to trace Andrew's first two grisly murders. It was a tense hour-plus of television, anchored once again by a chilling performance from Darren Criss. (Give this boy an Emmy nom, folks, he's quite literally killing it.) It also amounted to one of the more surreal and stylistic episodes given how little substantiated details the team had to work with.
Plus, Aimee Mann showed up looking and sounding beautiful.
Let's review in our recap, below.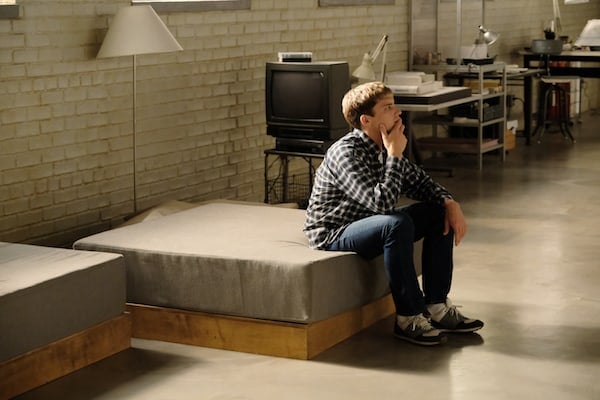 April 27, 1997 (one week before Lee Miglin's murder)
Andrew is crashing with a young, successful architect, David Madson. They're exes, but obviously Andrew's feelings have been lingering longer than David's. Andrew invited their friend Jeff over, and, look at that, here he is. Now, David, be a dear and let Jeffrey in.
David heads downstairs to grab Jeff, played by Ryan Murphy regular Finn Wittrock. Surely Wittrock — with his dark features and previous experience playing a handsome murderer on American Horror Story: Freak Show — was a leading contender to play Cunanan. In this story, he's Jeff Trail, an ex-Navy guy and All-American beefcake.
On their way up, David tells Jeff that Andrew proposed to him, but David demured, reminding Andrew they can't get married, legally. (Remember those days?) He also tells Jeff that Andrew believes Jeff is the reason David is in love with him. Jeff tells David that Andrew stole his gun. Uh oh.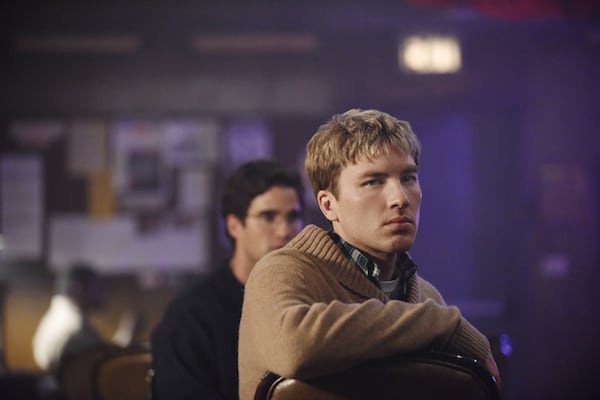 When the guys enter the apartment, Andrew is waiting with a hammer that he uses to bash Jeff lifeless with 25-30 blows, splattering blood all over the walls and floor and David and every other conceivable surface. It's a gruesome scene, to say the least, and it leaves David in shock.
Andrew lovingly guides David into the shower and gently scrubs him down. He promises not to hurt David, and a horrifying stand-off takes place. Andrew isn't going to leave David alone long enough to do anything stupid, like rat him out, so they spend a tense evening in a stand-off. Even when David goes to walk his dog, Prints, Andrew accompanies him.
David wants to call the police, but Andrew convinces him that if the police come, they're not going to see David as a victim, they're going to see him as a suspect. Once they realize he's gay, all their prejudices will blind them.
In fact, Andrew is banking on it. After a co-worker comes to check on why David didn't show up to work, they need to make a quick getaway. Andrew leaves a lot of gay porn and sex toys around the bedroom to be sure the cops know exactly the kind of man that lives there.
He wasn't wrong. The cops first assume it's David's body left behind rolled in a rug. Once they realize the body has black hair, while David is a blonde, they assume, as Andrew suspected, David is the killer. They think Andrew is the corpse. Eventually, the medical examiner finds Jeff's ID, but David is still a suspect.
The cops go to David's parents for more info, but they can't believe David would ever hurt a fly. The cops smugly tell David's parents that there's probably a lot they don't know about their son — a very pointed reference to David's sexuality.
However, David's father knows he was gay. Their relationship is a central part of American Crime Story's interpretation of David's story. We see flashbacks of David and his father throughout, including seeing them on a hunting trip where David can barely handle the anguish of murdering a duck. Later, we witness David's coming out. (His dad didn't approve, but reaffirmed that he loved him anyway, which wasn't the worst reaction for the time.)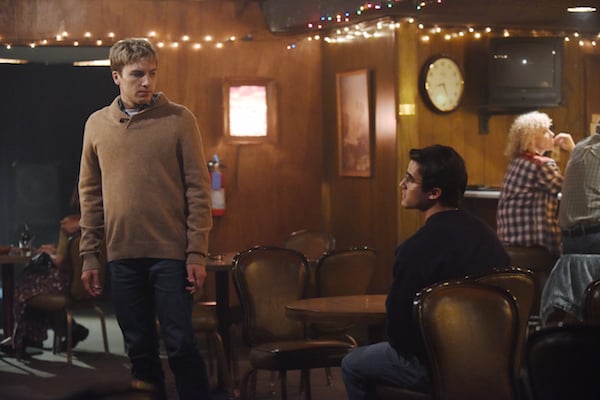 And yet, David worries about his family and their friends learning about his life after Andrew kills him. He wonders aloud while on the run with Andrew if he's more scared of being murdered or disgraced — a central theme of this season that's been wielded more bluntly than any of Cunanan's murder weapons.
If that feels like a convenient thematic overlap to Cunanan's other victims, it is. The days spent between Jeff's murder and David's end are largely a mystery to investigators. Like Lee Miglin and parts of Gianni Versace's murder, details are scarce, so the show has taken advantage of lots of poetic license to reinforce the ways Cunanan's sexuality hampered the investigation into his murders.
In this version, Andrew is convinced he and David are going to escape to Mexico and live happily ever after. He refuses to acknowledge that David is his hostage, not the Bonnie to his Clyde. Throughout their early time on the road, he bops merrily along to "Pump Up the Jam" as if this is a Crossroads-style, fun little road trip.
They stop at a divey bar (where alt-rock icon Aimee Mann is playing), and David finally has his chance to escape. He retreats to the restroom, knocks out the window, but where is he gonna go? Will the police believe him? Will Andrew catch him?
Instead, he returns to the table and takes Andrew's hands into his own as Andrew weeps. It's an emotional scene, but what emotion exactly is hard to say.
The next day at a diner, David recounts when he met Andrew for the first time in San Francisco. Andrew seemed so rich and worldly. Now he sees through Andrew's whole act. He's a fraud. All of it is a lie, and he can't stop lying.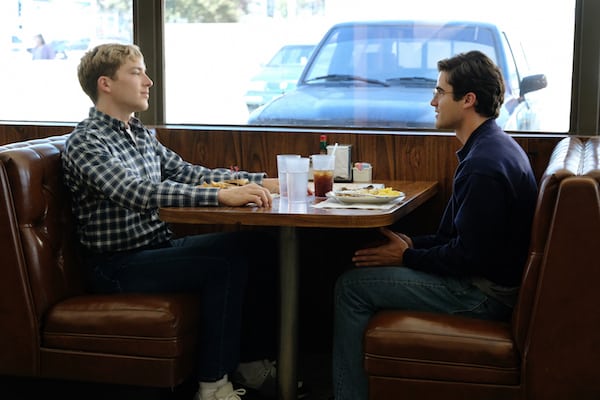 Back on the road, an increasingly desperate David attempts to grab the wheel and run them off the desolate road they're driving down. Now perturbed and unable to ignore David's anger toward him any longer, Andrew drives over to a nearby lake and marches David out of the car.
Facing imminent death, David does his best to try and convince Andrew to spare him, but it's no use. Andrew raises his gun and David takes off toward the nearby lakehouse.
We see him make it inside, but then his dad is sitting there, just as he was when they went hunting when he was younger. It's clearly a hallucination/metaphor, and we quickly see David's true fate: He was shot in the back and then in the face.
Andrew lays beside his body for a bit, before heading back on the road, leaving David's body behind.
Next week, we jump back yet again to when Andrew met Jeff, and I'm unsure how I'm feeling about it. In isolation, this week's episode of ACS was a gripping, tense ride. But it felt like a different show. This is The Assassination of Gianni Versace, not The Assassination of Lee Miglin or David Madson. Their stories are important and relevant, but we're two weeks gone by with nary a marble bust or golden medallion in sight. It's still much more restrained than Glee or American Horror Story at its most unhinged, but I'm worried Versace is losing its focus, if not thematically, at least aesthetically.
What did you think of the episode?