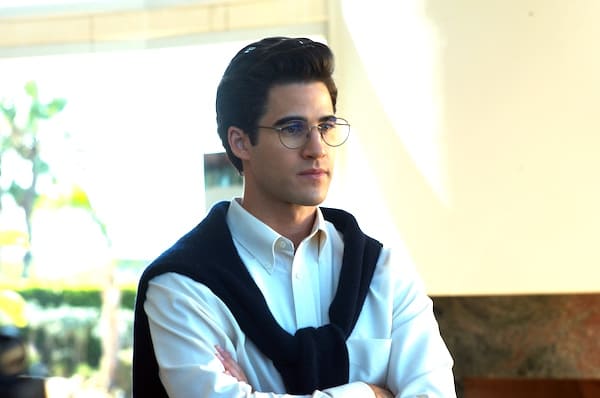 After a brief hiatus, we're back with another installment of The Assassination of Gianni Versace: American Crime Story delving further back into the unraveling of Andrew Cunanan. Perhaps more than ever before, ACS has provided an exact breaking point from when Cunanan went from merely a huckster to a full-blown threat.
Before we get into last night's episode, we need to talk about what went down two weeks ago. The episode aired the same evening as the horrific tragedy in Parkland, Florida, and I just couldn't bring myself to devote this much brainspace to such a violent story. However, the episode was particularly relevant to this season's (and this website's) thesis.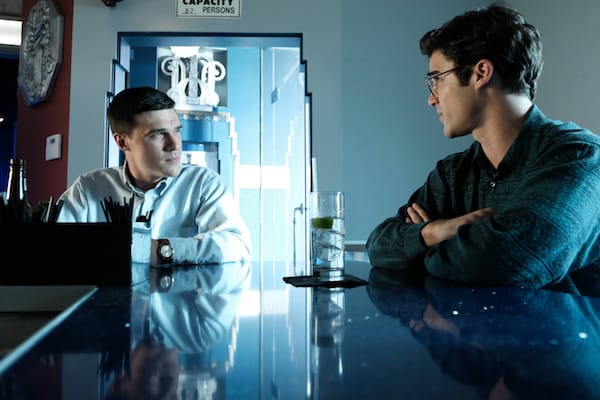 Focusing on the parallel coming out stories of Jeffrey Trail and Gianni Versace, the episode tackled visibility and Don't Ask, Don't Tell with visceral storytelling punches. We witnessed Trail's uneasy coming out while serving in the Navy, including rescuing a fellow officer suspected of being gay, attempting to cut out his own tattoo to avoid being identified from random hookups and culminating in an "anonymous" TV news interview.
At seemingly the same time, Versace sat down with The Advocate for a tell-all about living as a gay man with his partner, Antonio (Ricky Martin). Even with the contrast between the buttoned-up military world and the creative fashion world, both men share a struggle. Donatella tries to warn Gianni against doing the interview at all.
It's a neat narrative bow that encapsulates this season's theme. Not only did the shame, secrecy and stigma around both men's sexualities create an enormous burden on both of their lives, but they likely played a significant role in their deaths.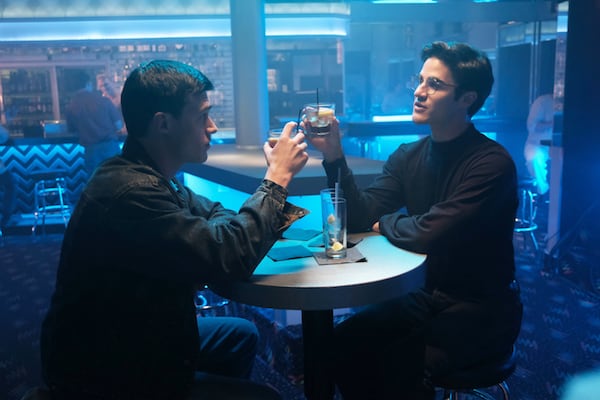 From a storytelling perspective, it's almost too neat a bow. I've griped before about how all the unknowns in these men's stories have led to writers taking too many liberties. Sometimes it feels too salacious, while other times it comes off cheesy (like the ending of a Grey's Anatomy episode). For example, the previous episode ended with Jeffrey's answering machine playing messages from his family announcing the birth of his niece, unaware he was already murdered. In reality, Jeffrey's sister gave birth before he was killed. It's a small gripe, but it cheapens the overall product in a way The People v. OJ Simpson avoided.
On to this week, it feels as if we're journeying further into speculative fiction.
It begins with Andrew returning home to a gorgeous oceanside home, fully appointed with outstanding views, gorgeous swimming pool, all the finest things. It's not his, of course. It belongs to the older man, Norman, and Andrew is working for him as a live-in interior designer. It's a year before any of the murders, and Andrew is preparing for a lavish birthday party.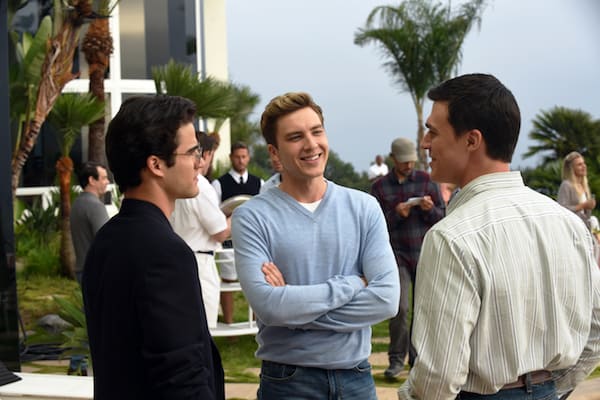 His straight lady friend is there, curious (as are all of us) about the nature of his relationship with Norman, his feelings for David and how Andrew labels himself. To hear Andrew tell it, Norman is strictly professional, David (whom he recently shared a wonderful time in San Fran) is the love of his life and he doesn't like labels.
He's playing a dangerous game at this party. With so many people from different facets of his life all together in one place, the lies are bound to catch up with him, so Andrew is forced to shuffle around the party, making sure no one is left alone too long to start putting pieces together.
One person who already has Andrew figured out is Norman's quippy friend. He mocks Andrew, telling him he's "too lazy to work, too proud to be kept." He also is quick to remind him that if that party, a mix of Andrew's "friends" and Norman's, is truly a room full of people that loves Andrew, "then that room is full of people that don't know you."
When Jeffrey arrives, Andrew immediately has some notes for him. First, here is a bigger, nicer gift to present to Andrew in front of David so David knows how loved he is. Also, here are nicer shoes. Oh, and one more thing, please lie to David about still being in the Navy because that sounds so much better.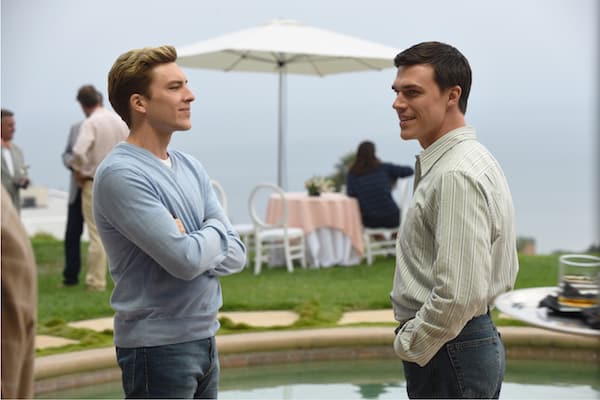 By the time David makes his grand entrance, Andrew's eyeballs might as well be full heart emojis. Andrew rushes over, so excited David made the trip from Minneapolis. He shows him around, but starts to get a little uneasy about how friendly David and Jeffrey are. Also, hey, look! It's Lee Miglin! Let's all take a group photo, Andrew!
After the party, Andrew confronts Norman about their relationship. Maybe it was seeing David that made Andrew realize what he was missing out on, but whatever the reason, Andrew wants to renegotiate the terms of their arrangement. He wants a larger allowance, first-class travel arrangements and to be the sole heir in his will. Norman ain't having it.
He'll up the living allowance, but there's no way he's budging on the rest. He's no dummy. He already investigated Andrew and knows he's not Andrew DeSilva. He knows all about Andrew's real identity and past. He's willing to provide for Andrew, but he's not willing to play the fool.
This is not a good enough answer for Andrew. He picks up a chair and smashes it through the glass table on the patio before making a dramatic exit.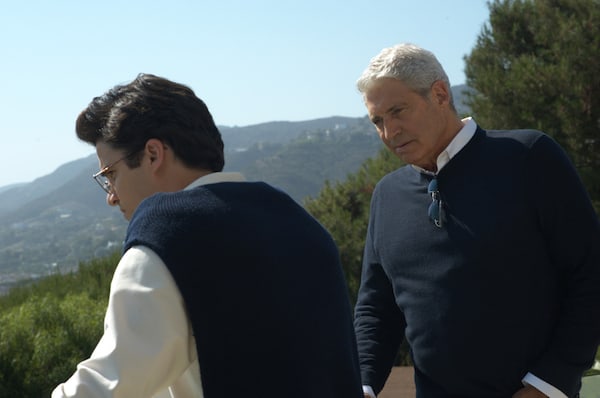 In a tiny, unglamorous apartment, Andrew gets a visit from Jeffrey. Apparently, Andrew "accidentally" sent a flirty little postcard to Jeff's dad, essentially outing him. It's definitely a threat, as Andrew gets more and more threatened by Jeffrey's relationship with David. Speaking of which, Jeffrey wants to tell him that he's found a job. In Minneapolis. Thanks to David.
Taking that news about as well as you'd expect, Andrew reacts by inviting David to Los Angeles for a lavish weekend. He's booked a fancy hotel, fancy meals, fancy shopping, all under the auspices of working on a Hollywood set. The entire set up makes David profoundly uncomfortable. It's obvious Andrew has feelings for him, and he shows David how much he cares the only way he knows how: Treating him like a kept man.
Back at the hotel, David can barely choke down his lobster dinner. In an attempt to forge an authentic connection with Andrew, David tries to get him to cast aside all these affectations and share something truthful. Even now, Andrew can't do it. He's still the heir to a pineapple fortune. He still had the master bedroom as a child. His mother still brought him lobster to school. David's not buying it. He's done.
Rejected and alone, Andrew hits the bar. He regales the bartender with tales of his romantic weekend and how David wants to spend the rest of his life with him. After giving the barkeep a hefty tip, he sidles up to the drug dealer/close-up magician who demonstrates how much more powerful his latest offering is compared to Andrew's current fix using a big ol' flame.
He's not kidding. Andrew shoots the stuff and hallucinates (I think?) a meeting with Gianni Versace. Waking up back in his messy apartment, Andrew is desperate for another fix.
Back at the bar, a visibly strung-out Andrew can barely keep his lies straight. He tells the bartender that he and David were going to Paris! To see the Vatican! No, Rome! Rome! Because they're saving Paris for the honeymoon! The bartender wants none of this mess. Andrew tries to get another hit from the dealer, but the time has come for him to pay his tab.
Andrew tries going back to Norman's place, but in the state he's in, Norman calls the cops.
Andrew has nowhere left to turn. He's alienated Norman, Jeffrey, his drug dealer, the bartender. So he heads home. Actual home.
His mother welcomes him with open arms. She takes him to the bath and scrubs him clean, working hard to get him to smell like himself again, whatever that means. She's proud of the life she thinks he's made for himself. It's heartbreaking to hear her recount how good it felt to tell another mother, someone who was much better off than their family, how successful Andrew had become.
As he leaves, he tells his mom he's on his way to Minneapolis. "They have an opera house in Minneapolis?" she asks, wondering how his work assisting Versace with opera costumes will lead him to the Midwest.
"No, mom, I don't think they do."
This is the closest we've seen to Andrew being a sympathetic character. Though, watching this story in reverse, is it possible to view him in any kind of humanizing light after the horrors we've seen him commit? The strange stylistic choices continue to muddy the message of Versace. I'm starting to get very concerned about how this season will end. It's looking more and more like a typical Murphy, American Horror Story-esque, heavy-handed finale.
What do you think of this season?