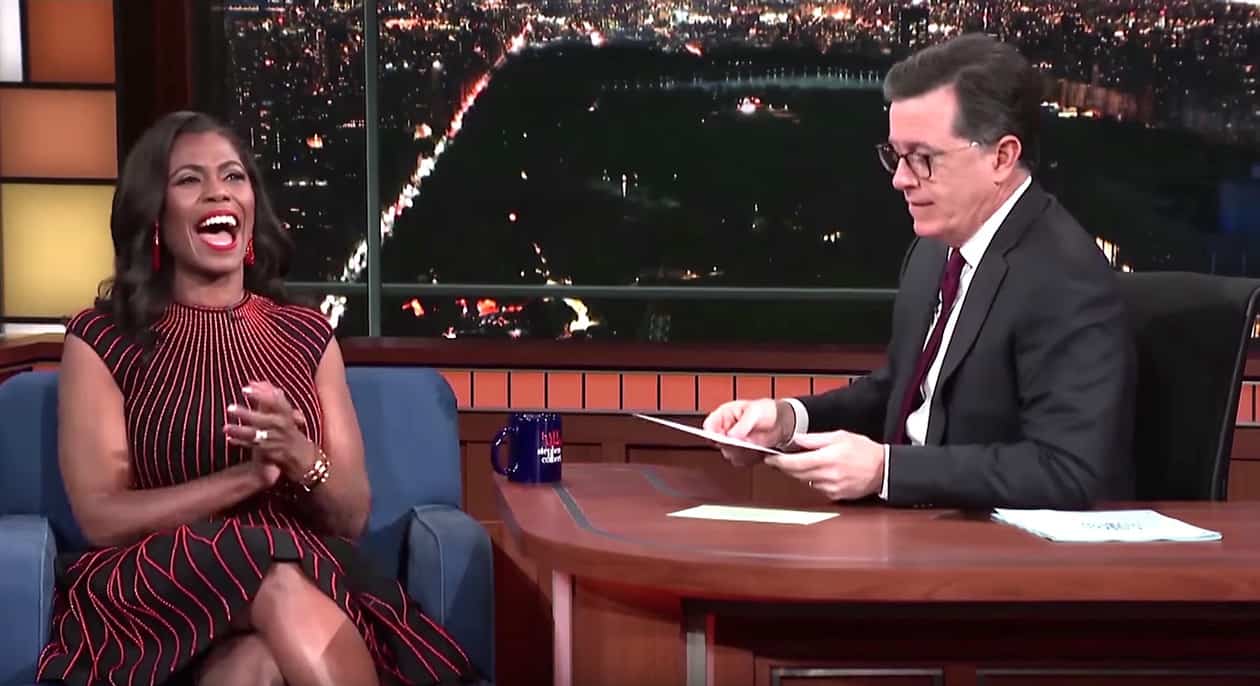 Stephen Colbert invited Omarosa to his desk for a debriefing on her stays in both the White House and the Big Brother house.
Admitted Omarosa: "Working for the White House was a little crazier" than staying in the Big Brother house.
Colbert asked Omarosa about the first sound bite that came out of Celebrity Big Brother in which she said it was "not going to be okay" under Trump.
Asked Colbert: "What do you mean it's not going to be okay?"
Omarosa dodged and said that she and Ross Mathews were having a conversation about immigration and not about the Trump White House, a statement she was almost immediately fact-checked on by Mathews on Twitter.
No shade, but Omarosa is mistaken. This convo was not about the Dreamers (we discussed that at another time). This convo was about President Trump. When asked, she said we would not be okay. Simple as that. Perhaps BB can release the unedited footage. @colbertlateshow https://t.co/a5mppoktV6

— Ross Mathews (@helloross) March 1, 2018
Colbert pressed her: "Is everything going to be okay under Donald Trump?"
"We'll have to wait and see."
He also wanted to know what the "white lies" told for Trump by Hope Hicks.
Replied Omarosa: "I suspect the first one was about crowd size."
Colbert also wanted to know what it was about Trump's tweets that "haunted" her.
Said Omarosa: "He announced major policy issues on Twitter. The transgender ban for instance, was announced on Twitter. For someone who is in communications like Hope [Hicks] and myself, that's not a thing you want to find out at five in the morning about something that will impact so many people's lives. You want to find out in a policy briefing from the director of domestic policy about those issues, not on Twitter."
On her "leaving the plantation" remark: "The White House that I worked in was troubling. It was very difficult, and my analogy of it being a plantation meaning an ecosystem where people feel oppressed is pretty clear –  when you aren't allowed to do the job that you were brought to do. To help be a change agent….That's where that oppression comes from and that's what that analogy meant….I was speaking for how I felt as the only African American senior advisor to President Donald Trump."
Watch: