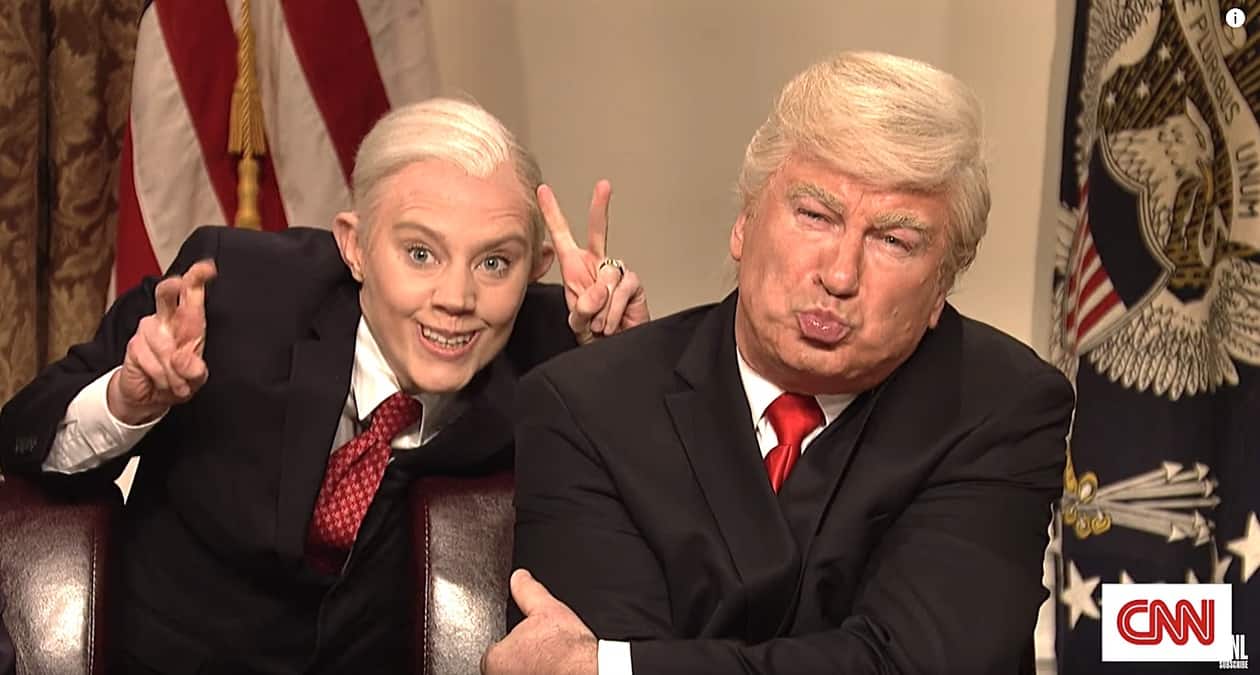 Alec Baldwin's Trump opened Saturday Night Live by convening a bipartisan meeting on gun control at which all the turmoil of the White House this week was laid bare. Two who were present at SNL's meeting, like the one at the White House this week, were Beck Bennett's Mike Pence and Cecily Strong's Dianne Feinstein, but of course the meeting was all about one person.
This week's cold open follows a week in which Baldwin and Trump exchanged barbs on Twitter.
https://twitter.com/realDonaldTrump/status/969529668234829825?ref_src=twsrc%5Etfw&ref_url=http%3A%2F%2Fwww.towleroad.com%2F2018%2F03%2Falec-baldwin-3%2F
Agony though it may be, I'd like to hang in there for the impeachment hearings, the resignation speech, the farewell helicopter ride to Mara-A-Lago. You know. The Good Stuff. That we've all been waiting for.

— AlecBaldwin(HABF) (@AlecBaldwin) March 2, 2018
Baldwin's Trump started the gun meeting off by reading off a list of talking points: "Tonight I am here to bring you a message of healing and a show of unity. I hear you and I care. Rent 'Lego Ninjago Movie.' Sorry, Eric scribbled some notes on there, too."
And then it was on to gun control: "It's clear something has to change. We have to take a hard look at mental health, which I have so much of. I have one of the healthiest mental. My mentals are so high, but we have to respect the law. Believe me, no one love the Second Amendment and due process more than me, but maybe we just take everyone's guns."
"I said I was going to run this country like a business," said Baldwin's Trump. "That business is a Waffle House at 2 am….Crazies everywhere, staff walking out in the middle of their shift, managers taking money out of the cash register to pay off the Russian mob."
Baldwin's Trump also addressed the departures of key staff, like Hope Hicks, which twisted Trump's tongue into a lecherous knot: "She's like a daughter to me. So smart, so hot. You know, I hate seeing her go but I love watching her walk away."
And finally Kate McKinnon's Jeff Sessions showed up to remind Trump that his name is being brought up quite frequently at the Justice Dept.
Watch: