Cross Coburn, a 19-year-old city councilman from Groves, Texas, is speaking out after his nude Grindr photos were mailed to City Hall and to local media outlets KFDM and The Port Arthur News in an attempt to shame him.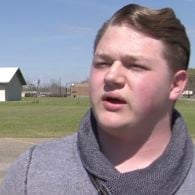 See report above.
The photos came with a note that read: "Is this in any way proper behavior of a councilman to represent himself online or a 'dating' app? I felt the city council should be made aware of the situation."
Said Coburn to KFDM (above): "I felt like I was being harassed, being discriminated against because I'm a young gay man on City Council…That is my personal life and no one should know about it. I'm sorry if anyone took it the wrong way but it's really nothing more complex than this is my personal life."
Photos of Cross clothed and shirtless and a dialogue between him and another person were included in the packet as well as photos of a male sex organ.
Groves Mayor Brad Bailey said the city also received a packet regarding Coburn. There was a meeting between Coburn and his attorney, a representative of the city's human resources office, the mayor and police where it was deemed that nothing illegal had occurred.
I would like it to be known that the city is aware of this (photos), the allegations of photos of private areas," Bailey said. "We have met and discussed it with our police department and HR department. It will be an issue."
Grove's Mayor Brad Bailey also told the news outlet: "Personally I think it's unbecoming of a public official, regardless of age," and told KFDM he thought the photos were "disturbing."