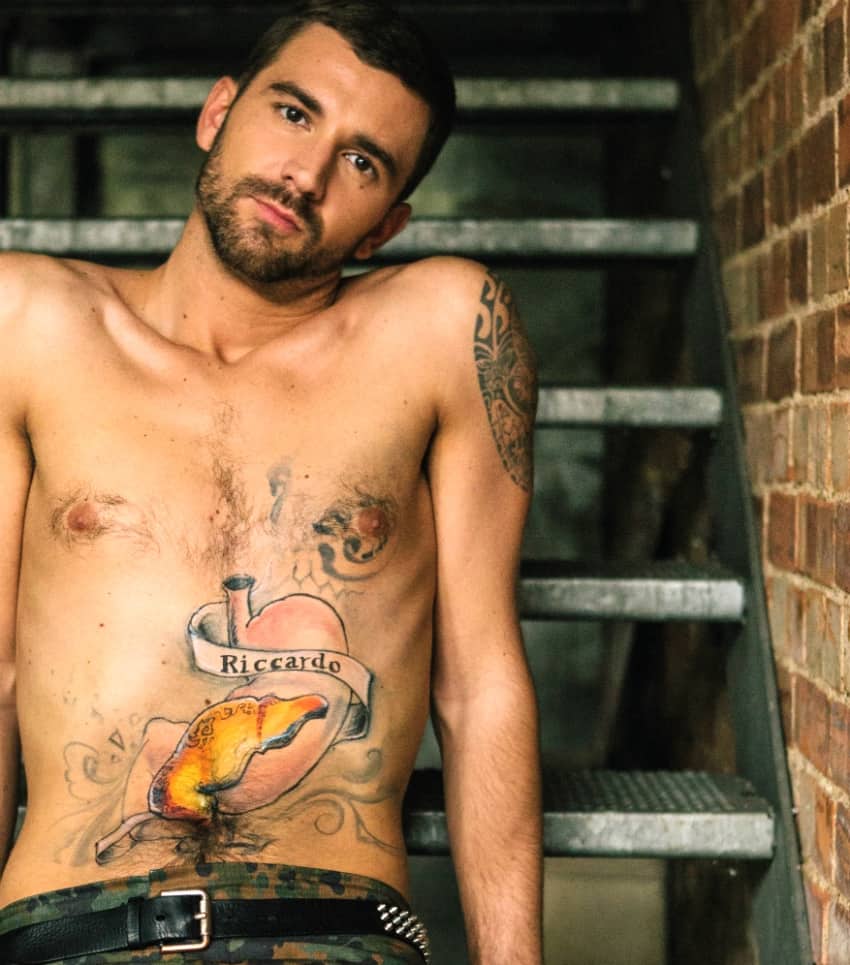 Riccardo is a 25-year-old from a conservative town in Italy who moved to London after falling in love and realizing he was gay. Shortly thereafter, Riccardo realized he was HIV-positive when he and his partner went to get an HIV test together.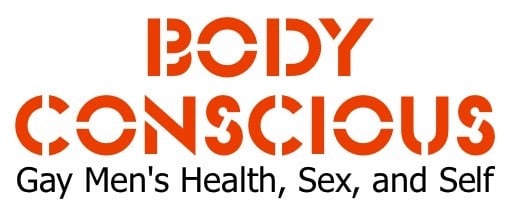 He called his mom and told her he was gay and HIV-positive. His father responded with care.
"I've been quite lucky to have those parents."
Riccardo is one of eleven gay men who are taking part in a revealing campaign called "HIV is: just a part of me" produced by Truvada maker Gilead Sciences and planned in coordination with several European HIV organizations including ARDHIS in France, BASELINE in the UK, and Plus Onlus in Italy.
Riccardo had a pancreas, the organ that produces insulin, painted on his torso as part of the campaign, which combines body art with awareness education.
Though he is not affected by it, Riccardo hopes to raise awareness about diabetes: "If you are HIV-positive and you have diabetes, you need to be careful about your diet and you should do a lot of exercise to maintain your body weight so you can manage better your disease. To a young guy that has just been diagnosed positive for HIV, I would suggest 'don't worry. everything's going to be just fine. And find the right people to listen to, and you'll be okay."
https://www.youtube.com/watch?v=rP_PyXFu8H0
"The campaign aims to improve understanding amongst gay and bisexual HIV positive men of eight potentially serious health challenges that can affect their HIV health," according to the groups behind it.
These challenges, include osteoporosis, cancer, kidney disease, NAFLD, heart issues, diabetes, mental health, and lung cancer and COPD, encouraging men living with HIV "to move forward from just focusing on their viral load as a measure of health, towards considering their risk of developing these eight health challenges."
Bisi is a 42-year-old Nigerian living in London. He calls himself an "angelic troublemaker."
He says when he became HIV-positive he decided to come out on television because he felt he had no other recourse since being gay is criminalized in his country.
His mother told him, "you have to leave the country." So he left for London.
He started treatment: "It changed everything for me."
Bisi's story focuses on the kidneys, as many HIV-positive men have kidneys that have trouble getting rid of toxins due to the medication.
Watch:
https://www.youtube.com/watch?v=TcRDdgBA3A8
Antonis is a 38-year-old from Greece.
He was fired the first day he learned he was HIV-positive. His father was very sick with lung cancer at the time and died the next day.
Antonis, also a smoker, started smoking more after his father's death. His video focuses on heart health:
Watch:
https://www.youtube.com/watch?v=oy5KBcSZ8dw
Graeme is a 32-year-old from Liverpool, UK.
Graeme's mental health was severely affected after he learned of his diagnosis.
"Living with HIV can be difficult but it's given me the opportunity to re-root and rethink my life in a way I never thought possible. Before HIV I was never looking after myself. I have borderline personality disorder. I'd alwys had depression and the impact that it's had on me."
Watch:
https://www.youtube.com/watch?v=XUAZuQNYoPc
Wojciech is a 71-year-old from Poland. He was married 15 years and has 3 children.
Wojciech became infected with HIV through his boyfriend and thought it would be a death sentence. He wouldn't read the results of his test for more than a year.
He was assaulted in Mexico and lost all his money and his possessions. He returned to Poland and went to the hospital and wanted to die.
A "very nice man" in Poland opened the door to activism for him, and he met others like him, which changed everything:
https://www.youtube.com/watch?v=hlC049XUW5Y
Prakash is a 37-year-old from Germany.
He was diagnosed with HIV eleven years ago. He also got a Hepatitis C diagnosis.
"I felt lost and lonely."
He says meditation helps him a lot. "I feel freedom."
This has changed everything for me.
A new medication changed everything for him too. But he wants to raise awareness and he has some advice for those diagnosed with HIV:
https://www.youtube.com/watch?v=cAnvOUvDRaM
Axel is a 58-year-old from Brussels, Belgium. He was diagnosed 30 years ago. He had full-blown AIDS.
"More or less I didn't have problems because I was lucky."
He later had problems with his eyes. Because he is an artist, he had to find a solution. He found one in an anti-cholesterol drug.
Watch:
https://www.youtube.com/watch?v=JaNy56RuwO0
Paolo is a 31-year-old Italian man living in Lisbon.
He is a singer who does drag as well. He was diagnosed with HIV when he was 23.
"I felt like my life needed a radical change. I decided to move abroad and decided I needed to regain some energy to take care of myself."
In Lisbon, he came out as HIV-positive at a Pride celebration.
"I still do party and I'm still the crazy person I was. I just do it a little more consciously."
Paolo has a lot to say about smoking.
Watch:
https://www.youtube.com/watch?v=M1YHCsrZGaY
Marcos is a 38-year-old Spanish man.
He thought a routine doctor's appointment was going to be just that, until he was told he was positive.
"I had this idea of HIV as something that happened to other people."
He said he judged himself harshly for a little while but he learned a lot about himself and his strength.
"My diagnosis gave me this new version of myself. I tried to put more attention in my way of living. The 40s are coming to my door."
Marcos has had problems with kidney stones, which is a concern. But he has had to refocus:
https://www.youtube.com/watch?v=VhjhEAmnnkc
Philip is a 32-year-old UK man. He was diagnosed at the age of 24.
He said "it was an intensely emotional moment" for him. He took solace in visiting churches and reflecting on faith. Christianity helped him accept his HIV and himself.
He started to begin thinking about how to help others. He now goes to schools and speaks to young people about his HIV status and being gay and Christian:
https://www.youtube.com/watch?v=0rCmEtsJYQI
Marcello is a 45-year-old Italian man.
He says he had a very busy life before being diagnosed and worked for a cruise line. He was getting tested every six months and met someone he trusted. That man did not tell him he was HIV positive.
"The world shut down. I found myself in a black box without light. I was numb."
A nurse took him to a cancer ward and showed him people who were terminally ill and told him he was "lucky" because if he did the right therapy he would live a normal life.
Marcello said it was a "wake up call" and he joined an HIV group and talked about how to deal with this "pathology."
He says he no longer calls it a sickness because he is not sick.
"Live your life because life is such a great gift."
https://www.youtube.com/watch?v=0N05EyFynuM
Body Conscious: Gay Men's Health, Sex, and Self is a new regular twice-monthly feature from Towleroad covering the unique issues gay men face with regard to physical and mental fitness.