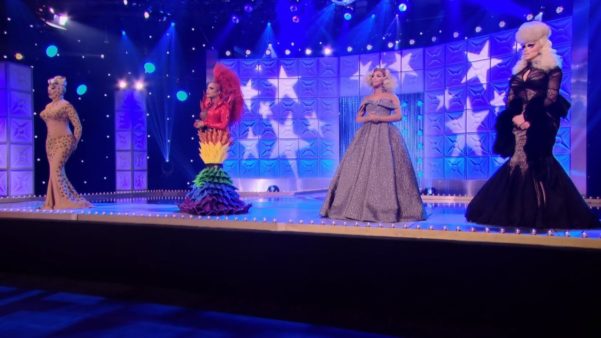 "Disappointment" is relative, I guess, when it comes to RuPaul's Drag Race. Sure, there are going to be people with hackles raised over last night's finale of All Stars 3 (if not for the chosen winner then for the inexplicable way the show was labeled RuPaul's All Stars Drag Race and thus missed by many a person's DVR — your trusty blogger's included). The ambitious final episode managed to bring out the best and the worst Drag Race has to offer as they crowned the third inductee into the Drag Race Hall of Fame.
No matter where you land on the final choice, it was certainly a thrill to watch them get there. After what I would describe as an "uneven" season of All Stars, the series went out swinging with some its highest highs and most dramatic swerves.
This is your final warning, before we get into spoiler territory, so proceed with caution. Deep breath.
The final four comes in fresh off Morgan's elimination, all agreeing she was the right choice to send home. This is the curse of bringing back an eliminated queen, especially one that missed so many challenges. It'd be one thing if recently-eliminated Aja just sashayed back up there, hardly missing a beat.
Ru enters to tell them they're about to perform the show's grandest production number, which is intriguing, to say the least. They need to write a verse for Ru's track "Kitty Girl" and perform complex choreo with Todrick Hall.
While rehearsing with Todrick, the girls practice some lifts with a handful of hunks. Bebe really struggles through this, and Todrick makes sure to point out how much they all need to step it up, because — TWIST! — they are also doing a big, ol' one-take number backstage with the entire Drag Race cast and crew. It's hard to miss the parallel to Fox's Grease Live, just with less golf carts (and less makeup than Darren Criss was wearing, probably).
Personally, I would have loved to see more of the prep for the number, because it is WILD. Ru wasn't even using hyperbole when she described the scale. Every queen nails it. Kennedy opens up with a great little verse, but it's her dancing that seriously slays. She unleashes an aerial punctuated with a hair flip that I'm pretty sure sent out seismic waves.
Shangela showcases everything that makes her a superstar in her section. She looks gorgeous, she hits every move hard and her verse is charming and funny. It's peak Shangela, and I could not have been more here for it.
Bebe gets a lighter choreo section, starting seated at a sewing machine, followed by light vogueing. Her verse isn't the Dada lunacy of her Jungle Kitty rap from a few weeks ago, but there's definitely still some nonsense in those lyrics. If I had one small gripe about this entire number, it's Bebe's illusion mesh on her outfit, which just didn't look great on film.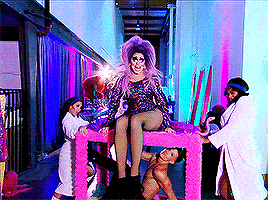 Trixie brings it home with a high-energy, comedic take on the challenge. It showcases everything about Trixie with a sugarcoat. This is Trixie the pop star, which is different than Trixie the TV star, the comedian and the folk singer. She's not doing the same level of choreography as Shangela or Kennedy, but she doens't look out of place either. Culminating with a pie to the face of some Pit Crew trade, it's great.
The final four bring their Best Drag Eleganza Extravaganza to the runway, with mixed results. Bebe struts down in a leopard catsuit adorned with a leopard head. It's not bad, it's just very predictable and not the gag for this gig. Kennedy gives us season seven redux with another elaborate rainbow gown that would make even Liberace say "Too much!"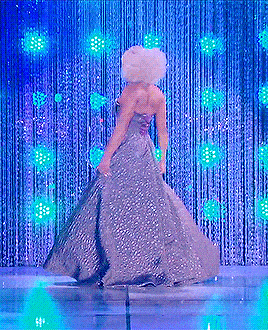 Shangela continues to serve, walking the runway in a sincerely red carpet-worthy gown and wig. If you look up Eleganza in the dicitonary, this should be the accompanying picture. (Omg, could you imagine if that was thing we could do? When does it get THAT better?) She looks flawless, and we're reminded how, save for the disco look, she murdered every single runway.
And just when you think there's no topping that, Trixie Mattel struts down the runway in what she describes as "25th Anniversary Christmas Edition Trixie." It's a vintage-style fishtail gown with black ruching, topped off with a puffy, blonde poodle wig. It's head-to-toe perfection.
The judges final assessments are all pretty empty. Everyone gets showered with praise and pride. The real savagery is delegated to the eliminated queens. They form a Survivor-style jury tasked with choosing the top two. Each of the final four gets an interrogation in the workroom.
Bebe refuses Thorgy's prodding about whom she would have eliminated had Ben not fallen on her own sword, which ruffles some feathers. Kennedy draws on her years of pageant experience to deliver some pretty safe answers. The bulk of her argument stems from her need to win this more than the other girls. It doesn't feel like the most convincing take, but she's definitely got some support in the jury. Shangela has an emotional conversation about all her growth, which can't be denied. Trixie also takes a pretty similar tact, reinforcing all she's done since her first appearance on Drag Race.
Back on the runway, it truly still feels like anybody's game. The eliminated girls send Kennedy and Trixie to the top two, and it feels like a shock. Not that Kennedy isn't deserving, but Shangela should be there. I'm sure it was a tough choice … but, you guys, it shouldn't have been that tough. This silly swerve just feels like unnecessary reality-TV drama.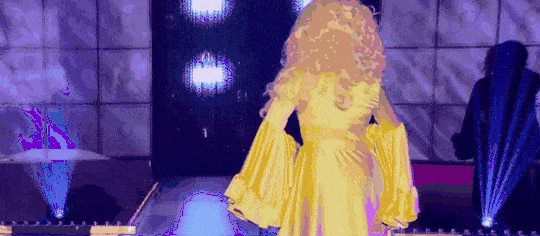 The final two lip sync to Miley Cyrus' "Wrecking Ball." Is there a more "Trixie" pop star than Miley? Especially Bangerz-era Miley? Feels a bit unfair.
Emotional lip syncs can really go either way on this show, but this was compelling. Unfortunately, it feels a little like Kennedy didn't fully grasp the resonance here. She gives us face, but she also wants to be sure to show off her high-impact dance moves. It feels a little forced. Trixie, on the other hand, turns in her best lip sync to date. It's got genuine performance, it's got a reveal and, in its most clever twist, it has Trixie pulling her hair out of her wig in the throes of passion. It's great.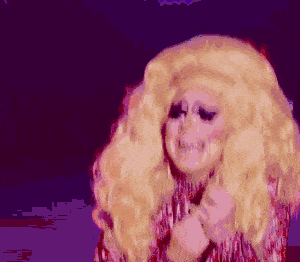 The choice is clear. Trixie is chosen for the Hall of Fame.
But would that have been my choice? Check out our final rankings below, and leave yours in the comments!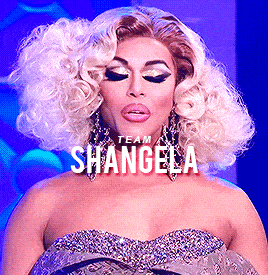 1. Shangela was robbed. Let's be clear. I say that as a genuine Trixie fan. I'm personally a bigger fan of Trixie than Shangela, but even I could see this was Shangela's spot. She has grown so much, and she consistently conquered challenge after challenge like cities in Slaver's Bay. Shangela is a star, and she will only get bigger from here. It stings to see her passed over this time, but that's the thing about Shangela, she always bounces back. (And I will spend all next season recapping Game of Thrones and calling Daenerys "the Shangela of the Iron Throne" … which, honestly, might be fitting if that Khaleesi doesn't end up the sole survivor there, but that's a whole other blog, honey.)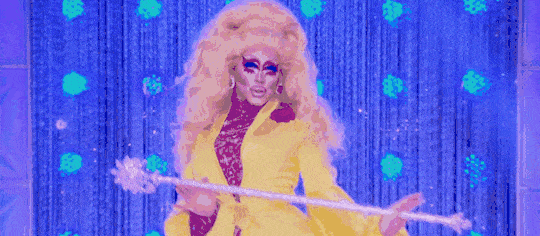 2. As disappointed as I am that Shangela wasn't chosen, it's not that Trixie's vicotry is unearned. As she made clear, more than any other queen, she's taken her appearance on this show and built an empire. She is the perfect example of what Ru envisions this show to be capable of. Tonight especially, Trixie turned it all out, both with her performances and her heart-stopping lewks. It has been a joy to see her evolve the delightfully tacky Trixie persona into some high-fashion moments.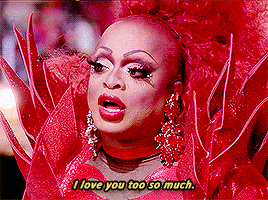 3. Kennedy edged out Bebe in the end, but it was a tough fight. Trixie nailed it when she described how Kennedy has the goods, but lacks the perspective to put it all together in a transcendent point of view. That hair flip in the big final number alone earns her a spot in my personal hall of fame. I'm glad she had so many opportunities to show us all she can do.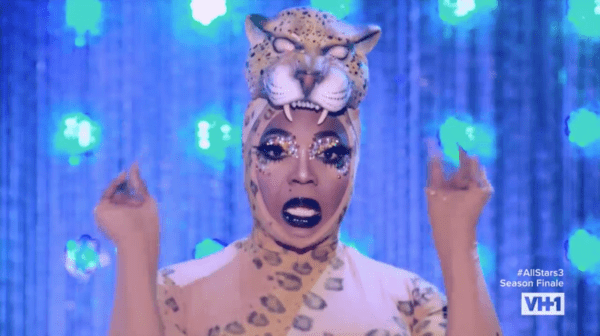 4. Bebe is fierce as hell, and nothing can take that away, but I honestly do believe she has not watched this show since her season. She just felt unprepared for the variety of tasks and expectations before her. We all know what Bebe can do well (in fact, anyone watching could write her CV if they tried), but I never saw Bebe go beyond Bebe. That's fine for a killer queen, but it ain't enough for the Hall of Fame.
How would you rank the queens?