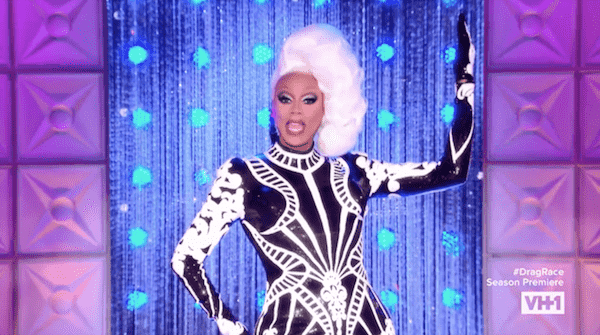 I know RuPaul's Drag Race All Stars JUST ended, but I for one am so glad to have Season 10 upon us.
All Stars' ending left more than a few fans feeling salty, but tonight's intro to the Season 10 queens gave Drag Race fans plenty to celebrate.
I've had the opportunity to meet each season's queens ahead of the premiere in New York City for the last few years. After chatting up most of this season's cast, I can tell you this might be the fiercest, sharpest batch of girls Mama Ru has ever assembled.
Maybe I'm biased, but the strength of this season's cast might be attributed to the number of NYC queens competing. Season 10 boasts FIVE Big Apple-based queens, a new record for the series.
We're starting with 14 girls, so there's a lot of ground to cover. Let's dish about who's got us gagged in our recap (and rankings!) below.
The workroom entrances kick off with the return of Eureka from season nine. The big girl who was forced to head home after injuring her knee has cashed in her invitation to return. And she is looking gooooooood.
In fact, none of the arrivals hint at being an early sacrifice. Queen after queen steps into the doorway full of energy and looking snatched. Highlights include Miz Kracker's manic screaming, political queen Vixen telling the audience she's just here to fight and Blair St. Clair's wide-eyed enthusiasm that's reminiscent of this 30 Rock gag.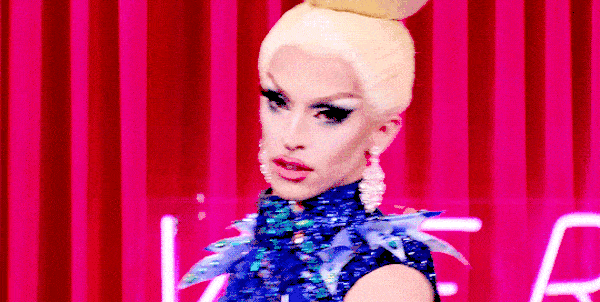 The two biggest takeaways are the preponderance of girls from NYC and the rivalry between Miz Cracker and Aquaria. The two queens share similarly lithe bodies and angular faces. They're both beautiful, but, in my opinion, neither feels so singularly, aesthetically unique as to claim the copyright on their collective look. It's good drag, and they're both capable of putting a unique spin on it.
Still, I'm very here for a pre-existing rivalry that plays out on this show. Will they be the next Coco and Alyssa? Only time will tell.
Drag Race herstory is certainly top of mind. Ru introduces the first mini challenge of the season: a Paris Is Burning-style runway walk among past contestants. The girls need to stand out (and not be too starstruck) while sashaying by Trixie, Bob, Porkchop, Jinkx, Detox, Chad, Kim Chi, Juju, Adore, Peppermint, Yara Sofia, Manila, Katya, Raven, Darienne, Delta, Tempest, Mrs. Kasha Davis, Mariah, Derrick Berry, Ongina and others.
Again, no one feels like a flop. Eureka lacked a little energy and Aquaria nearly slaps Jinkx Monsoon while twirling (leading to the joke of the night from Trixie Mattel, positing that Roxxxy Andrews shot up clapping at a gay bar because Jinkx got slapped). Mayhem Miller is a standout, doing a cartwheel in a full ball gown. Miz Cracker gives a little humor with her runway antics. Monet X Change draws hoots and hollers for a (low-impact) triple death drop that for sure leaves its mark. It is about the Monet this time, as X Change takes the win.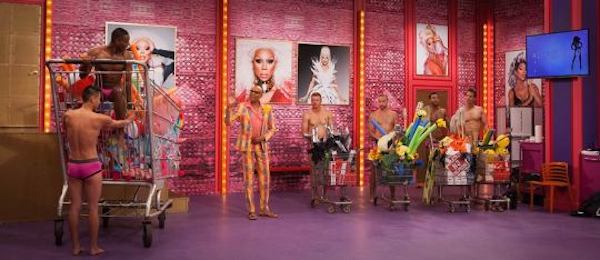 The main challenge also draws from Drag Race past. In homage to the first challenge in the series' history, Drag On a Dime. The queens need to construct entire looks (minus hair, heels and undergarments) using only materials from the 99 Cent Store wheeled in by the Pit Crew.
We'll go more into the specific looks in the rankings below, but our top gals are Miz Cracker, Mayhem and Blair, while Yuhua, Dusty, Kalorie and Vanessa all land in the bottom.
Before the judges can share their critiques, Ru makes another jaw-dropping announcement: There's another queen returning to the competition. Welcome to the stage, Farrah Moan!
Just kidding! It's special guest judge Christina Aguilera. In case you don't believe her, allow her to do one of her guttural, growling runs (like the one she does in the criminally-underrated camp classic Burlesque).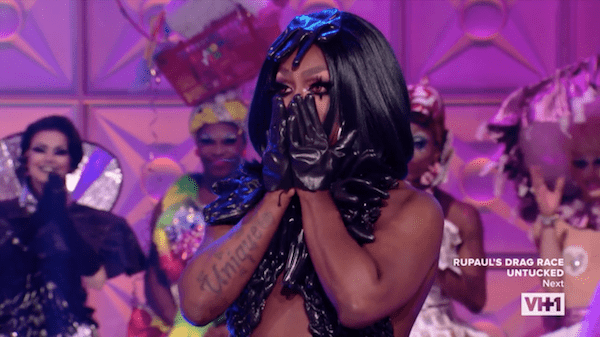 The judges go gaga for Mayhem's piece stitched together from trash bags and black vinyl gloves. Blair earns high marks for turning a windshield sun visor into Vivienne Westwood-esque couture. Miz Cracker manages to create a vintage-inspired ensemble out of wide-brimmed straw hats, but she really sells it with her grieving widow performance. It's Mayhem's sleek, Rihanna-ready ensemble that takes the win.
Meanwhile, the judges weren't wild about Dusty's traffic cone hat or "signature" Pollack-esque makeup splotches. She's safe, but, make no mistake, she's been warned.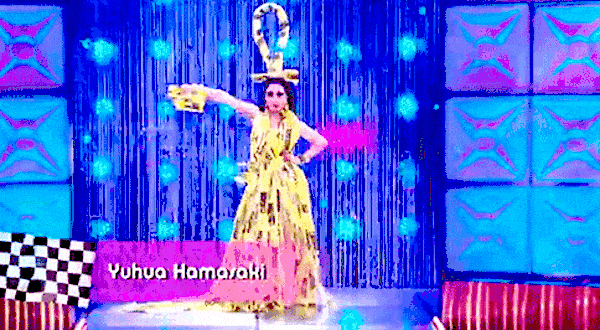 Yuhua gets read for her fairly predictable caution tape gown. As the judges said, it's been done and done better. As for this armchair judge, it looks like something I could've cobbled together under enough duress.
Similarly, Kalorie's competent dress made of paper money wasn't particularly egregious, but it certainly wasn't anywhere near gagworthy.Worse yet was Vanessa, wearing a bulbous bodysuit adorned with so many faux flowers.
It's Kalorie and Vaness in the bottom two. They face lipsyncing to Xtina's "Ain't No Other Man." It's an ideal track for the task. It's got tons of energy and personality — sadly, two things sorely lacking in this duel.
Neither gal comes out swinging. Vanessa really struggles to step out of her tulle garment, but, worse yet, she mean mugs through what should be an electric, sexy performance. Kalorie eventually kicks into high gear, unleashing her trademark twerk and tossing dollar bills from her ample bosom. It's no season nine finale slay, but Kalorie clearly is the victor.
We're not done yet! Let's kiki about all the girls below.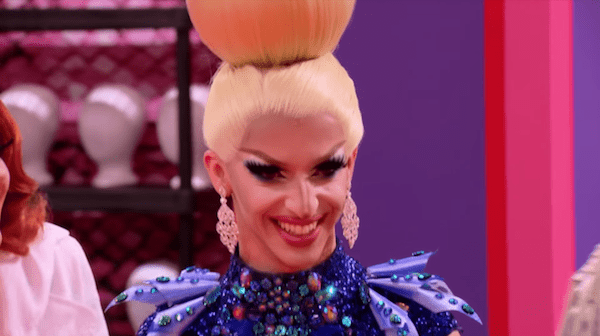 1. Only one episode in, Miz Cracker is breaking out from the pack. Her entrance and runway looks were both note-perfect. Even more importantly, she is whip smart. In episode one, she's already displayed Bianca- and Bob-levels of quick wit. It's not the same humor as those other winners, but she's got a notable rapidity with her repartee that can take her far. Is she copying Aquaria? Considering she brought a lookbook of pre-existing looks, I'd say it's doubtful. Am I thirsty to see the conflama unfold? Absolutely.
2. Despite Cracker's strong showing, she wasn't the only impressive queen. Mayhem Miller showed up with a big ol' ego, touting her connections to former queens like Detox and Morgan McMichaels. However, that facade quickly faded away and revealed some endearing vulnerability. That's quite a dramatic emotional journey for 90 minutes. She's not just a compelling character, though. She was a standout in the mini and maxi challenge as well.
3. Never have I felt more hopeful for a big girl win than I am with Eureka. In season nine, Eureka made an immediate impact with her eye-catching costumes and even bigger personality. She's back and sharper than ever. Here's hoping she gets a chance to stick around long enough to show us all she's got.
4. Monét X Change intrigues me. I ALMOST loved the sponge gown, but I could not get past the bottom dragging below her feet. It looked sloppy. Her Rosie the Riveter-meets-custodian entrance look popped, and she's given us some of the most likable confessionals and one-liners yet.
5. Am I the only one that gets Valentina vibes fron Aquaria? She's beautiful and kooky, but I'm not loving the attitude. The punky entrance look was interesting, but I was less enthused by what she walked down the runway during the maxi challenge.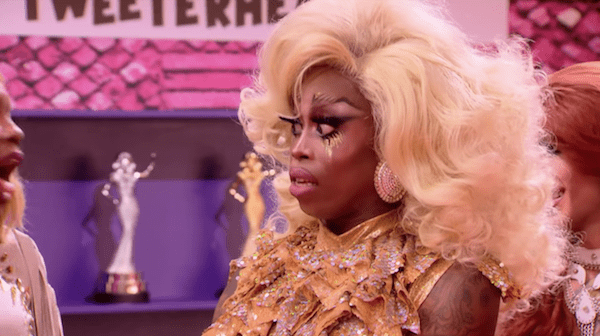 6. Monique was robbed of the top this week, for sure. More than Blair's visor skirt, the shape she achieved with playing cards had much more impact. My one critique is that Monique's interviews are A LOT. She's already tipping into Shangela territory in terms of being extra (stop trying to make "ooh-ah-ah" happen), and she just hasn't earned enough goodwill to pull that off yet.
7. I'm going out on a limb putting Blair up here. Truly nothing she did impressed me nearly as much as it did the judges, but there just seems to be something there. I reserve the right to drop her baby self way down these rankings in the future, but for now, I'm taking the risk. Prove me right, girl.
8. I'm fascinated by Kameron, and not just because she's got that Cocky Boys, tatted-up bod that I hate to love, but she's the first real muscle queen we've had on the show. Plus, I too love some freshly got f*cked hair.
9. I want to see more of The Vixen as a political artist, but nothing really stood out to me either way just yet.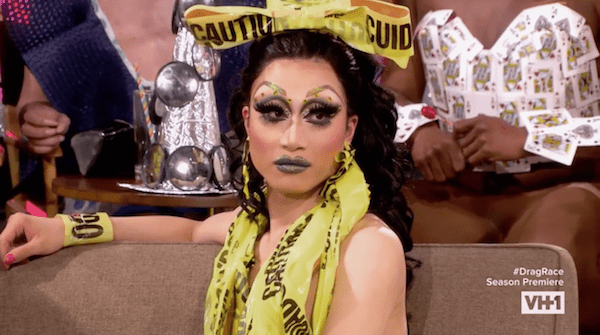 10. Although Yuhua landed in the bottom this week, I'm hoping it's a fluke. She seems funny and original (and just enough of an airhead to provide some hilarity).
11. Asia has an uphill battle for me, because pageant girls have largely proven to be too rigid in their interpretation of drag.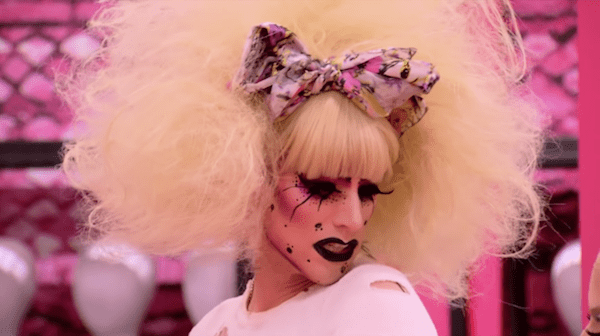 12. Dusty made such an obvious mistake tonight going with her "signature" makeup. It's not that it's bad, you just KNOW Michelle is going to clock that. C'mon. Hopefully she learns from this and does more to excel at the challenges at hand without straying too, too far from the assignment.
13. Kalorie eked out the victory in tonight's lipsync, but I have a sneaking suspicion we've already seen all she has to offer. Aside from the twerk and charming personality, I'm not sure she'll be able to match wits and vision with the other girls.
14. Oh, Vanessa, we hardly knew ye. I mean, Vanessa was A LOT. Was it the right choice to send her home? Probably. But hopefully that big ol' personality she displayed will be enough to garner some new fans and maybe a webseries, who knows?
How would you rank the season 10 girls?