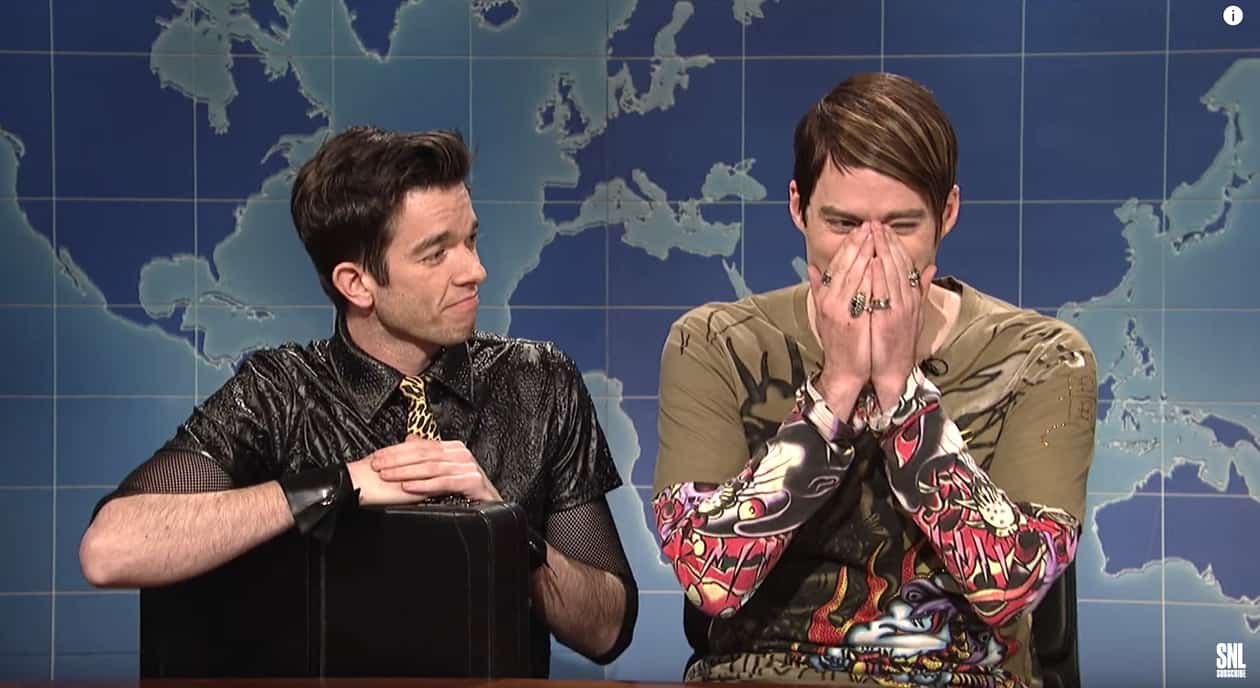 Thanks to Bill Hader's hosting duties, SNL's beloved Stefon returned to Weekend Update last night to provide some guidance on nightclubs for folks who are in New York City for the St. Patrick's Day parade.
Stefon couldn't hold it together while describing New York's hottest new club, Galoosh: "If you're drunk in Midtown doing cheap coke off your laundry card, I have just the place for you…Inspired by true events, this former CVS, which became a Chase Bank, and then became a CVS again, has a familiar yet troubling feel — like when Larry King would play himself in a movie. This place has everything: desk sets, key fobs, kale chips, Roman J. Israel, Esq."
There you can also  play everyone's favorite party game, The Stranger.
Explained Stefon: "You know that Billy Joel song 'The Stranger'? It's when you sit on Billy Joel's hand until it's numb, and then you rub yourself with it."
"Why does it have to be numb?", asked Colin Jost.
"So you can pretend it's Bruce Springsteen's hand."
Stefon also described New York's hottest Irish club, Off To Church, Mother, "If you're Irish, or just white and violent."
And for regular old tourists, Stefon suggested Stand Clear of the Closing Doors, Please.
"Built in the upside-down world, this haunted hospice was closed when inspectors found a sexy form of asbestos that could cause disease," Stefon explained. "Me-so-horny-oma."
The club's special feature, Stefon adds, is a "human squatty potty."
When asked to elaborate, Stefon calls in his attorney "and conceptual piss artist" played by John Mulvaney, so to avoid saying a word that might be insensitive.
Watch: