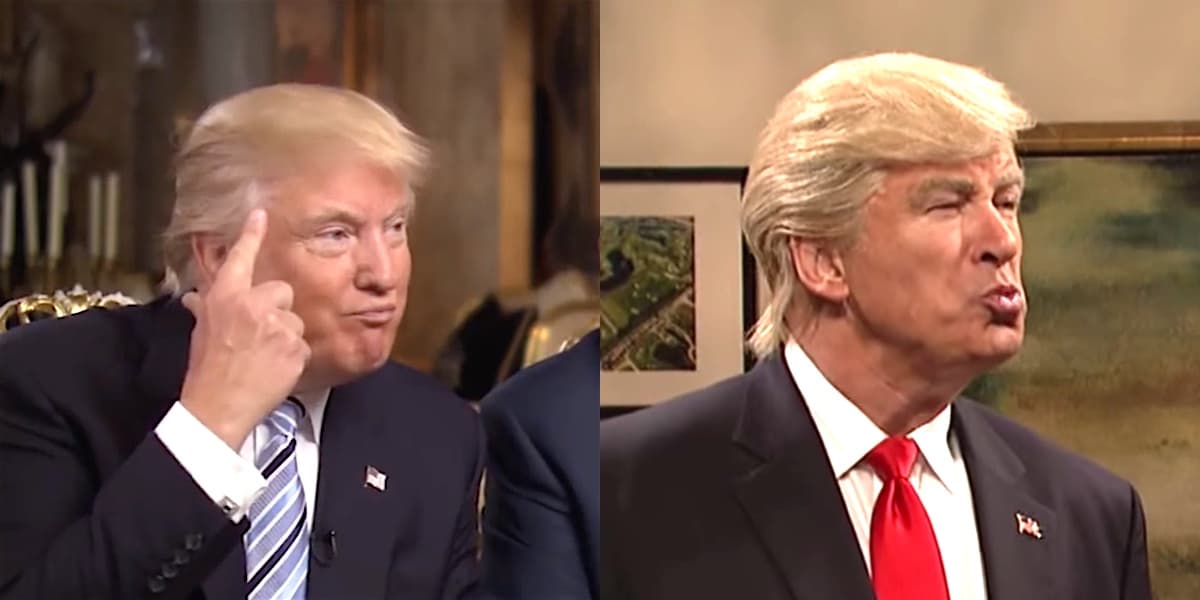 Donald Trump attacked Alec Baldwin in a Friday morning tweet following remarks made by the SNL actor.
Tweeted Trump: "Alec Baldwin, whose dying mediocre career was saved by his terrible impersonation of me on SNL, now says playing me was agony. Alec, it was agony for those who were forced to watch. Bring back Darrell Hammond, funnier and a far greater talent!"
https://twitter.com/realDonaldTrump/status/969529668234829825
Trump was reacting to an interview with Baldwin in The Hollywood Reporter ahead of the premiere of the new ABC show Sundays with Alec Baldwin.
Said Baldwin to THR: "Every time I [play Trump] now, it's like agony. Agony. I can't. If things don't go in the right direction for the midterms. … I could go out on the street, stand on any corner and tap 10 people on the shoulder. And all 10 of them, in all likelihood, would be more qualified — ethically, morally, intellectually and spiritually — than Trump. I'll vote for Mitt Romney. I don't care. Anybody over this guy. It doesn't matter. We have to get rid of him."
Trump's tweet about Baldwin followed another that appeared to defend his head-scratching plan to impose tariffs on U.S. imports of steel and aluminum, which sent the stock market plunging more than 400 points yesterday when he announced them.
Tweeted Trump: "When a country (USA) is losing many billions of dollars on trade with virtually every country it does business with, trade wars are good, and easy to win. Example, when we are down $100 billion with a certain country and they get cute, don't trade anymore-we win big. It's easy!"
https://twitter.com/realDonaldTrump/status/969525362580484098
Trump and Pence also met with the NRA last night, after which Trump tweeted: "Good (Great) meeting in the Oval Office tonight with the NRA!"
https://twitter.com/realDonaldTrump/status/969408165308747777
The NRA's executive director also tweeted, appearing happy about the meeting: "I had a great meeting tonight with @realDonaldTrump & @VP. We all want safe schools, mental health reform and to keep guns away from dangerous people. POTUS & VPOTUS support the Second Amendment, support strong due process and don't want gun control. #NRA #MAGA"
I had a great meeting tonight with @realDonaldTrump & @VP. We all want safe schools, mental health reform and to keep guns away from dangerous people. POTUS & VPOTUS support the Second Amendment, support strong due process and don't want gun control. #NRA #MAGA

— Chris Cox (@ChrisCoxCap6) March 2, 2018