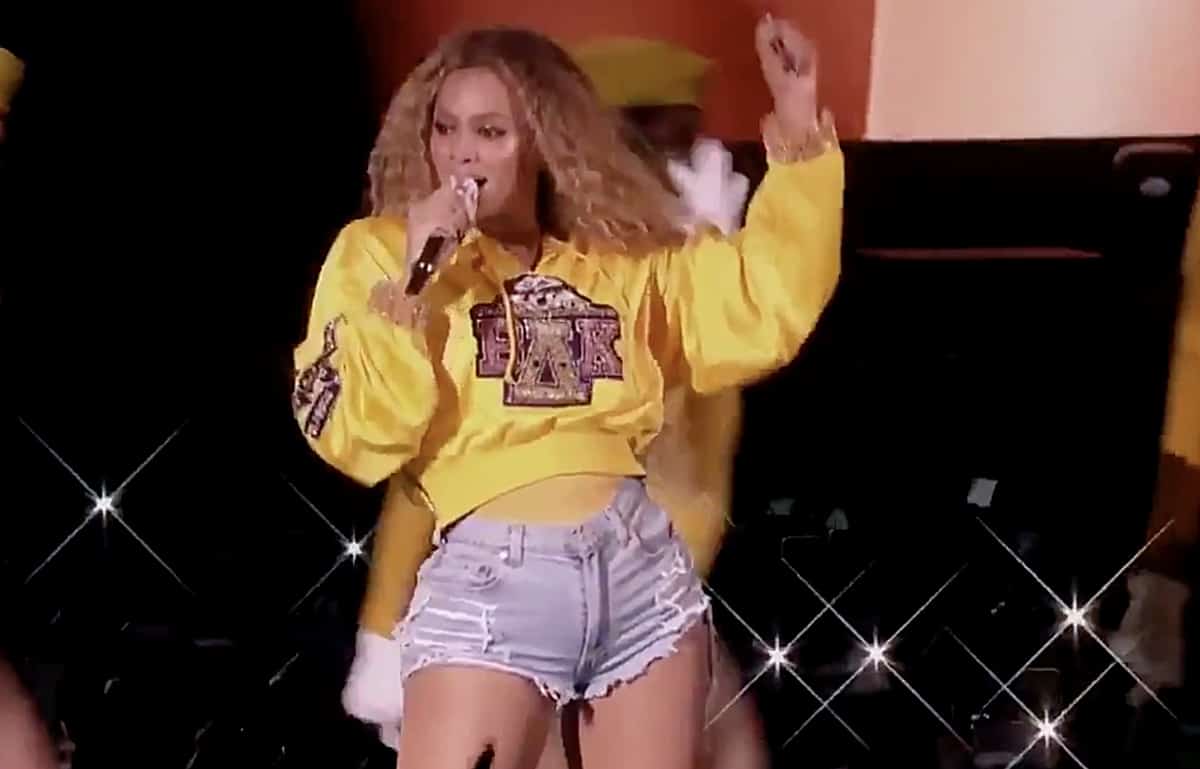 Beyoncé performed for more than two hours at Coachella on Saturday. The first black woman to headline the festival, Beyoncé did a 26-song set, including a duet with Jay-Z, a dance with her sister Solange, and a Destiny's Child reunion.
It was rich with history, potently political and visually grand. By turns uproarious, rowdy, and lush. A gobsmacking marvel of choreography and musical direction.
And not unimportantly, it obliterated the ideology of the relaxed festival, the idea that musicians exist to perform in service of a greater vibe. That is one of the more tragic side effects of the spread of festival culture over the last two decades. Beyoncé was having none of it. The Coachella main stage, on the grounds of the Empire Polo Club here, was her platform, yes, but her show was in countless ways a rebuke.
Yet just over 24 hours after Staples' pronouncement, Beyoncé replaced him in Coachella's spotlight to deliver the most radical — and maybe the best — headlining performance I've ever seen here: a thrilling and painstaking tribute to America's historically black colleges and universities that had the singer leading approximately 100 musicians and dancers, including brass and string players, a drum line, a baton twirler and even a lively step squad that went to work when she left the stage to change costumes.
Fans were blown away:
I just saw the greatest show to ever happen. @beyonce

— Chance The Rapper (@chancetherapper) April 15, 2018
Beyoncé at coachella looks out of this world 🔥🌹❤️

— samsmith (@samsmith) April 15, 2018
Fam.

The Black National Anthem.
Malcolm X quotes.
Nina Simone samples.
Stepping and marching bands.
Jigga for the deja vu.
A Destiny's Child reunion.
A Solange dance collabo.

The greatest living entertainer is a Black woman named Beyonce. This is not up for debate.#Beychella

— Amanda Parris (@amanda_parris) April 15, 2018
https://twitter.com/IGGYAZALEA/status/985486695586934785?ref_src=twsrc%5Egoogle%7Ctwcamp%5Eserp%7Ctwgr%5Etweet
Fuuuuuuuuh…. @Beyonce KILT IT. I wasn't even there… the Coachella YouTube live was madness. She makes one want to just forget everything they knew about live performance, sit down, and take notes…. and weep openly. #takeustoschoolB

— ADAM LAMBERT (@adamlambert) April 15, 2018
Since it's virtually impossible to find a full working clip of the set (though you can try here), here are some clips from the Beychella extravaganza.
https://www.youtube.com/watch?v=guf1L6HmeOc
https://twitter.com/goddessyonce/status/985505329675988993?tfw_creator=highsnobiety&tfw_site=highsnobiety&ref_src=twsrc%5Etfw&ref_url=https%3A%2F%2Fwww.highsnobiety.com%2Fp%2Fcoachella-2018-weekend-1-recap%2F
https://youtu.be/r1frRkUDpQc
https://twitter.com/Info_Bey/status/985544640517627904?ref_src=twsrc%5Etfw&ref_url=http%3A%2F%2Finstinctmagazine.com%2F