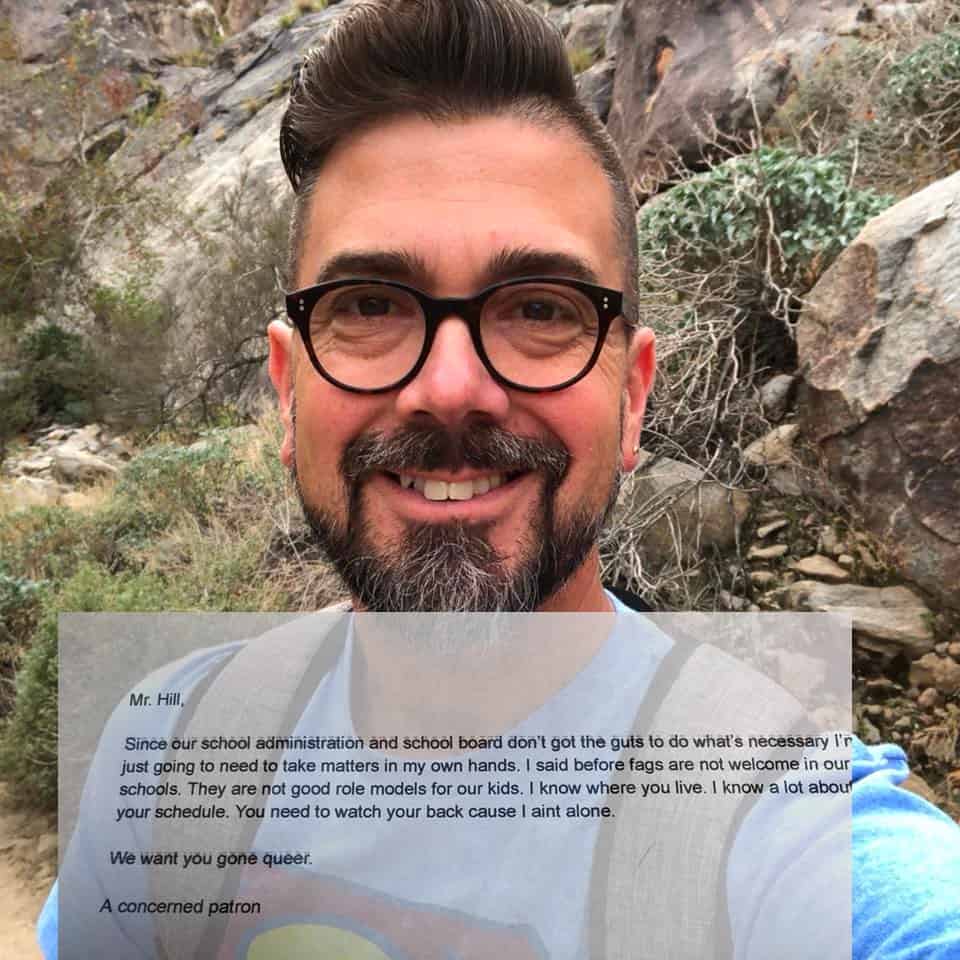 Michael Hill, a visual arts teacher at Nemaha Valley High School was driven out of Seneca, Kansas after a series of threatening letters caused him to fear for his life, police couldn't identify the letter writer, and support from the school was insufficient.
Wrote Hill in a note on Facebook this week, with the letters attached: "I decided I needed to put these out there because people need to know this kind of ugly hatred still exists in the world only by confronting it can we end it. This was part of a pattern of harassment that started back in October 2017. As a result of this I made the difficult decision to pack up and make a huge leap of faith and moved to Palm Springs, CA."
The Topeka-Capitol Journal reports that the letters began coming soon after Hill revealed he was gay on National Coming Out Day last October:
A series of hate-filled letters told Hill his openly gay lifestyle wouldn't be tolerated by the Seneca community. If he didn't leave, one letter promised, the anonymous author would "take matters into my own hands." His car tire was punctured with a screwdriver. He found "faggot" written in the dust on his car.
Hill said he reported the incidents to police, who couldn't identify the culprit. He was too afraid to leave his apartment at night and suffered from severe mental stress.
The school district initially was supportive, he said, allowing him to take medical leave in mid-January. But after seven weeks of unpaid leave, Hill was told it was time to resign or return to class.
Hill, who grew up near the school, told the paper that shortly after National Coming Out Day, someone took a photo of him with a male friend which began circulating on Snapchat and he became a cyberbullying target, which affected his classroom and teaching, "and eroded respect for him as a professional."
Said one letter: "I have heard you ain't in school That's a darn good start. You better not think about coming back! Queers will burn and so will you. Don't think my friends and I still ain't after you. We don't want fags in our schools."
Another warned Hill to "watch your back…since our school administration and school board don't got the guts todo what's necessary I'm  just going to need to take matters into my own hands….I know where you live."
Another, citing the Bible, said, "Homosexuals should not be teaching our kids. In fact, I don't believe they should be teachers at all. They are perverts and predators. They are not acceptable role models for our kids."
Hill has moved to Palm Springs. He told the Topeka-Capitol Journal: "It's a good place for me to be right now, at this point in my life."