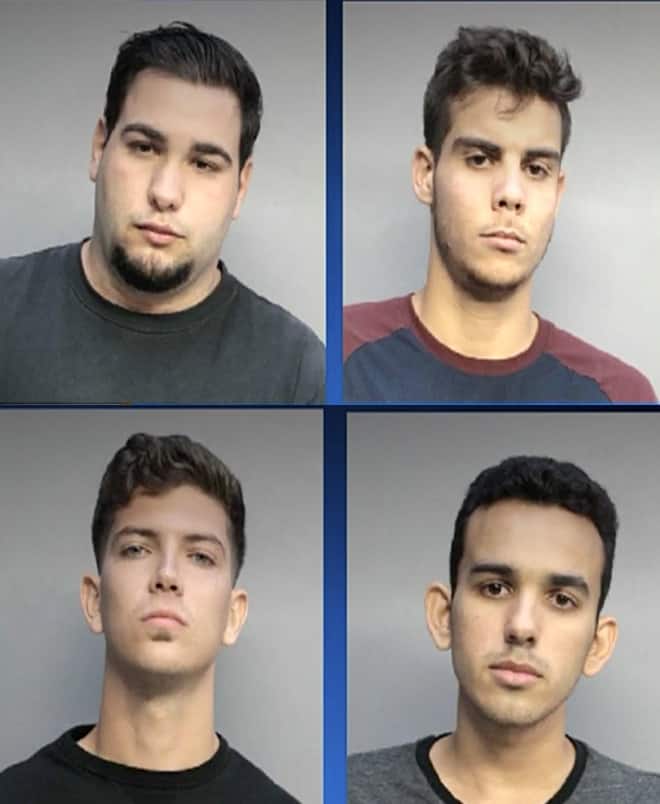 Four men each charged with three felony counts of aggravated battery for an attack on a gay couple following Miami Beach's Gay Pride parade were released from jail on bail Wednesday morning after surrendering to police on Tuesday night.
The men are identified as (clockwise, from top left) Pablo Reinaldo Romo-Figueroa, 21, Luis Alonso-Piovet, 20, Juan C. Lopez, 21, and Adonis Diaz, 21.
The State Attorney's office will now decide whether a hate crime enhancement will be added to their charges.
The perps were seen in video and surveillance photos widely shared on social media on Tuesday.
Rene Chalarca and Dmitry Logunov, a gay couple, and a man who tried to help them were violently attacked by the four men on Sunday in South Beach shortly after Miami Beach's Gay Pride parade. The victims say they were targeted because of their sexual orientation.
Police said the men were being called gay slurs in Spanish during the attack. They started to run away and were being chased by the suspects. That's when a good Samaritan, who was identified as Helmut Muller Estrada, tried to break up the attack.