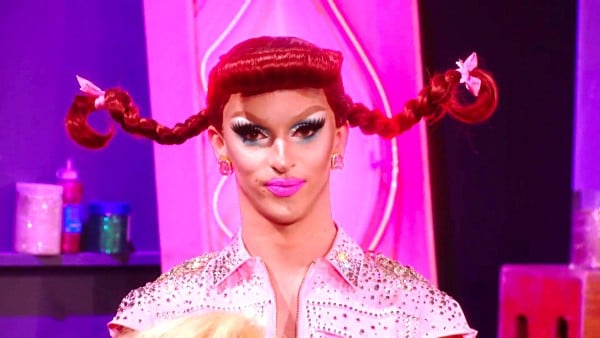 Fresh off last week's runway, Asia is furious because … well, I guess because the other girls let her help them? I get that she regrets having mismanaged her time, but, to be fair, all the girls leapt to her defense in front of the judges.
Miz Cracker rightly reminds her that "when you give a gift, you have to give it freely." But Asia still somehow internalizes this lesson as essentially trust no bitch. I guess it took ten seasons for Asia to realize this is a competition. OK, gurl.
It's hardly the most sizzling drama of the week, as last week's confrontation between Eureka and the Vixen is still simmering. If you missed last week's Untucked, Eureka made a snide comment at the Vixen, sending the Chicago queen into a typical tizzy. Once again, I feel as if Vixen is in the right. Eureka, as she says, "poked the bear." The problem is the Vixen only has two speeds: off and going AWF. So of course the Vixen seizes on a small comment Eureka makes practically under her breath and turns it into a battle. However, as they say: Don't start none, won't be none.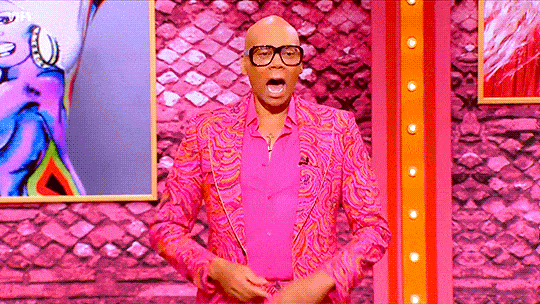 This week's mini-challenge tasks the queens with taking the contents of a military-themed duffel and turning it into some quick drag. (It's a similar challenge to the judges' robes from season eight, complete with Mad Libs-style character bios read by Ru as they model their looks.)
All the queens do a pretty (thank you for your) serviceable job. The Vixen is a real stand-out, hitting perfectly crisp poses that punctuate each of the jokes Ru reads. She wins the mini-challenge and the ability to pick the pairs for the maxi-challenge.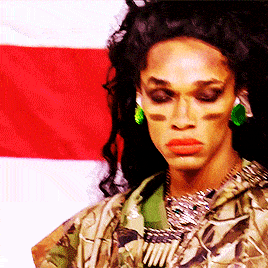 The ladies will be working together to create an "improv" scene on the new trashy, daytime talkshow, Bossy Rossy, hosted by Ross Mathews. In the spirit of Springer and Donahue and Sally Jesse Raphael, Ross will play ringmaster to the queens' assortment of conflict, strange addictions and bizarre love triangles.
I put improv in quotes, because I'm not quite sure this qualifies. The pairs get their characters and have time to prep before hitting the stage. It's a live performance, sure, but all the ladies come in with at least the bones of a skit already ready already. (If this were actual improv, the first unusual thing would be that Ross Mathews has a successful talk show.)
Despite her tendency to go for the jugular, Vixen's pairings are mostly shade-free, save for her two nemeses, Eureka and Aquaria. She puts the plus-size queen with this season's reigning fashion gawdess in hopes their personalities will lead to them destroying each other. Unfortunately, the person Vixen seems to hurt the most with her picks is the Vixen. But more on that in a bit.
The first pair up is Blair St. Clair and Monique Heart as two women in love with the same cactus. (Look, nobody's giving Bossy Rossy a Peabody.) Blair plays it as a Bible-thumping housewife, while Monique brings a brash bad girl to the stage. This is a chance for Monique to shine, effectively blending her own personality into a character. They wisely took pre-emptive measures to keep Monique from steamrolling Blair in the performance, agreeing to use the safe word, "Vanjie," to indicate if Monique is being too extra. In what could be considered one of the only instances of actual improv, the queens turn the safe word into a screaming match until they're both shouting "VANJIE!" at one another like pretty much every gay person in every gay bar in America for the last four weeks.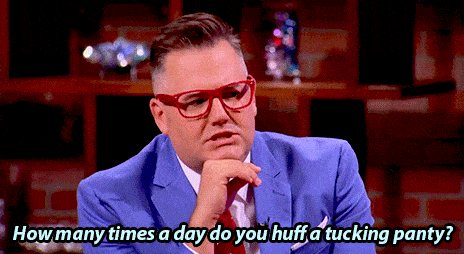 The queen most in need of a win this week, Monet, was paired with Kameron, a girl who's flown mostly under the radar, but has had her fair share of bright spots. This was a strong showing from Kameron, as she portrayed a drag queen addicted to huffing tucking panties. Kameron leaned into the ridiculousness and delivered a physical performance that added some much needed dynamism to the spot. Monet, as a queen who eats her own hip pads, barely registers a single joke or character choice. It's a shame, because Monet displays such an easy, sharp sense humor in conversation and interview.
In an ode to an early-aughts viral video featuring an episode of Maury about a woman deathly afraid of pickles, Mayhem and Cracker put a surrealist spin on the already nutty concept. As the pickle-fearing guest, Mayhem's character cries and carries on, but it's Cracker that's the star. She plays Dr. Dill, a sort of therapist of dubious pedigree, and comes to the stage with an arsenal of pickle puns. (If Cracker doesn't win this season, they should hire her as a staff writer for all of Ru's runway comments.)
Cracker heightens her performance to the truly absurd, revealing she's not only a doctor that specializes in pickles, she is in fact, a pickle herself.
Things fall apart a bit for mini-challenge winner the Vixen and her partner, Asia. In the workroom, they concoct a shady plot to use their assigned topic — my copycat is obsessed with me — to model their relationship on Cracker and Aquaria. It could've been a brilliant turn, but the gag never really materializes. Instead, Vixen shrieks, Asia smiles, and it all goes basically nowhere.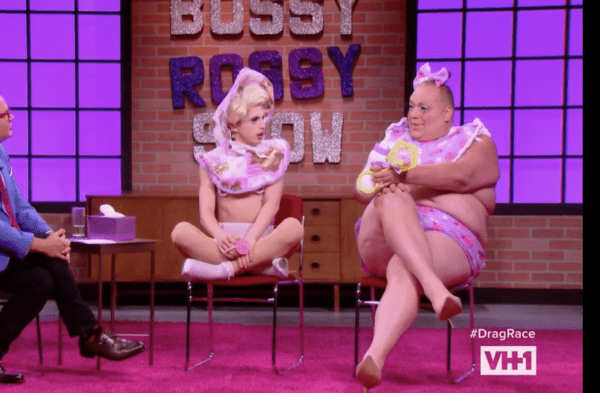 Finally, Aquaria and Eureka, the two queens Vixen attempted to set up for failure, steal the show. As two big, sexy babies, they both play to their broadest strengths. Aquaria is a sexy fashion baby, strutting around imaginary runways and masterfully deploying a reference to Aja's now legendary Linda Evangelista diatribe. It's Eureka's show to steal, though. She comes out basically naked, using her natural babyface and smooth skin to truly look like a giant baby. This kind of challenge is right in Eureka's wheelhouse, because it demands the big girl goes even bigger. There's no real "joke" or cerebral humor (like Cracker), but Eureka delivers an unforgettable performance wailing and throwing a temper tantrum on the ground.
In the workroom, Mayhem convinces Eureka and Vixen to hash out their problems. They find common ground in how a history of silencing themselves has led to them being more outspoken today. Vixen very aptly describes how the way Eureka's broken just doesn't mesh with the ways Vixen is broken. They come to a mutual understanding to move forward, but Vixen (politely) rejects Eureka's request for hug or handshake to seal the deal. Again, I appreciate Vixen's uncompromising honesty in these moments. I respect her choice here more than if she gritted her teeth through an awkward hug.
This week's runway is diamonds and denim, in honor of guest judges Shania Twain and True Blood alum Carrie Preston. It's a mixed bag up there, but even the worst of the bunch is still better than a lot of queens we've seen in the past.
Our tops this week are Cracker, Eureka and Monique. The judges love Cracker's quirks, and her runway look — part Wendy Thomas, part Pipi Longstocking, part beaver — made for a memorable moment. Monique got praise for her strong performance, but Michelle read the runway, starting with the giraffe print top Monique thought was "brown cow."
It's clear though this is Eureka's to lose. Not only were they gaga for her baby routine, but her denim jumpsuit was a favorite as well. She takes home the win, a nice bookend to when she was sent home last season during the fifth week.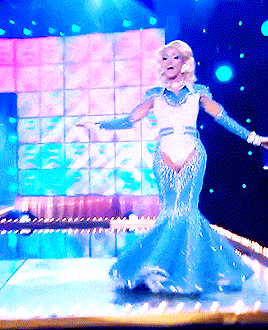 As far as the bottoms go, Vixen got flack for a flat performance. They're not wrong, but was she flatter than Asia? Not really. Her saving grace is her stunning runway look — a hyrbid mermaid gown and chaps, stoned for the gawds. She's missing a waist cincher, which might be the deciding factor that landed her in the bottom three, but she's spared from this week's lip sync.
Less lucky are Monet and Mayhem. They both struggled in the performance (Monet more so), but the judges didn't love their runways, either. Monet's jumpsuit with crotch and butt cut-outs was an ill-fitting dud, while Mayhem looked a bit too much like Barbie's moonshine still.
They're lip syncing to Shania's "Man! I Feel Like A Woman" which might be thematically the best lip sync choice imaginable. Mayhem does a competent lip sync, but there's nothing special there. Monet attempts a lot of tricks and tearaways, but nothing seems to work properly, save for a masterful spur-of-the-moment, spray-on dye job to coincide with the lyric "color my hair, do what I dare." Still, her wig reveal was sloppy, it looked like she accidentally tore off a top when she opened her shit and she ended the lip sync with most of her jumpsuit around her ankles, unable to elegantly kick it off. It wasn't the best.
However, it was enough. Monet got the save, while Mayhem packed her wigs and went on home.
Let's see where all the queens stand after this week in our rankings below. Leave your rankings in the comments!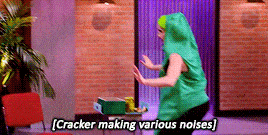 1. As tight as this season's race seems, Cracker is the first to truly break out from the pack. She is super polished on the runway, and she'sone of the most uniquely humorous queens to come around in a while. She may be Bob's drag daughter, but she reminds me much more of later-era Alaska. She's been a clear winner in a few challenges, and, if I could put my tinfoil wig on for a second, I feel like producers are holding off on giving her too many wins as to not telegraph her snatching the crown.
2. Love her or hate her, Eureka is an undeniable force in this competition. She has a fashion sense that's much more sophisticated than her bawdy personality lets on. Even if you're not a fan of her variety of humor, it is certainly an effective one on this show. I think a top-three finish is in the cards for Eureka at the very least.
3. Aquaria had flashes of, let's not call it "brilliance," but at least some savvy this week. We know she can turn a look, but maybe she's also read a book! She displayed charisma and sharp timing in the challenge. If she can deliver solid acting/comedy alongside her absolutely devastating fashions, she can really go far.
4. My love for Monique grows each week. She called herself a crafty queen a few weeks ago, and it shows. Her runway looks leave a lot to be desired, but she brings it to every task. In the charisma and nerve categories, Monique is tough to top. She's yet to totally steal the show, but it feels like she's one challenge away from asserting her stature.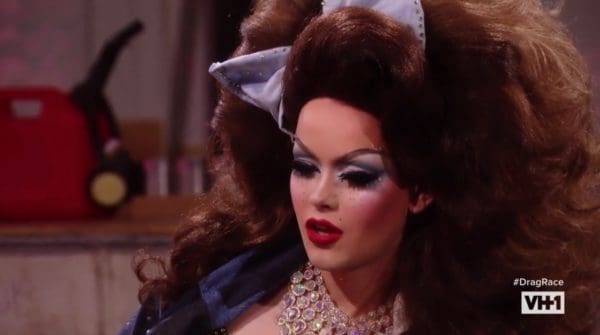 5. After a few weeks sleeping on Blair, I'm fully behind Miss St. Clair now. Both her performance and runway showed sophistication beyond her years, and I'm getting more excited to see what she has to offer. My one small gripe with Blair is that sometimes her lashes and eye makeup are so heavy that it erases the whites of her eyes completely, and she looks like a demon. It's a small complaint, but it does make it hard for her to sell big, expressive faces like some of the other girls.
6. Asia could've coasted to the Miss Congeniality crown after last week's selfless sewing sacrifice, but instead tried to spin it into a savvy game move. I feel like, as a society, we've evolved beyond rewarding the sort of catty, Survivor-esque reality-TV politicking and just want to see people be good at their craft (see: Great British Baking Show). Her change of heart knocked her a few pegs down for me. I wasn't particularly wowed in either her performance or with her runway, which makes me wonder if her work with Madame Buttrface and that Tweety Bird lewk were just flukes.
7. She's divisive, but I'm still a fan of the Vixen. If it were up to me, I would've placed Asia in the bottom over Vix, but I'm getting the sneaking suspicion that Vixen is not long for this competition. She wrapped up her conflict with Eureka, got her chance to discuss how her past helped create her combustible attitude and now it's starting to feel like her narrative arc is wrapping up.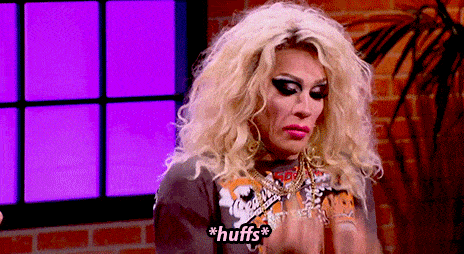 8. Kameron was FINE this week. There are times when she shines so bright — the butterfly runway, all three Last Ball lewks, Pharmarusical — but then there are other times when she barely registers on screen. This week was closer to a hit than a miss, but still left a lot to be desired. Plus, has there ever been a less emotionally evocative exchange than the one between Kameron and Shania Twain? I've seen graham crackers that seemed to share a more meaningful bond.
9. Oh, Monet. We were rooting for you. We were all rooting for you. I was hoping last week's trip to the bottom two would be a wakeup call, but it feels more like a death sentence. Perhaps her confidence has been so shattered there's just no coming back. It feels like she came into this challenge with literally not a single funny thought in her whole head. And she's funny! She's very funny! The looks are a mess, and I don't think we'll ever get an Aquaria-style runway destroyer out of her, but Bob the Drag Queen never did either. Monet definitely has what it takes to be successful on this show, I just don't know if she can breakthrough and access it.
10. In hindsight, Mayhem's exit feels justified, but I was surprised to see her go. I didn't feel like she missed the mark so wildly during the challenge nor on the runway, and this week's edit didn't help lead me to that conclusion either. I wasn't ready to see her go until the lip sync, where she failed to really inspire me at all. Mayhem is obviously a seasoned pro, but she's just not America's Next Drag Superstar.
What did you think of the episode?