Amtrak chief of police Neil Trugman held a press conference on Tuesday regarding Aaron Salazar, who was found badly bruised and burned beside a set of rail tracks in an Amtrak yard in Truckee, California.
Salazar had been traveling back to school in Portland on Amtrak from his home in Colorado.
His last text message, to his great grandmother, was this: "I have a layover before getting on the next train. I made a friend on the train and we're going to go get some food and explore."
That was the last anyone heard from him before he was found battered next to the tracks.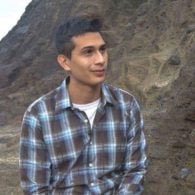 Trugman said that after interviews with hundreds of people including "nearly every passenger on that train" they have concluded that there was no criminal activity involved, that Salazar committed suicide after throwing himself from an open window on the moving train, which would have been going 40 mph.
Said Trugman in the press conference: "He was distraught, he was dealing with some issues. I'm not going to get into details exactly of what they were, but he was dealing with some life issues."
Trugman said that they also contacted the "friend" mentioned in Salazar's text message, the Reno Gazette Journal reports: "Trugman said that Salazar and the other passenger met in a lounge car, but were ticketed in separate passenger cars. The passenger told police that he and Salazar only spoke briefly, but made plans to have dinner in Sacramento. The two then parted and went back to their respective ticketed areas of the train. The passenger, according to Trugman, never saw Salazar again.  Trugman said that passenger also described Salazar as anxious and seeming to have life issues."
Salazar is making slow progress in a hospital in Reno, is breathing on his own and has tried to open his eyes and squeeze his mother's hand, but is still unconscious.
Salazar's family believes that the local police are protecting the federal government and expressed alarm to the Reno Gazette journal that "Amtrak is investigating an incident on an Amtrak train with an Amtrak passenger."
Full report here.