TARIFFS. Trump will impose steel and aluminum tariffs on Canada, Mexico and the EU: 'The source, who preferred to remain anonymous due to the sensitivity of the situation, said the tariff decision is coming this morning and is "99.9" percent done. The U.S. expects the EU will retaliate in due course.' "A tax hike on Americans."
MELANIA TRUMP. I see you speculating about me.
I see the media is working overtime speculating where I am & what I'm doing. Rest assured, I'm here at the @WhiteHouse w my family, feeling great, & working hard on behalf of children & the American people!

— Melania Trump (@FLOTUS) May 30, 2018
RESURRECTION? Conservative streaming service interested in picking up Roseanne.
MITT ROMNEY. I voted for my wife in the 2016 election.
SARAH HUCKABEE SANDERS. Almost showed actual emotion while addressing kid on school violence. "But when it came time to actually answer his question, she had nothing. All she could do was reference White House meetings that haven't even happened yet."
JEFF SESSIONS. Rudy Giuliani says trump won't fire him or Rosenstein: "I don't think the president is going to touch him (Sessions), Mueller or Rosenstein," Giuliani said, according to video of the interview posted by Voice of America News. "In the long run I think it will be worked out."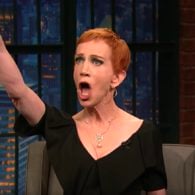 ANNIVERSARY. Kathy Griffin calls out Trump's abuse of power.
PUTO. L.A. Galaxy Pride night marred by anti-gay chant: 'During the L.A. Galaxy's match against FC Dallas, the anti-gay "puto" chant rang through the StubHub Center over and over and over again throughout the match. Outsports has confirmed this with fans, sports writers and a staff member of the Galaxy.'
REAL SALT LAKE. Major League Soccer players' gay dad and gay brother watch them play on Pride night.
LAWSUITS. Lambda Legal and OutServe-SLDN sue Defense Department: "Today, Lambda Legal and OutServe-SLDN filed a lawsuit on behalf of a sergeant in the D.C. Army National Guard who was denied the opportunity to serve as an officer and faces possible discharge from the United States armed services because he is living with HIV. The lawsuit challenges the Pentagon's current policies preventing enlistment, deployment or commissioning as an officer if a person is living with HIV, and likely would affect implementation of the new "Deploy or Get Out" policy unveiled by the Trump administration in February."
D.C. Police search for man who assaulted gay man after hurling homophobic slur at gay couple.
JOY REID. Newly uncovered blog post allegedly by Reid pushed 9/11 conspiracy theory documentary Loose Change.
JON STEWART. 9/11 Memorial with have new section created for first responders who have died since the attack. "The 9/11 Memorial & Museum at the World Trade Center is determined to build greater awareness about this unabating health crisis. It will take an important step forward Wednesday when the institution unveils renderings of the design concept for a permanent and substantial modification to the 9/11 Memorial intended to recognize everyone who is suffering from 9/11-related diseases. This evolution of the memorial design will honor those who have died and acknowledge the many who will succumb to related illnesses."
PULSE ANNIVERSARY. "Die-in" planned for June 12 to mark Pulse massacre anniversary.
June 12, 12 pm. No more #LethalLegislation pic.twitter.com/VyiDBfdnZ6

— National Die-In (@NationalDieIn) May 23, 2018
ANCIENT HISTORY. New evidence reveals migration route into North America from Eurasia.
PHILADELPHIA. LGBTQ State of the Union fills Kimmel Center: 'With elected officials in attendance, including City Councilman Derek Green, state Rep. Brian Sims and Democratic nominee for state representative Malcolm Kenyatta, Mayor Jim Kenney called it "a historic event." Kenney, in what seemed like a rare off-the-cuff moment, compared today's tumultuous political environment to that of 1968, suggesting that despite the challenges being faced now, particularly by the LGBTQ community, that "one day we'll be in the post-Trump environment."'
NIGERIA. Activists take to the streets to protest anti-LGBT violence.
Sending massive solidarity to staff and volunteers of @tbafoundations joining to protest in Lagos today. These people are bold, displaying #LGBT placard in solidarity with other victim of mob/jungle justice. pic.twitter.com/HsVUqs69WN

— Ashiwaju Bisi Alimi (@bisialimi) May 28, 2018
NEW OLD TECH OF THE DAY. Atari VCS.
TRAILER OF THE DAY. The Magic Order.
MUSIC VIDEO OF THE DAY. Little Big Town "Rocket Man".
THIRSTY THURSDAY. Christian Bordin.
Get Towleroad Headlines Daily.
News daily from one of the most trusted, independent, lgbtq owned and operated media outlets. Covering news, entertainment, science, media, art and more for almost 17 years.