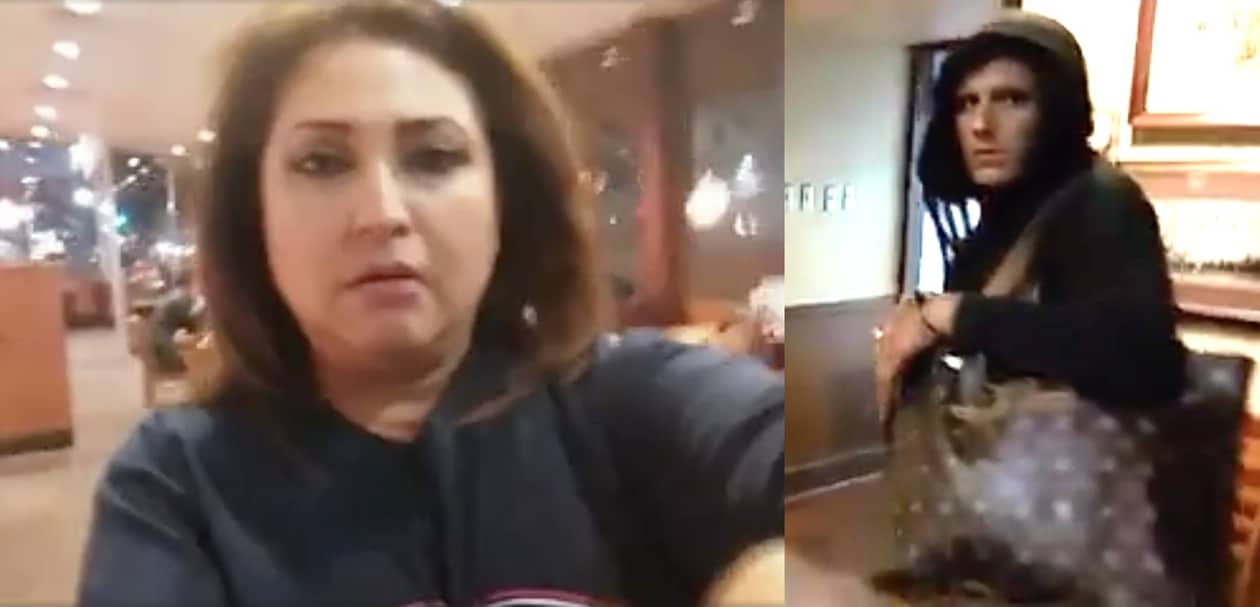 Jazmina Saavedra, a Republican candidate for Congress in California's 44th District, filmed herself on Facebook Live Tuesday confronting a transgender woman who was using a Denny's bathroom in Los Angeles.
"I'm trying to use the ladies room and there is a man here saying he is a lady."
"You guys are harassing me…you're invading my privacy," yelled the trans woman from inside the stall.
Snapped Saavedra: "You're invading my privacy because I'm a woman and I deserve to use the woman, the ladies' room. You violated my right. You're sick. Stupid, sick."
Saavedra went outside to wait for the transgender woman to leave the bathroom, adding, "So, that guy is violating my right to use the ladies' room here, and he's saying he's a lady! Stupid guy. It is stupid in California how they let people say, 'it's a lady.' It's a man saying he is a lady he is using the ladies room….This is so stupid in California. This is why the sick politicians are approved. They put us in danger. A woman like me. And a man inside saying he's a lady."
When the transgender woman came out, she said, "Excuse me, I was using the toilet, how was I invading your privacy? Why are you singling me out, lady? And I've seen you yesterday following me."
Spit Saavedra: "Next time use the men's room. Or nobody's room. A transgender room."
Watch:
The Congresswoman Saavedra is challenging, Rep. Nanette Diaz Barragan, blasted her in a statement: "I was appalled by the treatment that this woman received for simply trying to use the restroom. Everyone has the right to their own identity, and the right not to be discriminated against for who they are."
Says Saavedra's website, on which she appears wearing a MAGA hat:
Jazmina believes in America first by protecting our borders through the construction of the wall, controlling immigration, taking care of jobs and opportunities for US citizens.
Jazmina has decided to run for this 2018 election as a candidate for the United States Congress, California 44th District to fight for and truly represent all Californians with their needs and rights. She supports President Trump's agenda for the benefit of making both, a Greater America and Safer America.
Jazmina is Pro-life and supports our Second Amendment. California passed laws against our morals and faith as conservative families. Laws that jeopardizes the health of our children and young people, that weaken our economy with programs that do no benefit our citizens and our children, but rather help aliens who have no legal right to be in our country.
Jazmina will work to eliminate laws that affect our decent and hardworking citizens, as well as to prevent our children from being indoctrinated in schools with ideologies that corrupt and destroy our moral values. Jazmina wants to create more programs for education and the creation of new jobs, instead of welfare.
We kindly ask to support Jazmina Saavedra for US Congress.
Let's make America a greater, more prosperous and secure nation.