JOHN OLIVER. On Venezuela's economic crisis.
PROFOUND PROVOCATION. Dozens of protesting Palestinians killed as U.S. embassy opens in Jerusalem.
TOLL. At least 52 dead…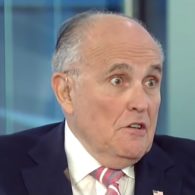 BETTER TV LAWYERS. WaPo report on Trump's ongoing obsession: 'The president vents to associates about the FBI raids on his personal attorney Michael Cohen — as often as "20 times a day," in the estimation of one confidant — and they frequently listen in silence, knowing little they say will soothe him. Trump gripes that he needs better "TV lawyers" to defend him on cable news and is impatient to halt the "witch hunt" that he says undermines his legitimacy as president. And he plots his battle plans with former New York mayor Rudolph W. Giuliani, his new legal consigliere.
WRECKING BALL. Azealia Banks drove Cardi B off Instagram.
ANTHEM. John Cameron Mitchell working on musical podcast."The series, produced by Topic Studios, will launch with Anthem: Homunculus, written and directed by Mitchell and composer Bryan Weller. Told in ten 30-minute episodes, the season will also feature more than 30 songs by the two, who also collaborated on the original tunes featured in Mitchell's upcoming film How to Talk to Girls at Parties. Mitchell will co-star in the first season alongside Tony-winning The Color Purple star Cynthia Erivo, fellow Tony winners Patti LuPone, Glenn Close, Denis O'Hare, and James Monroe Iglehart, South African singer/songwriter Nakhane, Laurie Anderson, Simone, Christopher Hanke, Ben Foster, Madeline Brewer, Justin Vivian Bond, and Bridget Everett.
BEIJING. Women beaten by police at rally for gay rights: "The violence was the latest example of intolerance against homosexuality in China and underscored the government's uneasiness with any public gathering. About 1,000 people attended the rally in the city's art district."
VERMONT. GOP governor Phil Scott signs gender neutral bathroom law: 'The bill passed with a large majority in the House in April 2017, and then took a year to reach the Senate, where it passed unanimously. "Two years ago, when I was running for governor, I was asked in a debate whether I would support gender-neutral bathrooms in public places or not," Scott, a Republican, said at the bill-signing ceremony at the Vermont Statehouse in Montpelier. "I responded with a one-word answer, a simple yes. Because to me it was just that simple. Why wouldn't we do that? And now two years later I am honored to be able to sign that legislation into law today." According to the bill, "a single-user toilet may be identified by a sign, provided that the sign marks the facility as a restroom and does not indicate any specific gender."'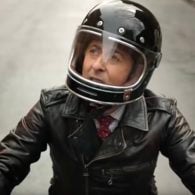 RENEWED. Alan Cumming's Instinct has been renewed by CBS for a second season: "Instinct has been a so-so ratings performer, averaging a 1.1 adults 18-49 most recent rating and 0.6-0.7 Live+same day in the past few airings. But has been in line with its fellow Sunday CBS shows in the 25-54 demo. And the series made history as the first broadcast drama with an openly gay lead character, played by Cumming."
RUNNING MEN. Garrett Hedlund and Charlie Hunnam strip down for a jog.
MH370. Was disappearance of Malaysian 777 airliner a mass murder suicide? 'A Canadian air-crash investigator, Larry Vance, said he believed that Captain Zaharie put on an oxygen mask before depressurising the plane to render the passengers and crew unconscious: "There is no reason not to believe that the pilot did not depressurise the cabin to incapacitate the passengers."
CANNES. Gay cinema comes of age. "We've passed a milestone: We finally got past the 'coming out' movies and the 'painful problems of homosexuality'. It's great!"
MUSIC VIDEO OF THE DAY. Kelly Clarkson "Meaning of Life".
MONDAY MUSCLE. Wicomeva.
https://www.instagram.com/p/BfZc3RSBHP7/?taken-by=wicomeva