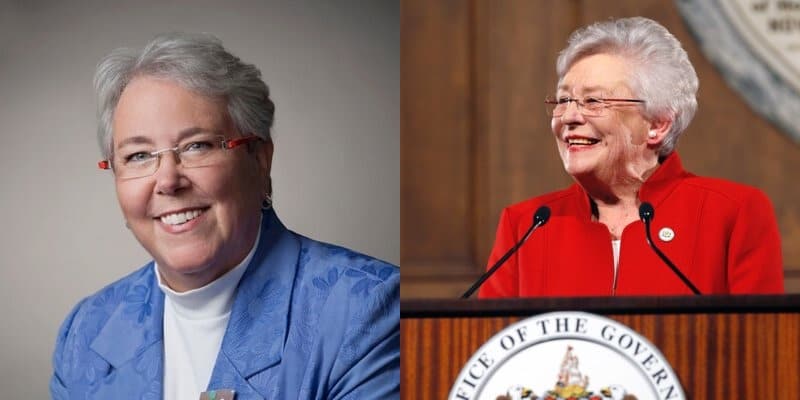 Out Representative Patricia Todd (above, left) ignited a firestorm in Alabama politics last night after posting to Facebook and Twitter that Governor Kay Ivey is gay.
Todd, the first openly gay elected official in Alabama's history, announced in March that she would not be seeking reelection and is apparently no longer giving any Fs.
Tweeted Todd: "Will someone out her for God's sake….I have heard for years that she is gay and moved her girlfriend out of her house when she became Gov. I am sick of closeted elected officials."
https://twitter.com/reptodd/status/996549238665379841
And on both social media channels, she linked to an AL.com story in which Birmingham evangelist Scott Dawson raised questions about grants being given to an Alabama LGBTQ non-profit organization.
The assertions by Todd, a Democrat, are stunning developments just three weeks before the Republican gubernatorial primary on June 5. Ivey, who became governor on April 10, 2017, after Robert Bentley resigned, is seeking a full term in office and she has three opponents for the GOP nomination.
"I certainly don't agree with the agenda or the values of that organization," Ivey said earlier Tuesday when speaking with reporters in Tuscaloosa about the LGBTQ group Dawson brought to attention.
Ivey, 73, is single and has been divorced twice. She has no children.
In 2015, Todd pledged to out closeted politicians she said were involved in extramarital affairs and said she received death threats for the pledge.
Ivey's spokesperson rushed out a response following Todd's Tweet: "This is a disgusting lie being pushed by a paid liberal political hack. There is absolutely no truth to it."
The spokesperson, Debbee Hancock, called Todd "a professional paid left-wing political activist."