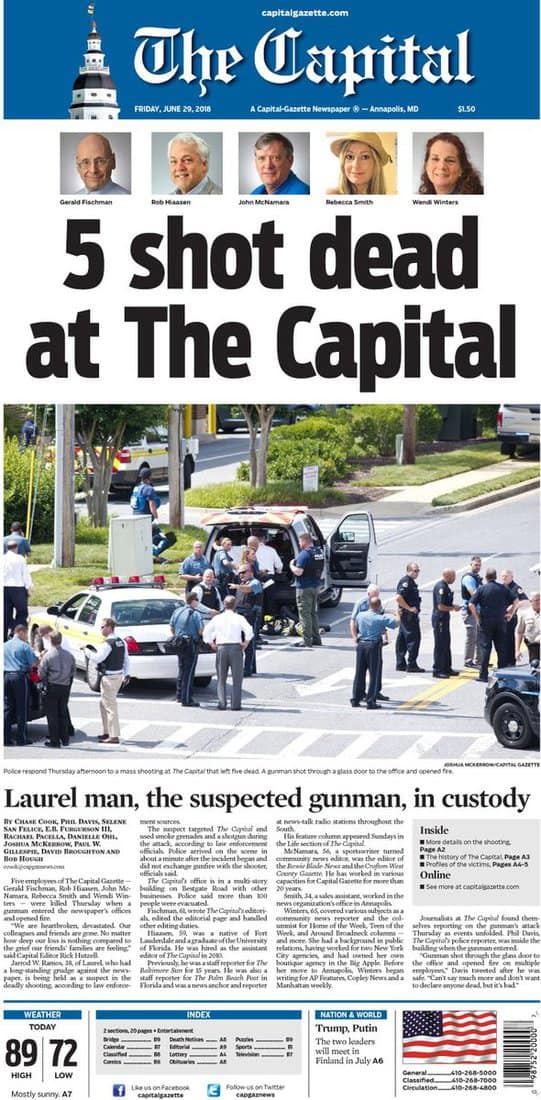 The Capital Gazette on Friday honored the five victims of a mass shooting which took place yesterday afternoon in the paper's newsroom, four journalists and a staffer: Gerald Fischman, Rob Hiaasen, John McNamara, Rebecca Smith, Wendy Winters.
The AP reported: "The dead included Rob Hiaasen, 59, assistant managing editor and brother of novelist Carl Hiaasen. Carl Hiaasen said he was "devastated and heartsick" at losing his brother, "one of the most gentle and funny people I've ever known." Also slain were Gerald Fischman, editorial page editor; features reporter Wendi Winters; reporter John McNamara, and sales assistant Rebecca Smith. Police said two others had minor injuries, and the newspaper later reported both were employees later released from a hospital with non-life-threatening injuries."
The suspect, in custody, was identified as Jarrod W. Ramos, a 38-year-old man with a longstanding grudge against the paper and had been threatening it for years on social media.
The Baltimore Sun reported: "In 2012, Ramos filed a defamation lawsuit against the paper and a columnist over a July 2011 article that covered a criminal harassment charge against him. He brought the suit against then-columnist Eric Hartley, naming Capital Gazette Communications and Thomas Marquardt, the paper's former editor and publisher, as defendants."
The paper's opinion page was as chilling as its cover: blank, except for this statement: "Today, we are speechless. This page is intentionally left blank today to commemorate victims of Thursday's shootings at our office."