https://www.youtube.com/watch?v=U6kXW3sFgN0
SEN JEFF MERKLEY. Undocumented children separated from parents are being kept in cages in detention: "They have big cages made out of fencing and wire and nets stretched across the top of them so people can't climb out…It's just a concrete floor and people are being given these space blankets to sleep on. A space blanket is…the equivalent of foil. So obviously a very uncomfortable situation to be in."
NFL. Trump told White House officials to use the GOP tax plan to punish the National Football League: "When some players continued to kneel during the anthem, Trump told White House officials they should punish the NFL as part of a GOP-tax plan, according to White House and Hill aides. Some aides even began researching how to punish the lucrative league, and ideas trickled over to Capitol Hill."
SARA GILBERT. Actress may get a Roseanne spin-off.
SHEP SMITH. Somebody's lying to us. "If one person says one thing, and another person says the opposite thing, someone's not telling the truth … these inconsistencies seem to be among the most consistent things that we live with now."
Shep: Somebody's lying to us.

WSJ Reporter: Well, it's a discrepancy.

Shep: If one person says one thing, and another person says the opposite thing, someone's not telling the truth … these inconsistencies seem to be among the most consistent things that we live with now. pic.twitter.com/Sokk8o2O9m

— Lis Power (@LisPower1) June 4, 2018
DOLLY PARTON. Netflix plans eight-episode series based around one song each episode. "As a songwriter, I have always enjoyed telling stories through my music," Parton said. "I am thrilled to be bringing some of my favorite songs to life with Netflix. We hope our show will inspire and entertain families and folks of all generations, and I want to thank the good folks at Netflix and Warner Bros. TV for their incredible support."
LEE PACE. On his coming out.
UGLY STALKING OF THE DAY. Alex Jones stalked Bernie Sanders at LAX.
https://www.youtube.com/watch?v=7ijchqbQcYE
CHICAGO. Gay and Straight Alliance Prom wraps attendees in a big hug: 'The GSA prom is a prime opportunity for a diverse array of young people in hypersegregated Chicago to come together. According to a 2016 poll by The New York Times and the Kaiser Family Foundation, African-Americans and Latinos on the South and West Sides of the city are more likely to be dissatisfied than white people on the North Side with neighborhood services like public recreation facilities, transportation and public education. A citywide dance where students from varying races and economic backgrounds, as well as gender identities and sexual orientations, can come together under one roof is a rare treat from the normal social and cultural divisions.'
ART SMITH. Top Chef Masters star Art Smith has some thoughts about the Masterpiece Cakeshop case.
https://www.youtube.com/watch?v=YeysPqWyRho
ORCHID. New gay bar opens in D.C.
LOUISVILLE. Iconic gay nightclub to be demolished: "An estimated $159,000 worth of wrecking is underway at the old Connection site, 120 S. Floyd St., to make way for a 128-room, luxury hotel, according to documents filed with Louisville Metro Government.  "
BILL CLINTON. Clarifies Lewinsky remarks: "The suggestion was that I never apologized for what caused all the trouble for me 20 years ago. First point is, I did. I meant it then, I meant it now. I apologized to my family, to Monica Lewinsky and her family and to the American people before a panel of ministers in the White House, which was widely reported. So I did that. I meant it then and I mean it today. I live with it all the time. The second is that I support the Me Too movement and think it is long overdue, and I have always tried to support it in the decisions and policies that I advanced."
GAYBY NEWS. Lance Bass and Michael Turchin have found a surrogate.
FRANK BRUNI. The extinction of gay identity: 'I increasingly get the sense that gayness itself has scattered, becoming something more various and harder to define. "Gay" tells you about a person's lusts and loves, but it used to tell you more — about his or her boldness, irreverence, independence. It connoted a particular journey and pronounced struggle, and had its own soundtrack, sartorial flourishes and short list of celebrity icons. Not so anymore.'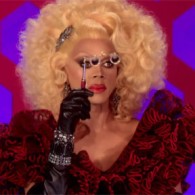 SUPERMODEL OF THE WORLD. RuPaul's influence, 25 years later: 'Supermodel, led by its pivotal single/lifestyle slogan, "Supermodel (You Better Work)," did manage to strike a crucial, first blow against a drag-resistant world, while also making major inroads during a far more homophobic time. Seen from a modern perspective, RuPaul's debut seems even more daring and encompassing than it did in its day. It cut across several key subcultures, forcing them closer to the mainstream by sheer will and charm. That last factor would prove crucial to RuPaul's wider ascension and impact. "I knew this was happening for me when I was shooting the 'Supermodel' video in Central Park and I had a Winnebago," he told EW in a 2017 interview. "I thought, I have a freaking Winnebago. I am here."
ELLE WOODS. Reese Witherspoon returning for Legally Blonde 3.
REMINISCENCE OF THE DAY. Alan Cumming on Romy and Michelle dance.
Alan Cumming talks about 'Romy and Michele's High School Reunion' and whether or not he'd perform the iconic dance scene at your wedding. 😂 Watch more on #CouchSurfing: https://t.co/I0FAqaE6AY pic.twitter.com/AF0ahAe0Ec

— Entertainment Weekly (@EW) June 2, 2018
MUSIC VIDEO OF THE DAY. DIE ANTWOORD ft. The Black Goat 'ALIEN'.
TOO HOT FOR TUESDAY. Jonathan Belle.