MICHAEL MOORE. "What would you do if your child was snatched from you? When are people going to get off the couch and when are we gonna rise up?"
OBAMA. You are right to be concerned: "Do not wait for the perfect message, don't wait to feel a tingle in your spine because you're expecting politicians to be so inspiring and poetic and moving that somehow, 'OK, I'll get off my couch after all and go spend the 15-20 minutes it takes for me to vote,'" Obama said in his first public comments in months, which only a few reporters and no cameras were allowed in for. "Because that's part of what happened in the last election. I heard that too much."
BLOW IT ALL UP. Trump wants to leave World Trade Organization. "He's [threatened to withdraw] 100 times. It would totally [screw] us as a country."
TOM BRADY. Eats ass.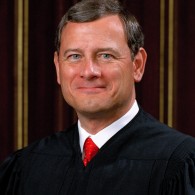 THE NEXT SWING JUSTICE. John Roberts?
SCOTUS OPENING. How the White House told Kennedy it was okay to retire: "Their goal was to assure Justice Anthony M. Kennedy that his judicial legacy would be in good hands should he step down at the end of the court's term that ended this week, as he was rumored to be considering. Allies of the White House were more blunt, warning the 81-year-old justice that time was of the essence. There was no telling, they said, what would happen if Democrats gained control of the Senate after the November elections and had the power to block the president's choice as his successor." FLASHBACK: Neil Gorsuch, Anthony Kennedy, and Trump's SCOTUS Long Game
CONNECTIONS, CONNECTIONS. Trump, Anthony Kennedy and Deutsche Bank.
HEAVY BREATHING ALERT. Nyle diMarco's moaning is intensifying.
KYLIE. Here's how she got ready for Pride.
NO DOUBT. Gwen Stefani has a new Las Vegas residency.
NORTHERN IRELAND. Gay men offered access to pardons: "Convictions that are disregarded will be considered as never having happened and will no longer appear on criminal records."
JEFF FLAKE. Shopping for a post-Senate gig: 'On Monday, he met with MSNBC president Phil Griffin; and on Tuesday, he met with rival network CNN's chief Jeff Zucker. Flake was absent Monday for a series of Senate votes that took place around 5:30 p.m. Neither network responded to requests for comment on those meetings.'
FRIDAY FLASH. _JURRD
https://www.instagram.com/p/Bki3YqVgXO2/?taken-by=_jurrd