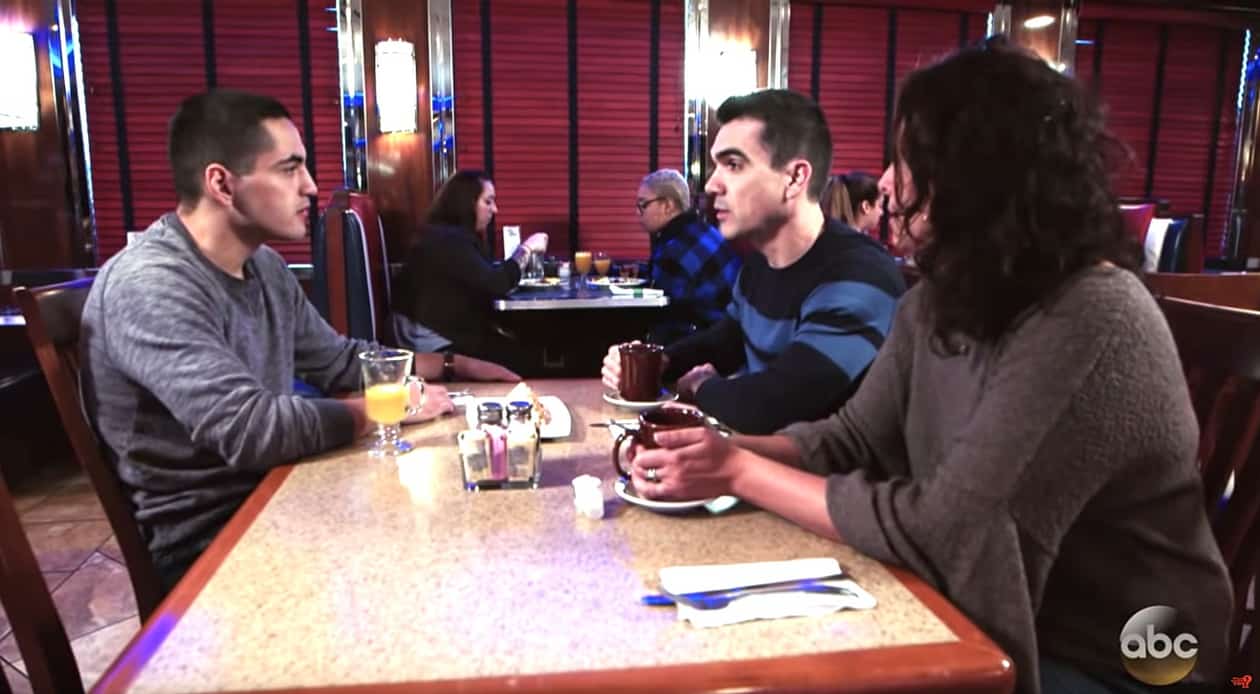 The latest episode of What Would You Do? riffed off a recent Washington Post op-ed by Jared Bilski called "My dad lived a lie. I'm determined my kids won't have to do the same" and examines how people react as a father comes out to his son in a restaurant.
Wrote Bilski in the essay: "A few days before my dad died, he finally admitted he was gay…It wasn't death he was afraid of, at least not at that moment. My dad was terrified of how I'd react to hearing he'd been lying all along."
And that's the scenario explored by ABC's John Quiñones and his crew, who filmed the reactions of patrons of a New Jersey diner who watch a dad come out to his son as they're discussing the parents' divorce. After the husband and wife left the table, diners chimed in.
And all were supportive of the situation, offering advice to the teen.
Said one diner to the son as he sat alone: "I'm sorry for you. And unfortunately, I'm going to tell you something. Your father's been living with that for a long time. He tried to convert into what we accept as normal for him not to be isolated. You didn't lose him. He is the same person with the same values and the same emotions. Let me tell you, it doesn't matter what age you are, divorce is divorce. It hurts. But these two people don't change. These two people still love you very, very much."
Another diner said, "It's still your dad, man. Accept him for what it is, you know? It's the only thing you can do."
Yet another tried to explain why the father did it, "People reach a certain point in their life, and if they're not happy and they're living a lie they realize it's now or never."
Another diner replied, "For him to screw up the courage to tell you…he was just as concerned and afraid of telling you because he didn't want to lose you. But you have to come to grips with who he is. He's still the same man."
"Being gay, it's not a big deal. It doesn't change the fact that he's your dad."
"And he loves you, so what else matters?"
Dad received advice too.
Said one diner: "It's a brave thing to do. You have to expect [your son] to be shocked. At least you told him."
Watch:
https://www.youtube.com/watch?v=9qPaawkEE3Q